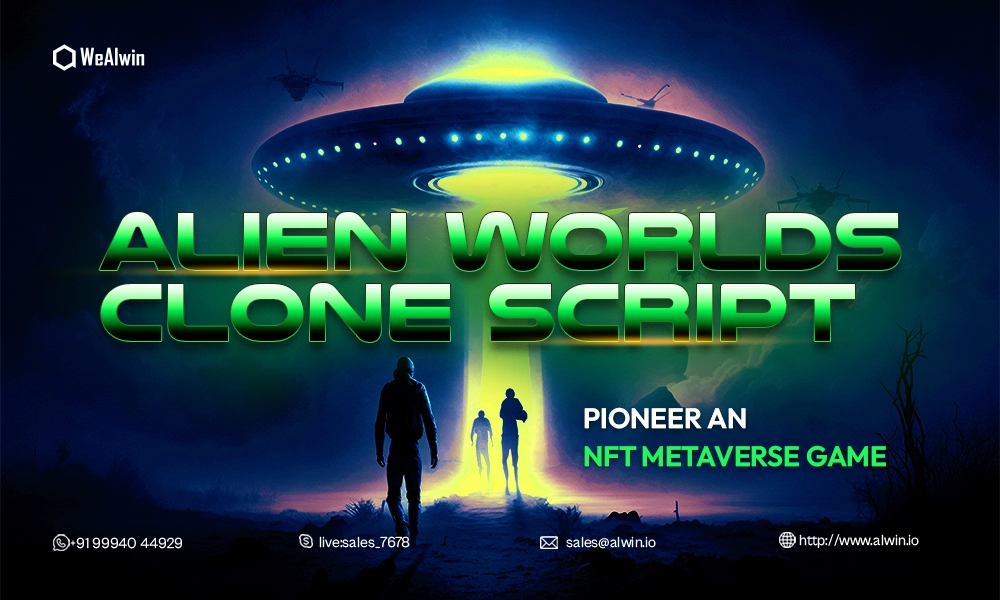 Metaverse is intent on taking the Web3 world forward, where any kind of enchantment can be realised. With the integration of NFT, the Metaverse is continually striving to charm us, and Alien Worlds is no exception. It's an NFT Metaverse game with its own intrinsic economies and currencies. 
NFT Metaverse games are poised to become a central element in the next phase of the internet, offering users new ways to play, invest, gather, interact, and earn from it all. Skim the article to update yourself with the Metaverse NFT game and discern how it stands out!  
Alien Worlds
Alien Worlds is a free-to-play, NFT Metaverse gaming platform backed by the WAX blockchain. It's a play-to-earn game, which means that players can earn real money by playing. 
It is one of the summit games that is set in a sci-fi universe, and players can choose to play as one of three factions: the Human Alliance, the Nanite Collective, or the Kweebec Tribe.
There are currently 12 planets in the game, each with its own unique resources and challenges.
This game has racked up about 7 million players so far.   
Alien Worlds Clone Script 
Alien Worlds Clone Script encompasses features and functionalities that are in correspondence with the Alien Worlds game. This white label solution entitles you to the launch of an NFT game identical to the original entity. We at WeAlwin Technologies, a leading NFT metaverse Game development company, will render you a top-notch Alien Worlds clone script with our unique touch. 
Prominent Attributes of Alien Worlds Clone Script  
Staking - Players can stake the native currency, Trillium to partake in voting and upraise the planetary prices. 
Planet DAOs - Users can cast their votes in elections held on a weekly basis and give suggestions regarding the distribution of planetary treasures.
Cards for Gaming - A wide range of Game cards are prone to being chosen by players on WAX, BSC, and Ethereum for mining, battling, and missions.
Bridging the Cross-Chains - This feature furnishes the users with the capability of teleporting Trillium between the blockchains such as BSC, WAX, and Ethereum. 
Consult with our business experts to know more about Alien Worlds Clone! Chat with us on WhatsApp
Gaming Perks of Alien Worlds Clone
Rarity - There are six disparate levels of Rarity for NFT Alien Worlds in Alien Worlds.They are Abundant, Rare, Common, Epic, Mythica, and Legendary. 
Shininess -  Stone, gold, stardust, X dimensions, and Antimatter are the four categories of Shininess. Except for the X dimensions, the rest of it is accessible.
Land - Players are endowed with the ability to own land in the form of NFTs. Their land can either be mined by the players themselves or by somebody else for the sake of a commission. 
Minions - Minions represent the NFTs utilized in fighting games and they are optimized by communities very much.
Tools - A free shovel with limited power is given to each player to start with. There are various tools with their own sets of strength and weakness.
NFT Missions  - The completion of tasks on Metaverse fetches you NFT missions. The three NFT missions are: Key to Crafting, Base Power, and Boost your Strength.
How Does Alien Worlds Clone Work? 
Creating an account 
Once the players are done with account creation, they can go for choosing and customizing the avatars. 
Planet selection
Followed by the avatar selection, players can opt for the planet that they want to explore. The planet will be laden with adventure experiences for players. 
Mining Hub Option
An option offered by NFT platforms enables the players to find the chosen land for the mining process. By mining the land, players will be offered Trillium and upgraded NFTs.
Alien Worlds Clone Development
Alien Worlds Clone Development is the process of creating a new blockchain-based NFT game that is similar to Alien Worlds. Alien Worlds is a popular game that allows players to mine Trillium, the native currency of the game. Trilium can be used to purchase NFTs, such as land, tools, and avatars. Players can also stake their Trilium to earn rewards.
Steps Involved in Alien Worlds Clone Development
Choose a blockchain platform: Firstly, choose an appropriate blockchain platform for your game. Alien Worlds is built on the WAX blockchain, but you can also choose to build your game on Ethereum or BSC.
Purchase an Alien Worlds Clone script: There are a number of companies that offer Alien Worlds Clone scripts. You can purchase a script that is tailored to your specific needs.
Customize the game: Once you have purchased a script, you can customize the game with your own unique features and artwork. You can also add new features to the game.
Deploy the game: Once you have customized the game, you need to deploy it on the blockchain platform that you chose.
Market and promote the game: Once the game is deployed, you need to market and promote the game to attract players. You can do this through social media, forums, and other channels.
Why Create an NFT Gaming Platform like Alien Worlds?
The following are some of the prime reasons behind the creation of an NFT gaming platform:
To assimilate into the growing popularity of NFTs
There's a growing demand for NFT gaming platforms as NFTs are a brand new trend in the tech world. By creating such a platform, businesses can tap into this demand and attract new players.
To Provide players with a distinctive gaming experience
Unlike traditional games,NFT gaming platforms offer a unique and engaging gaming experience. With NFTs, players can own and trade unique digital assets, adding a new layer of depth and excitement to the gaming experience.
To generate revenue 
NFT gaming platforms can generate revenue through a variety of channels, such as in-game advertising, NFT sales, and subscription fees. For businesses able to  create a successful NFT gaming platform, this could turn out to be a lucrative opportunity.
To build a community
NFT gaming platforms can facilitate building a community to bring players who are passionate about the game together. This can be a valuable asset for businesses, as it can help to promote the game and attract new players.
Conclusion 
As blockchain gaming continues to grow in popularity, The future of Alien Worlds clones is bright. The Alien Worlds clones are likely to be developed largely. Alien Worlds clones are a new and exciting way to earn cryptocurrency rewards and participate in the metaverse. They offer a variety of features that can appeal to different players, including NFT mining, NFT staking, in-game currency, and competitions.