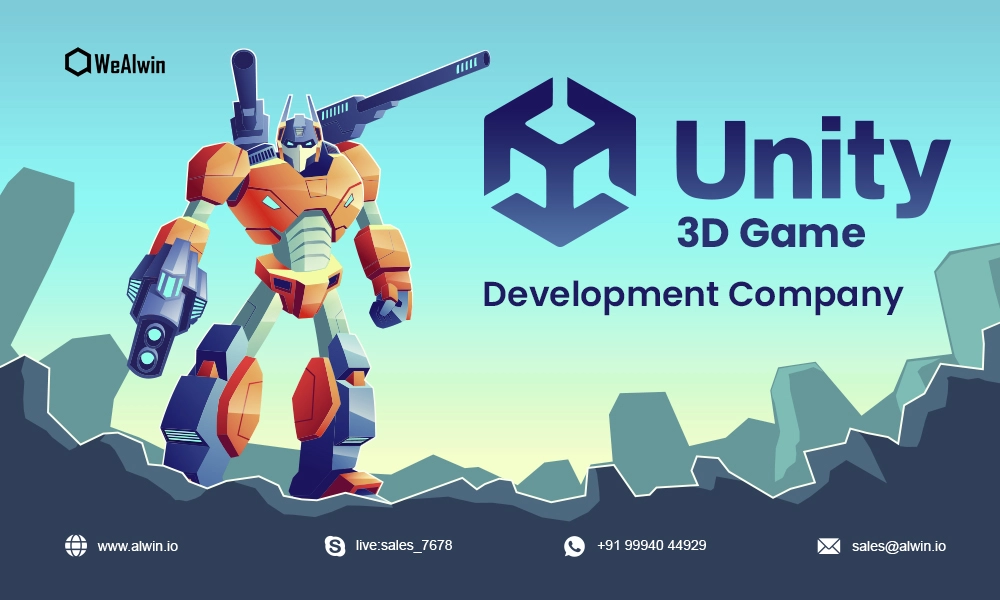 Ever wanted to build an epic 3D game but didn't know where to start? Unity has you covered. As the world's most popular platform for creating and operating real-time 3D content, Unity gives you everything you need to create amazing games and interactive experiences in augmented reality, virtual reality, and more.
What are you waiting for? Dive in and start creating your next hit game! This blog will take you through all the steps to get started with Unity and build an awesome 3D game. Let the adventure begin! 
What Is Unity 3D Game Development Company?
Unity 3D is a popular game development engine used to create 2D and 3D games. It provides an integrated development environment for building games and other interactive content.
Unity 3D is free to use and supports creating games for over 25 platforms, including mobile, desktop, console, and virtual reality.
It has a simple and intuitive interface, so even beginners can pick it up quickly. But it also has plenty of advanced features for more experienced developers.
Unity 3D uses C# as its programming language and compiles games to native code, maximizing performance.
It has a large asset store where you can find 3D models, textures, sounds, scripts, and more to use in your games.
Thousands of developers, from indie studios to large companies, use Unity 3D to create their games. Some well-known games made with Unity 3D include Cuphead, Hearthstone, Super Mario Run, and Pokemon Go.
The key to learning Unity 3D is just diving in and experimenting. Work through some tutorials to build simple games like Pong or Space Invaders. Then start creating your own basic games to get familiar with the interface and tools. Check out the wealth of resources in the Unity community, including live tutorials, video courses, documentation, and the forum.
With regular practice, you'll be building more advanced 3D games in no time. The opportunities are endless with Unity 3D. So start creating and developing your skills now—you could be making the next hit game!
Unity 3D Game Development On Various Blockchains
Unity 3D is one of the most popular game engines for building games, especially for mobile platforms and virtual reality. Unity allows you to deploy your games to over 20 platforms, including consoles, mobile devices, desktops, and the web.
With Unity, you can develop blockchain-based games and integrate cryptocurrencies as in-app purchases or rewards. Some ways to integrate blockchain into Unity games include:
Cryptocurrency wallets - Allow players to store, send, and receive crypto directly in your game. Players can earn coins or tokens through gameplay and use them to purchase in-game items or withdraw them to an external wallet.
NFTs (Non-fungible tokens) - Create unique in-game assets like skins, virtual real estate, collectibles, etc. and trade them on secondary NFT marketplaces. Players can buy, sell, and trade NFTs with other players.
Play-to-earn - Build games where players can earn cryptocurrencies or NFTs as rewards for achieving certain milestones or winning competitions. Players can earn real money by playing the game.
Crowdfunding - Raise funds for your game development through an Initial Coin Offering (ICO) or Security Token Offering (STO). Sell your in-game crypto tokens, or NFTs, to investors and use the funds to build your game.
By integrating blockchain into your Unity 3D games, you open up many new opportunities for player engagement and monetization. While still a niche, blockchain gaming is an exciting new frontier for developers and players alike. With the right balance, you can build a successful play-to-earn game on Unity 3D and blockchain.
Consult with our business experts to develop your Unity 3D Game! Chat with us on WhatsApp
What Are The Benefits Of Developing A Unity 3D Game?
Developing a game with Unity 3D comes with some major benefits.
Low Cost
Unity 3D is free to download and use, even if you're creating commercial projects. This allows indie developers and small studios to create games on a budget. The only costs are the time put into development and any assets purchased from the Asset Store.
Cross-Platform Publishing
Games built in Unity can be published on over 25 platforms, including Windows, macOS, Linux, Android, iOS, PS4, Xbox One, Nintendo Switch, and more. You can build once and deploy everywhere, maximizing your reach.
Asset Store
The Unity Asset Store contains thousands of free and paid assets, tools, and resources to help speed up your development process. You'll find everything from characters, environments, and animations to complete game kits, saving you time modeling and coding basic functionality.
Large Community
Unity 3D has a vast community of developers active in the forums and on sites like Stack Overflow. You're sure to find answers to any questions you may have. There are also many video tutorials and courses available to help you learn.
Continuous Updates
Unity Technologies frequently updates the Unity Editor with new features, improvements, and bug fixes. Updates keep the engine up-to-date with the latest tech, ensuring you have access to cutting-edge functionality for building interactive and immersive experiences.
Using Unity 3D to develop your game comes with significant advantages over other engines or building from scratch. The low cost, ability to publish anywhere, asset store, community, and constant improvements allow you to build pro-level games with an accessible, user-friendly toolset. Overall, Unity 3D streamlines the development process so you can focus on creating a great game.
Choosing WeAlwin as Your Unity 3D Game Development Company Can Save You Time and Money
Save Time
As an indie game developer, time is your most valuable resource. When you work with WeAlwin, we handle all the technical tasks so you can focus on the creative work. We take care of setting up the project, installing Unity and other tools, configuring builds for different platforms, and optimizing performance. This allows you to dedicate your energy to designing gameplay, creating art assets, and crafting the story and world of your game.
Reduce Costs
Developing a game is an expensive endeavor, especially if you're just getting started. When you partner with WeAlwin, we provide affordable Unity 3D game development services to help you bring your vision to life without breaking the bank. Our team has years of experience delivering high-quality games on time and within budget. We can also help you access funding through publisher deals or crowdfunding campaigns to finance your project.
Gain Expertise
The Unity engine is a powerful tool, but it does have a learning curve. Our developers have a wealth of knowledge about Unity that we can apply to your game. We stay up-to-date with the latest features and best practices to build performant, polished experiences. We can advise you on solutions to complex problems and help you avoid common mistakes. With our guidance, you'll expand your own Unity skills in the process.-
Focus on Creativity
As a game developer, your passion is creating unique worlds, stories, and gameplay. We handle the technical work so you can dedicate your energy to the creative aspects of development.
Partnering with WeAlwin for your Unity 3D game development needs will save you time, reduce costs, provide valuable expertise, allow you to focus on creativity, and help you reach more players with your finished game. Our team is ready to turn your vision into a reality.
Conclusion
Unity provides an incredible platform for new and experienced developers alike to bring their creative visions to life. With a powerful and intuitive interface, an asset store, and community support, Unity gives you everything you need to start making great games today. What are you waiting for? Download Unity, check out some tutorials, and start creating! Before you know it, you'll be developing fun games and bringing joy to players around the world. The future of gaming is here - be part of it and unleash your imagination with Unity 3D.