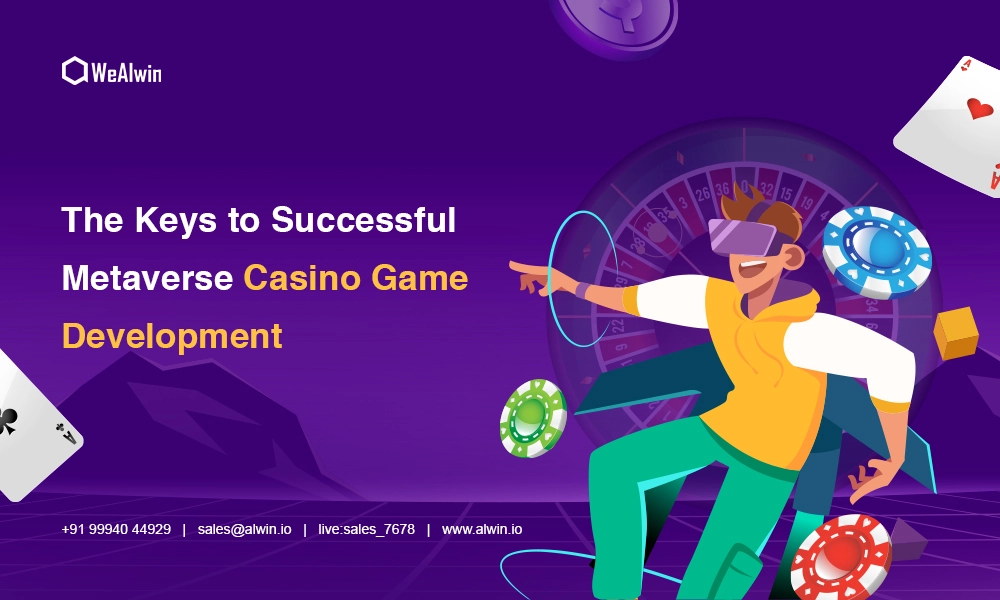 What does it take to create an engaging metaverse casino game? Here's where you can find what you're looking for: Creating a virtual reality experience that transports players into an immersive casino environment and keeps them playing for hours requires a winning combination of skill, creativity, and technical expertise.
 At WeALwin, we've developed over 200 metaverse casino games for clients around the world. We know that the secret sauce for building a successful metaverse casino game comes down to three key ingredients: top-notch 3D graphics, seamless UX design, and built-in gamification features. Read on to discover our tried-and-true tips for crafting an unforgettable metaverse casino adventure. By the end, you'll have the know-how to design your own virtual casino game that keeps players betting big and coming back for more.
Designing an Immersive Metaverse Casino Experience
To create an immersive metaverse casino experience, you need to focus on a few key elements.
First, choose a theme that will capture players' imaginations. Maybe a secret speakeasy from the roaring 20s, an Arabian fantasy with genies and magic lamps, or a futuristic space station casino. The options are endless!
Once you have a theme, build an eye-catching virtual environment. Use atmospheric lighting, textures, animations, and sound effects to bring the world to life. Give players opportunities to interact with the environment by touching, moving, and combining objects.
Don't forget the games! Include classic casino favorites like poker, blackjack, roulette, and slot machines. But also create fantasy-themed games unique to your metaverse. Offer single-player and multiplayer options so people can gamble together.
An engaging metaverse casino needs exciting events and entertainment too. Host dance parties, cabaret shows, fireworks displays, and more. Surprise players with random pop-up events to keep things fresh.
Finally, use social features like chat, friending, and private messaging to help players connect. A strong social experience will keep them coming back again and again.
With the right blend of environment, games, events, and social interaction, you'll have created a virtual casino world that players won't want to leave! Now open the doors and let the fun begin.
Choosing the Right Blockchain for Your Metaverse Casino Game
When building a metaverse casino, one of the most important decisions you'll make is choosing the right blockchain. There are a few good options out there, so you'll want to consider things like:
Scalability and speed: Can the blockchain handle a high volume of transactions quickly? Gamblers won't wait around for bets and payouts to process.
Decentralization: A decentralized blockchain means no single entity controls the network. This is important for transparency and fairness.
Security: You'll be dealing with virtual money and assets, so security is paramount. Look for a blockchain with a proven track record of being hack-resistant.
Compatibility: Make sure the blockchain you choose works with the metaverse platform you want to build on. Some blockchains, like Ethereum, have more metaverse integrations currently available.
Cost: The costs to build and operate your metaverse casino can vary a lot depending on the blockchain. Fees for transactions and smart contracts are important to consider.
Based on these factors, blockchains like Ethereum, the Binance Smart Chain, and Polygon are currently good options for metaverse casinos. They provide the right blend of scalability, decentralization, security, and affordability needed for an engaging player experience in the metaverse.
Choosing the blockchain that aligns closest with your vision is key. Do your research, weigh the pros and cons, and go with what will give your players the most seamless, trustworthy, and fun experience in your metaverse casino world. The technology should enhance the experience, not detract from it. If you get the blockchain decision right, you'll be well on your way to building a successful virtual casino!
Integrating Cryptocurrency Payments Into Your Metaverse Casino
Integrating cryptocurrency payments into your metaverse casino is crucial to attracting players and enabling seamless transactions. Players want an easy way to deposit and withdraw funds, and cryptocurrency provides that.
Accept Major Coins
Support the most popular coins like Bitcoin, Ethereum, and Litecoin. These have the largest market caps and the most mainstream appeal. Accepting only obscure altcoins will turn away most potential players.
Offer Generous Bonuses and Promos
Sweeten the deal by offering signup bonuses, free spins, and other promotions when players deposit crypto. This gives them extra incentive to fund their accounts and keeps them engaged with your casino.
Fast Transactions
One huge benefit of crypto is speed. Deposits and withdrawals should process instantly, so players can start playing right away and cash out quickly. If transactions lag, players will get frustrated and take their business elsewhere.
Low Fees
Don't gouge players with high crypto transaction fees. Charge minimal fees or even no fees to remain competitive. Players are savvy and will compare rates across casinos. High fees are a deterrent.
Seamless Experience
Make the entire experience seamless, from depositing crypto to playing games to withdrawing funds. The process should be intuitive for players to easily accomplish what they want to do without hassle. Confusing or clunky interfaces lead to frustrated players who don't stick around.
Focus on these keys to provide the best crypto experience for your players. Keep optimizing and improving over time as new coins, technologies, and best practices emerge. When crypto transactions work well, your players will keep coming back to enjoy the action in your virtual casino. Stay on the cutting edge of this fast-moving space to build the metaverse casino of the future.
Consult with our business experts to know more about Metaverse Casino Development! Chat with us on WhatsApp
Optimizing Your Metaverse Casino Game for Maximum Engagement
To keep players engaged with your metaverse casino game, focus on optimizing the overall experience. Some key things to consider:
Personalization
Allow players to customize their avatars and environments. Give them options to choose different outfits, accessories, themes, music, and more. The more players can personalize their experience, the more invested they'll feel.
Social Interaction
Incorporate social features that allow players to interact, communicate, and bond with each other. Things like chat rooms, friend lists, private messaging, and multiplayer games are great for facilitating social interaction.
Rewards and Incentives
Offer players rewards and incentives to keep them coming back. Free spins, bonus rounds, jackpots, loyalty programmes, and daily challenges are some examples. The rewards don't have to be huge, but giving players something to work towards will increase engagement and retention.
New Content
Continuously add new content to your metaverse casino to prevent boredom and keep players interested. Release new games, slots, table games, promotions, themes, music, and other features on a regular schedule. Even small additions and changes can go a long way.
Seamless Experience
Ensure players can easily navigate your metaverse casino and access all features. Minimize interruptions from technical issues, long load times, or confusing UIs. The overall experience should feel cohesive, high-quality, and seamless to keep players immersed in the game.
Optimizing for maximum engagement ultimately comes down to understanding your players and what motivates them. Build an experience centered around entertainment, social connection, personalization and rewarding gameplay. Keep things fresh by frequently updating content. And make the technical experience seamless. Do these things, and your players won't want to leave your metaverse casino.
Promoting Your New Metaverse Casino Game for Discovery
Promoting your new metaverse casino game is key to gaining players and making it a success. Here are some tips to get the word out:
Social media marketing
Leverage platforms like Facebook, Instagram, and Twitter to spread the word about your new game launch. Post teasers, trailers, and behind-the-scenes content to build hype leading up to the release. Run contests and giveaways on social media to increase engagement. Don't forget to create a hashtag to help players discover and share information about your game.
Influencer marketing
Reach out to popular metaverse and crypto influencers to ask if they'd be willing to preview and promote your game to their followers. Offer them exclusive access or in-game items in exchange for an honest review and shoutout to their audiences. Their endorsements can introduce your game to new players.
Cross-promotions
Team up with other metaverse games or brands to cross-promote to each other's audiences. You might offer special in-game rewards, items, or experiences to players of partner games. Or work together on social media giveaways and events. Cross-promotions are a great way to tap into new player bases at no cost.
Media coverage
Pitch your new metaverse casino game launch to media outlets like gaming news websites, tech blogs, crypto publications, and general interest sites. Offer review copies to journalists and YouTubers to build buzz. Getting featured in the media, even if in a roundup, can significantly raise awareness and drive new players to discover your game.
SEO optimization
Use search engine optimization (SEO) best practices to help people find your game online. Choose a keyword-rich name and include important terms in your game description, website content, and social media posts. Build high-quality backlinks to your game's website or landing page. Strong SEO will rank you higher in search results for terms related to metaverse casino games, increasing organic traffic and discovery.
With the right promotional mix, you'll get your new metaverse casino game in front of players, build an audience, and drive more discovery and adoption. Keep experimenting to find what works for building your player base over the long run.
How WeAlwin Game Development Services will Amaze you?
WeAlwin is the leader in metaverse casino game development. Our services will amaze you in many ways:
We have over a decade of experience developing virtual casino games of all types, from slots and poker to blackjack and roulette. Our designers and developers are highly skilled in creating realistic casino environments, avatars, gameplay, and more.
We utilize the latest tools and technologies, like Unity, to build interactive and immersive experiences. Our metaverse casino games feature stunning graphics, authentic sounds, and animations that make you feel like you're really in a casino.
We offer comprehensive support and maintenance. After launch, we provide updates, fixes, enhancements, and new features to keep your players engaged. We also offer marketing and monetization strategies to help you achieve the highest return on your investment.
We build for all devices. Our metaverse casino games work on PCs, Macs, virtual reality headsets like the Oculus Quest and HTC Vive, and even mobile devices. We use a device-agnostic approach so your players can enjoy the experience wherever and whenever.
We guarantee satisfaction. WeAlwin stands behind our work 100%. We won't stop developing and improving your metaverse casino game until you're completely satisfied. Your success is our success.
We keep you involved every step of the way. From concept to launch and beyond, we collaborate closely with our clients, gathering feedback and input to ensure we build exactly what you envision. You're part of the team, not just a customer.
WeAlwin is the clear choice for anyone looking to develop an interactive and profitable metaverse casino game. Our experience, expertise, tools, and customer service are unparalleled in the industry. Get in touch today to discuss how we can bring your vision to virtual reality.
Conclusion
Now you know the keys to creating a successful metaverse casino. By focusing on an immersive environment, custom avatars, in-world gaming, and real-money wagering, you'll be well on your way to building the next big thing in online gambling. The future is virtual, and now is the time to stake your claim. What are you waiting for? Get out there and start designing the casino of the future. Your players and their wallets will thank you for it. The metaverse is open for business, so log in, place your bets, and win big. See you on the other side!