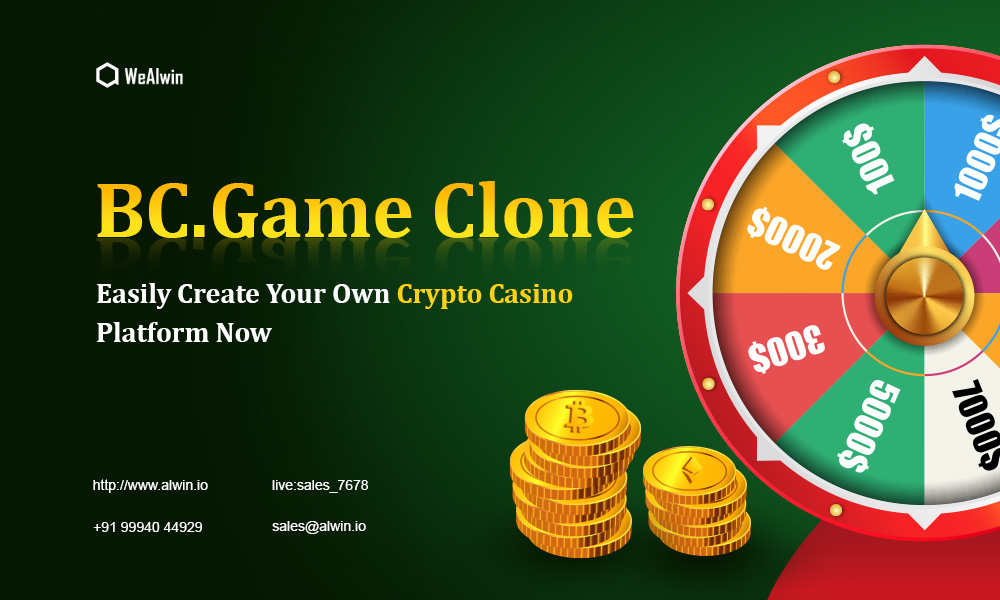 Are you looking to jump into the lucrative world of crypto casino games? With the increasing popularity of blockchain technology, it's no surprise that more and more people are interested in developing their own cryptocurrency-based gaming platforms. 
If you're one of those individuals, then BC. GAME CLONE DEVELOPMENT is what you need to build a successful crypto casino game like BC Game! In this blog post, we'll explore everything you need to know about clone development for creating your unique gaming platform. 
So let's get started!
What is a BC. Game clone script? 
A BC. Game clone script is a ready-made, customizable solution for building your own crypto casino gaming platform, similar to the well-known BC. Game website. It offers a pre-built software solution that allows you to instantly launch a blockchain-based casino gaming platform with a variety of games. 
By using a BC. Game clone script, you can create a full-featured online crypto casino gaming platform, taking advantage of the existing design and features of the original BC. Game website.
 User-Centric Features Of BC.GAME Clone Script
So you're keen to create your own crypto casino platform similar to BC.GAME? With a BC.GAME clone script, you can build a platform just like BC.GAME. 
Here are some of the main features you'll get:
A wide range of provably fair casino games. We're talking dice, slots, blackjack, roulette, and more. Players will love the variety, and you'll love the increased traffic.
Support for major cryptocurrencies. Players can bet and win using coins like Bitcoin, Ethereum, Litecoin, and Bitcoin Cash. There's no need to deal with fiat currencies or banking hassles.
An attractive UI and UX. A clean, modern interface with an intuitive user experience will keep players engaged and betting.
Big bonuses and promotions. Offer players signup bonuses, reload bonuses, free spins, cashback, and other promos to drive more bets and boost loyalty.
Robust admin tools. As the admin, you'll have full control over the platform. You can view stats, set odds, enable or disable games, run promos, and more.
Fast and secure. A BC.GAME clone is built to handle lots of traffic and transactions securely and efficiently. Your players' funds and personal information will be safe.
With these essential features and the right marketing, your crypto casino platform can be a huge success. Players will flock to your site for the games, bonuses, and chances to win big, all paid out in their favorite digital coins. Launch your BC.GAME clone today and start building your gambling empire!
How Much Does it Cost to Develop the BC.GAME Clone Platform?
So you want to build your own crypto casino platform like BC.GAME? 
Great idea! But how much will it actually cost to develop a BC.GAME clone?
The cost will depend on the features and complexity of your platform. This would include:
The ability for users to deposit and withdraw cryptocurrencies
A selection of provably fair casino games (like dice, slots, roulette, etc.)
An admin dashboard to manage the platform
A user account system
To match all the features of BC.GAME, the total cost would likely be $200,000 or more. Some of the additional features you may want include:
Live dealer casino games with real people
Sports betting functionality
An affiliate/referral program so users can earn crypto
Mobile apps for iOS and Android
Fiat currency support (USD, EUR, etc.) in addition to crypto
Additional languages and currencies
The exact cost will depend on factors like:
The number and complexity of games/features
The experience level of your developers
The technologies used (blockchain, cloud services, etc.)
Ongoing maintenance and support needs
While the upfront cost may seem high, a crypto casino platform has the potential to be very profitable. Many platforms generate millions of dollars in revenue and profits each month. So if you build a great product, the investment can pay off!
How Long Will It Take to Develop an App Like BC.GAME?
Developing a BC.GAME clone can take 3–6 months, depending on the features and complexity. Here's a rough timeline to give you an idea of what to expect:
The initial discovery phase will take around 1 to 2 weeks. This includes gathering requirements, analyzing the BC.GAME platform, and scoping the features for your crypto casino clone.
Designing the UI/UX will take 4 to 6 weeks. The designers will create mockups, wireframes, and prototypes to capture the look and feel you want. They'll aim for an intuitive user experience that engages players.
Front-end and back-end development will take 10 to 16 weeks. This includes:
Building the website and mobile app
Integrating provably fair casino games
Developing admin panels to manage the platform
Connecting payment gateways to accept crypto
Ensuring responsible gaming features are in place
Testing and deployment will take around 4 weeks. Extensive testing is required to detect any bugs or issues before launching your crypto gambling platform.
While timelines can vary for each project, you can use this as a rough guide for what to budget in terms of both time and costs. 
The key is to work with an experienced crypto casino clone development company that can deliver a high-quality product within your timeline. They'll be able to provide a more accurate estimate based on your specific requirements.
With the right developer, you can have your own crypto casino platform modeled after the popular BC.GAME will be up and running in just a few short months. 
Then you'll be ready to start engaging players and growing your business.
Technologies Used to Develop the BC.GAME Clone:
To build a BC.GAME clone, you need to use innovative technologies that can handle high volumes of transactions, provide top security, and deliver an engaging user experience.
Blockchain
The blockchain is the underlying technology that powers all cryptocurrencies and crypto casinos. It provides a secure, transparent ledger to record all transactions. For a BC.GAME clone, you'll want to build on a popular blockchain like Ethereum that can handle fast transactions and smart contracts.
Smart Contracts
Smart contracts are self-executing contracts that are triggered when certain conditions are met. They are used in crypto casinos to automatically distribute winnings and handle bets. Developing smart contracts requires Solidity, a programming language used to write and deploy smart contracts on Ethereum.
Random Number Generation
To ensure fair and random gaming, you must implement a random number generator (RNG) that can't be manipulated. Blockchain-based RNGs use an oracle to generate random numbers from real-world data like sports scores, weather, etc. Players can verify the randomness and fairness of the RNG.
Frontend Development
For an engaging user experience, focus on a responsive frontend built with JavaScript frameworks like React or Vue.js. Use a design that appeals to crypto users and highlights your casino's unique features and games. Make it easy for players to sign up, deposit funds, play games, and withdraw winnings.
Serverless Architecture
A serverless architecture uses third-party services to handle computing resources, so you don't have to maintain servers. It's a cost-effective, scalable solution for a crypto casino. Services like AWS Lambda can run code in response to events like new bets or deposits. Serverless also simplifies deployment and maintenance.
Using innovative blockchain technologies and a serverless architecture will allow you to build a high-performing BC.GAME clone that provides an optimal experience for crypto casino players. Focusing on security, transparency, and scalability will help establish trust and set your platform apart.
How to Create a Crypto Casino Like BC. Game?
To build a crypto casino like BC.GAME, here are the main steps to follow:
Choose a Casino Platform
The first step is to choose a casino platform to build your crypto casino. Some popular options are:
SoftGamings: They offer a Bitcoin casino platform with over 6,000 games.
Slotegrator: They provide a Bitcoin casino solution with a range of slot games and table games.
Smart Casino: They have customizable Bitcoin casino software with provably fair games.
Obtain a Gaming License
You'll need to obtain a gaming license to operate legally. The most popular jurisdictions for crypto casinos are Curacao, Malta, and Costa Rica. The licensing process typically takes 3-6 months and costs between $10,000 to $100,000.
Source Casino Games
Work with casino game providers to source slots, poker, roulette, blackjack, and other games for your platform. For crypto casinos, look for provably fair game developers like Betsoft, Play'n GO, and Evolution Gaming. They offer games that can be integrated with crypto payments.
Implement Cryptocurrency Payments
Integrate cryptocurrency wallets and payment systems so players can deposit and withdraw funds. Popular options include BitPay, CoinPayments, and Blockchain.info. You'll want to accept major cryptocurrencies like Bitcoin, Ethereum, and Litecoin.
Market Your Crypto Casino
Promote your new Bitcoin casino through social media, SEO, affiliate marketing, and advertising on crypto websites and forums. Offer promotions and bonuses to attract new players. Build a loyalty program to keep players coming back.
Following these steps will help you create a fully functioning crypto casino platform. But remember, the key to success is providing a great user experience with fair games, fast payouts, 24/7 support, and generous bonuses. 
If you get the basics right, you'll be well on your way to building a popular crypto casino.
Launch Your Own BC.GAME Clone Within The Next Few Months! 
Believe it or not, you can have your own BC.The GAME clone in just a few months. Here's how:
Find a reputable crypto casino clone provider - Look for a company with experience building BC.GAME clones and similar crypto gambling platforms. They should offer a customizable solution to match your specific needs.
Choose your features - Select the games, bonuses, payment methods, and other features you want to include. The provider will help determine what's possible within your timeline and budget.
Design your interface - Work with the design team to create the look and feel of your website. Provide examples of styles you like to help them capture your vision.
Configure the backend - The provider will set up the admin panel, payment gateway integrations, hosting, security, and other technical requirements to operate your crypto casino.
Test and launch - Once development is complete, thoroughly test your BC.GAME clone to ensure everything is functioning properly. Make any final tweaks needed before officially launching your crypto gambling platform.
Promote your new casino - Market your website on social media, in crypto communities, and via online ads to attract players. Offer signup bonuses and other promotions to gain new users.
Continue improving - Monitor player feedback and analytics to determine what's working and not working. Release regular updates to keep improving the experience, add new games or features, and encourage repeat visits.
With the right crypto casino clone provider, you can launch your own BC. GAME-inspired platform in just a couple of weeks. 
Stay actively involved throughout the entire process to end up with a high-quality crypto casino perfectly suited to your needs. Before you know it, real players will enjoy your games and bonuses.
Wrapping up
So there you have it, everything you need to know to build your own crypto-gambling platform like BC.GAME. While it may seem complicated, if you find an experienced blockchain development company to help guide you through the process, you'll be up and running in no time. 
We're the industry-leading Web 3 game development company, with 60+ certified professionals in the latest technologies. Reach out to us today to get started on your project. Want to reach us now? Contact us here.
What are you waiting for? Get started building your BC.GAME clone today! The crypto gambling revolution won't wait.