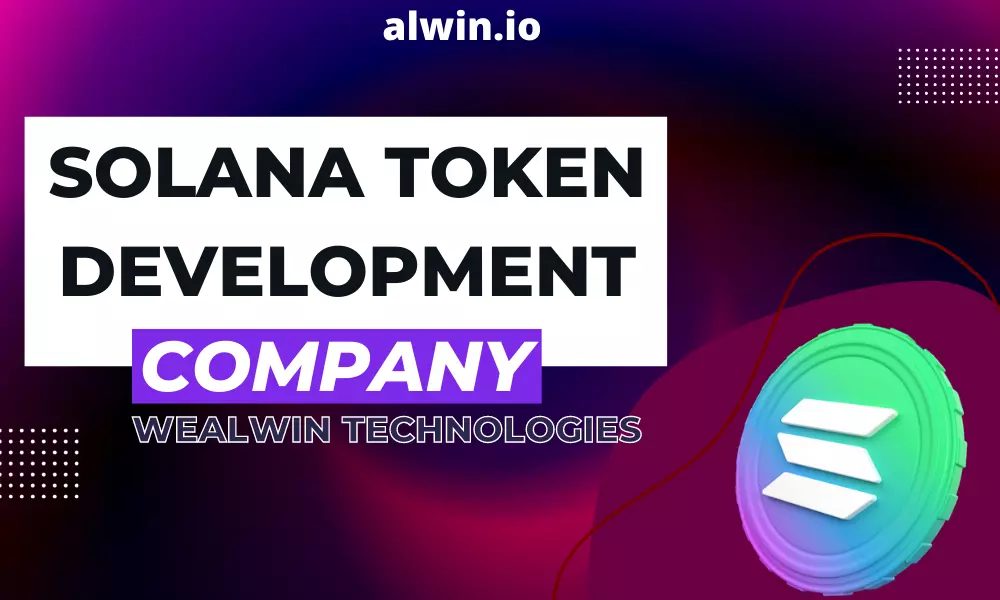 Solana token development is one of the most wanted crypto projects in the blockchain industry because of Solana's blockchain advantages and scalability.
What is Solana?
Solana is one of the fastest blockchain in the current era. It is the fastest growing ecosystem in the crypto world that is very quickly gaining popularity and could be used to create successful projects in crypto exchange, Defi, NFTs, Web3, and more.
Top Leading Solana Token Development Company that can help you to build the most faithful and faster-decentralized and centralized applications in the Solana blockchain.
What is Solana Token?
Solana token SOL is the native crypto token of Solana it is built by the Solana blockchain which is used for various needs in the Solana ecosystem.
Our expert team has been creating high-quality and fully secured Solana Tokens for startups, entrepreneurs, and corporations, 
Our Solana Token enables smart contracts and can do decentralized asset operations in an easy way. Our Tokens are profitable for your business For the reason that we are well-designed and operated. 
Then, is there any strong and valuable reason to build Solana tokens, let's talk
Why should you build Solana Token?
Most entrepreneurs and Startups create Crypto tokens for a lot of purposes. For mention, for crowd sales or to increase their community's user base. Also, develop Crypto tokens for other business purposes. 
As I said, the Solana token is the fastest growing token in the crypto world, with thousands of projects. In transactions, the Solana token is the best compared to other tokens. Because Solana can process 50,000 transactions per second. 
Solana Token development is different from the BEP-2 or BEP-20 and ERC-20 token and most entrepreneurs expect the Solana token to become a trend in 2023 by. Solana token development has played a major role in helping the Solana ecosystem grow.
Features of  Solana Token
Proof of History:
PoH(proof of History) is introduced due to the disadvantage of PoW(proof of work every node on the blockchain network will arrive at a consensus before any new entry). PoH means a new block can be added to the blockchain network without any agreement.
In Solana token, each node has its own block and without consulting each other they make their own decisions. 
TowerBFT( Byzantine Fault Tolerance) algorithm: 
The TowerBFT system is a security shield for the Solana ecosystem. If a particular node fails TowerBFT ensures that it doesn't affect the entire system. TowerBFT helps the nodes to continue working even after numerous failures. 
Sealevel: 
Solana runs multiple smart contracts at the same time. This makes a cost-efficient blockchain network and saves time. The technology that is Solana to run multiple smart contracts at the same time is known as sea level. 
Turbine: 
To increase the speed of transactions, Solana divides different blockchain nodes into smaller packets. Information on Smaller packets can be quickly and easily validated, it also helps Solana to address issues related to bandwidth. 
Pipeline: 
Solana assigns the input data to different hardware which are involved in the Solana's ecosystem to increase the processing of transactions. Multiple hardware quickly analyzing the information blocks is known as pipelining.
Our custom Solana Token Development Services
DApp Development
We assist you in developing user-friendly and scalable dApps on the Solana blockchain. We created dApps for payment, peer-to-peer lending, token swap, NFT marketplaces, stablecoin, and more uses.
NFT Marketplace Development
On the Solana Blockchain, we can assist you in deploying and developing your own NFT Marketplace. Our Solana token development services can help you optimize your marketplace for decentralized NFT minting, sales, storefronts, and more features.
SPL Token Development
We provide service to you in tokenizing your assets by issuing new SPL tokens. On decentralized exchanges these coins are traded, they can be used to invest, and power Solana dApps.
DeFi Development
We develop Defi systems such as Crypto loan platforms and P2P decentralized lending platforms on top of the Solana blockchain to enable you to tap into the possibilities of Defi and appeal to lenders and borrowers all over the world.
Solana Blockchain Consulting
Our consulting services help you to understand the process and value by strategic and technical examination of Solana blockchain development for your business.
Consult with our business experts to launch your solana based token instantly! Chat with us on WhatsApp
Advantages of Solana Token Development
 Transactional security
Solana network protects the transactions by being built on the RUST programming language. Mainly Solana uses the Byzantine Fault Tolerance (BFT) algorithm which acts as a safety shield, which means even if a particular Solana node fails, the entire system will not be affected. This ensures that the use of Solana token development and Solana blockchain won't be inactive ever.
 Simultaneous clearing of memepool
Memepool is a waiting area for the transactions that are yet to be processed because of this Solana uses a unique Gulfstream system. The Gulfstream system removes the need for a meme pool and that is how the high throughput is maintained. The Solana network is designed as soon as a transaction enters and moves to the validators immediately. That is the previous transaction gets clear before a new transaction is added. 
Protocol advantage
Solana uses both the combination of Proof of stake(PoS) and proof of history(PoH) consensus. PoS consensus makes secure the user-friendliness and security of the blockchain, in PoH consensus algorithm ensures the network has higher throughput rate and higher efficiency. A separate consensus maintains events in the historical record. In 2022 will continue to be a trend of this unique way of using two consensuses.
Horizontal scaling 
The horizontal scaling method is implemented in Solana's scalability. Basically, the Cloudbreak system protects the tokens and the system remains scalable and transactions never face throughput issues. 
Pocketing 
Solana token creates smaller pockets out of the blockchain nodes. As the smaller packets of information are quick and easy to transact, Solana tokens development does not face bandwidth problems. 
Cost to create a Solana Token
Solana is an open-source blockchain that is compatible with smart contracts like decentralized applications. At the current time, it is managed by the Solana foundation. Solana allows fast transactions with much lower transaction charges as compared to the other tokens. 
Due to its fast and low-cost transactions, Solana is now one of the fastest-growing tokens. By Solana, over 50,000 transactions can be achieved within a second. 
It costs approximately 10-15 SOL to create a market, which means right now it is around $350 USD. But the cost of creating a token is generally based on the features, functionality as well as blockchain platforms you want to create. The cost may also differ based on the type of token you are going to develop. Each token has different benefits and is used for different purposes. The cost to develop a Solana token varies from the developer.
Where do you get the best Solana Token Development services?
Nowadays there are a lot of developers available in the crypto world, but choosing the best developer is more important to you. Why you have to select WeAlwin Technologies? Here are the convincing reasons from WeAlwin Technology. As a  Leading Token Development Company, we offer you complete source code as well as complete ownership of your digital assets & increase liquidity, etc., and more features based on your Business Requirements. We develop your Solana token platform using the most cutting-edge technologies available in the market. We developed your Solana tokens in a short time and are cost-effective. 
We hope that this detailed article will help you gather knowledge and start building your token on Solana. WeAlwin Technology will help you with the technical support of creating your Solana token for your business. Check out our product and team up with us to easily and quickly develop your Solana token.
Do you have any queries or want to say anything or get a free demo?
Ping us a message on our live chat or WhatsApp and we'll get back to you shortly.
Checkout our page on token development service to get more information