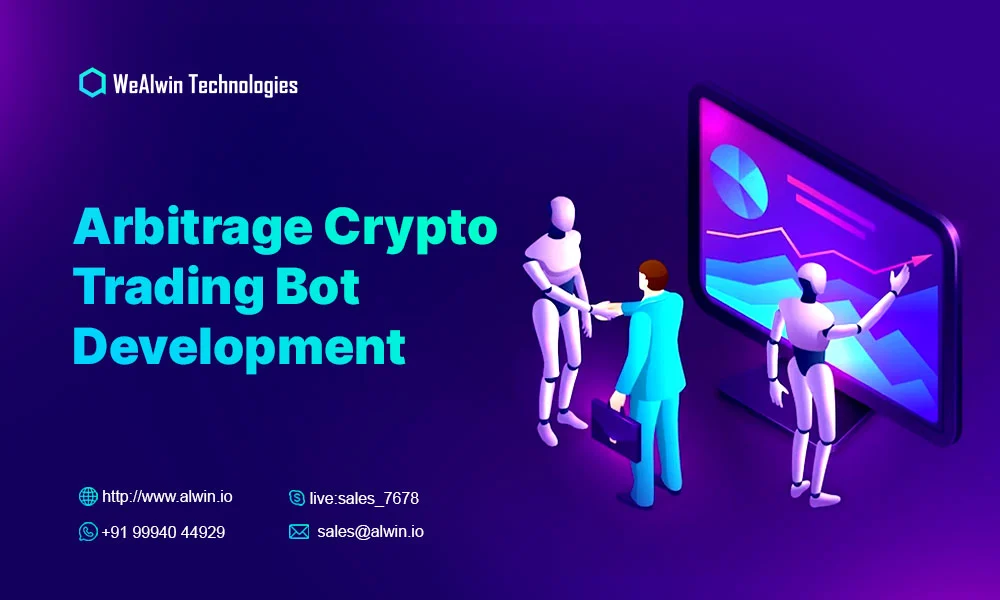 Do you know the current trending topic around the crypto world? 
It's an Arbitrage Crypto Trading Bot.
Yeah! Right from crypto traders to business investors now highly search for this one on the internet.
What is it exactly? & Why is it the most trending thing now? 
Let's discuss them in the following.
Wait…
Firstly, what's CRYPTO ARBITRAGE?
Okay. It is a trading strategy based on the differences between cryptocurrency prices on various exchanges.
So, now,  it's time to move to the real niche…
Crypto Arbitrage Trading Bot - An Overview
You may know "trading bots" are already used for years to automate trading processes. It is sure that they eliminate the stress and uncertainty involved in trading while it is performed by humans.
That's how the crypto arbitrage bots now get trendy. A crypto arbitrage trading bot executes actions based on how it's clearly programmed for that. It uses trend-following trading strategies. As an example, market-trading bots buy and sell large amounts of cryptocurrency and make profits from the volume.
Generally, crypto arbitrage bots come with three popular trading models mentioned in the following. 
Crypto Spatial Arbitrage Bots
The spatial arbitrage bots buy cryptocurrency from one exchange and shift it to another exchange to sell there. These types of bots constantly keep track of the price variations that happen between different cryptocurrencies on different exchanges.
   2. Crypto Convergence Arbitrage Bots
The convergence arbitrage bots "go long" on underpriced cryptos and "go short" on overpriced ones. Thus, when the two prices converge, they sell the long and buy back the short by analyzing different cryptocurrencies and predicting the changes in their prices.
   3. Crypto Triangular Arbitrage Bots
The triangular arbitrage bots are actually more complex than their equivalents. Because they often involve cryptocurrency swapping between three exchanges. They have to monitor the prices in various exchanges and look out for changes in profitability.
Consult with our business experts for developing Arbitrage Crypto Trading Bot! Chat with us on WhatsApp
Types of Crypto Arbitrage Strategies
There're 6 types of crypto arbitrage strategies followed by the crypto arbitrage trading bots. They are -
Cross-exchange arbitrage - Buying cryptos from one exchange and selling them to another.
Spatial arbitrage - It's the same as above, but the exchanges are located in diverse regions.
Triangular arbitrage - This strategy gets applied based on trading loops and moving funds between two or three digital assets.
Decentralized exchange - Arbitrage uses smart contracts. It's done on or across the decentralized exchanges.
Statistical arbitrage - It usually relies on mathematical models and trading bots. This strategy will get applied using econometrics, statistical, and computational techniques in trading.
Spread arbitrage - This strategy relies on the spread between buying and selling prices across exchanges.
Benefits of Arbitrage Crypto Trading Bot
Low-risk - It's one of the highlighted benefits of developing your own crypto arbitrage trading bot for business. Because it already relies on identified opportunities to gain enormous profit in the crypto market space.
Needless for an Analysis - It no longer requires predictive analysis.
Easy Traders Onboarding - A trader can also be entered for the crypto arbitrage bot in seconds.
Ready-to-go Strategies - The bot's ready-to-go strategies allow the users to start quickly and effectively.
Strengthened Trading Strategies - The crypto arbitrage trading bot has the ability to copy arbitrage strategies from other users on the platform.
Effective Trade Future - Primarily, your arbitrage crypto trading bot can also be used for trade futures.
So, these quality entities will attract the existing crypto traders at a high level. Thus, your business gets massively established in the blockchain domain fast.
Why Choose WeAlwin Technologies for Arbitrage Crypto Trading Bot Development?
Firstly, we're so experienced in the field of crypto and blockchain for 5+ years. We've in-house technicians dedicatedly work on your crypto arbitrage trading bot development project. Along with that, you could find many significant advantages for your project development with us. They are -
Agile development methodology
Custom-centric arbitrage trading bot creation
Free experts' suggestions
24/7 technical assistance
Affordable price list
Quality bot outlet
Fast business launching
Wrapping Up
THE CRYPTO ARBITRAGE TRADING BOTS ARE THE FUTURE - there's no doubt about it.
So, what's next???
Wanna build your own crypto arbitrage trade bot for business? 
Then, what're you waiting for?
We provide you with world-class arbitrage crypto trading bot development services.
Check out our page on Crypto Trading Bot Development Company to get more information
One of our representatives will call you immediately and you can discuss your project and further details to establish your business with the market's #1 blockchain developer.