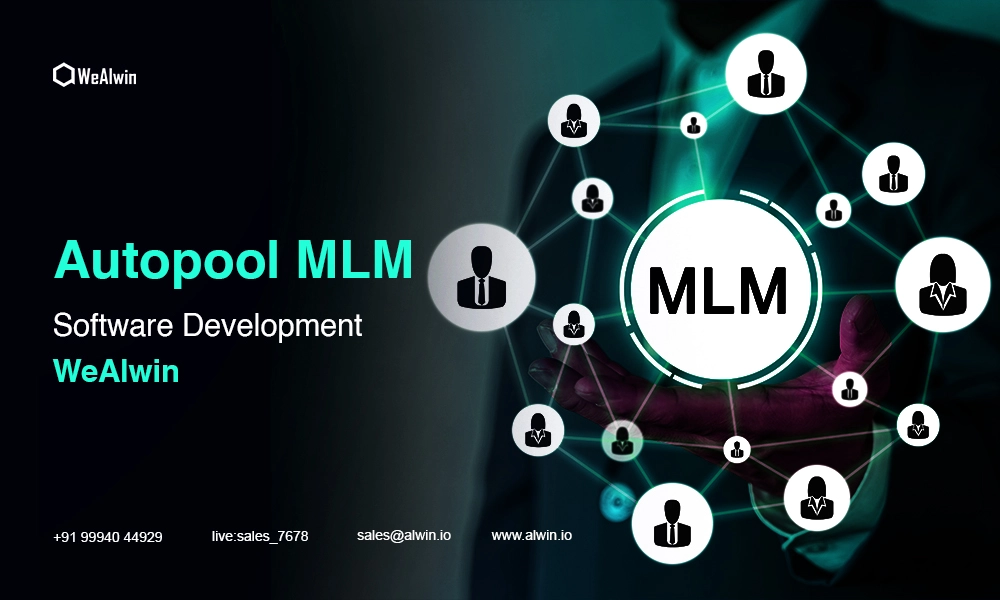 We're about to take you on another thrilling ride through the ins and outs of this game-changing technology. Whether you're an MLM enthusiast looking for ways to revolutionize your business or a Tech-savvy Entrepreneur eager to tap into the lucrative MLM industry, this blog post is your ultimate guide. Get ready to discover how Autopool MLM Software can turn your dreams into reality, propelling your business toward success like never before. So grab a coffee, sit back, and let's embark on this exciting journey together!
What is the Autopool MLM Plan?
The Autopool MLM Plan, also known as the Auto-Fill Matrix Plan or Forced Matrix Plan, is a popular compensation structure used in multi-level marketing (MLM) programs. In this plan, participants are organized into a matrix or a grid-like structure with a fixed number of levels and positions. 
Features of Autopool MLM Platform:
User Migration
Hierarchy Listing
My Members List
Advance Rank Calculations
Set Custom Ranking Rules
Income Report
Expenditure Report
Multi-Withdrawal Support
Multi-Payout Support
Referral List
compensation Calculation
Bulk Registration
Multi-Compensation Support
Digital Wallet for Business
Digital Wallet Transfers
Manage User Types
CMS Website
Bitcoin Integration Paid
Multi-Wallet Support
Automatic Payout Paid
E-commerce Integration Paid
Employee Management System Paid
Bulk Mail
Activity Tracker
Automatic Payout System
Customizable Compensation Plans
Configurable Business Plans
Add Members Without Limit
Integrated Lead Capturing System
Multi-Payment Support
Integrated Replication System
Bulk Sms
System Messenger
Payment Failure Report
Easy to use Dashboard
Digital Wallet
Genealogy Tree
Multiple-Currency Support
Multiple-Language Support
Responsive Design
Team Analyzer
Network Analyzer
Profile Management
Multi-Network Display
Consult with our business experts to know more about Cryptocurrency MLM Software Development! Chat with us on WhatsApp
How Does an Autopool MLM Plan Work?
Here's how it typically works:
Matrix Structure: 
Participants are placed in a matrix with a predefined width and depth. For example, in a 3x5 matrix, each participant can sponsor a maximum of three frontline members, and the depth can go up to five levels.
Automatic Position Filling: 
The term "autopool" or "auto-fill" indicates that when a participant sponsors new members, they are automatically placed in the next available position in their matrix, typically from left to right and top to bottom.
Spillover: 
This plan often encourages teamwork because when a participant's frontline positions are full, any recruits they bring in are automatically placed under their existing downline members, which can lead to spillover bonuses and help others in the network.
Commissions and Bonuses: 
Participants earn commissions and bonuses based on their sales or recruitment activities within their matrix. The exact compensation structure can vary, but it typically includes bonuses for filling matrix levels, recruiting new members, and achieving specific rank advancements.
Matrix Completion: 
Participants can cycle out of a level as the matrix fills up, receiving a payout or bonus. This encourages participants to continue recruiting and building their network.
Points to be considered:
In the Autopool MLM Plan, participants start in the working income structure, which can take the form of a Monoline MLM Structure, Binary MLM Structure, or a 1x3 Matrix MLM Structure. During this phase, distributors actively focus on team building and the recruitment of new members. As they meet specific criteria and conditions, they are automatically transitioned to the non-working structure, progressing to higher levels within the autopool. In this non-working structure, distributors reap rewards from the combined efforts of their downline members, earning dividends that are reflected in the collective income generated within the network. This dual-phase system encourages both active engagement in recruiting and long-term commitment to the MLM business.
Bonus and Compensations:
Direct Sponsor Bonus: 
This is the first stepping stone in the MLM journey. Distributors receive a direct sponsor bonus for introducing new members to their uni-level tree. This immediate reward incentivizes them to expand their network.
Level Bonus: 
As your downline members begin to refer new individuals, distributors receive a level bonus. This serves as a powerful motivator for distributors to continue building their teams, as each new referral can lead to additional earnings.
Non-Working Bonus: 
In the Autopool MLM Plan, non-working bonuses are dividends earned from the income accumulated in the autopool. This aspect of the compensation plan encourages distributors to maintain and grow their network, as it contributes to their overall earnings.
Rank Advancement Bonus: 
Achieving higher ranks in the MLM hierarchy is a significant accomplishment. The rank advancement bonus, often known as club income, rewards those who attain specific club ranks. This acts as an extra incentive for distributors to reach higher ranks and further strengthens their commitment to the MLM business.
How To Make Successful Autopool MLM Software?
To ensure that your Autopool MLM Software works seamlessly and efficiently, certain key factors must be considered:
Payment Regulation: Implement a well-regulated payment system to ensure timely and accurate payments to your distributors. This reliability encourages trust within your network.
Transparent Compensation Structure: Clearly define your compensation structure to minimize confusion among distributors. This transparency enhances the overall appeal of your MLM program.
Calculating Payouts: Utilize a monthly calculator to calculate and distribute payments and compensations to each downline member. This automated approach ensures accuracy and consistency.
Real-time Monitoring: Your software should offer real-time insights into sales volumes and the activities of your associate members. This feature empowers you to make data-driven decisions and adjustments as needed.
Stability and Scalability: Ensure that your Autopool MLM Software can handle the growth of your business. Online scalability is crucial to accommodate an expanding network.
Bonus System: Incorporating a well-structured bonus system will motivate distributors to excel. This includes fast bonuses for achieving targets quickly and level commissions that increase earnings.
Why WeAlwin Technologies? 
Get ready to dive into the fascinating world of multi-level marketing and discover how this cutting-edge technology can supercharge your success. Let's get started! If you're looking to revolutionize your network marketing business, increase efficiency, and maximize profits, then you've come to the right place. Approach WeAlwin Technologies is one of the leading Cryptocurrency MLM Software Development Company which has an experienced team of developers who will build your projects to succeed in your MLM Business. 
Want to develop your own Cryptocurrency MLM Software?