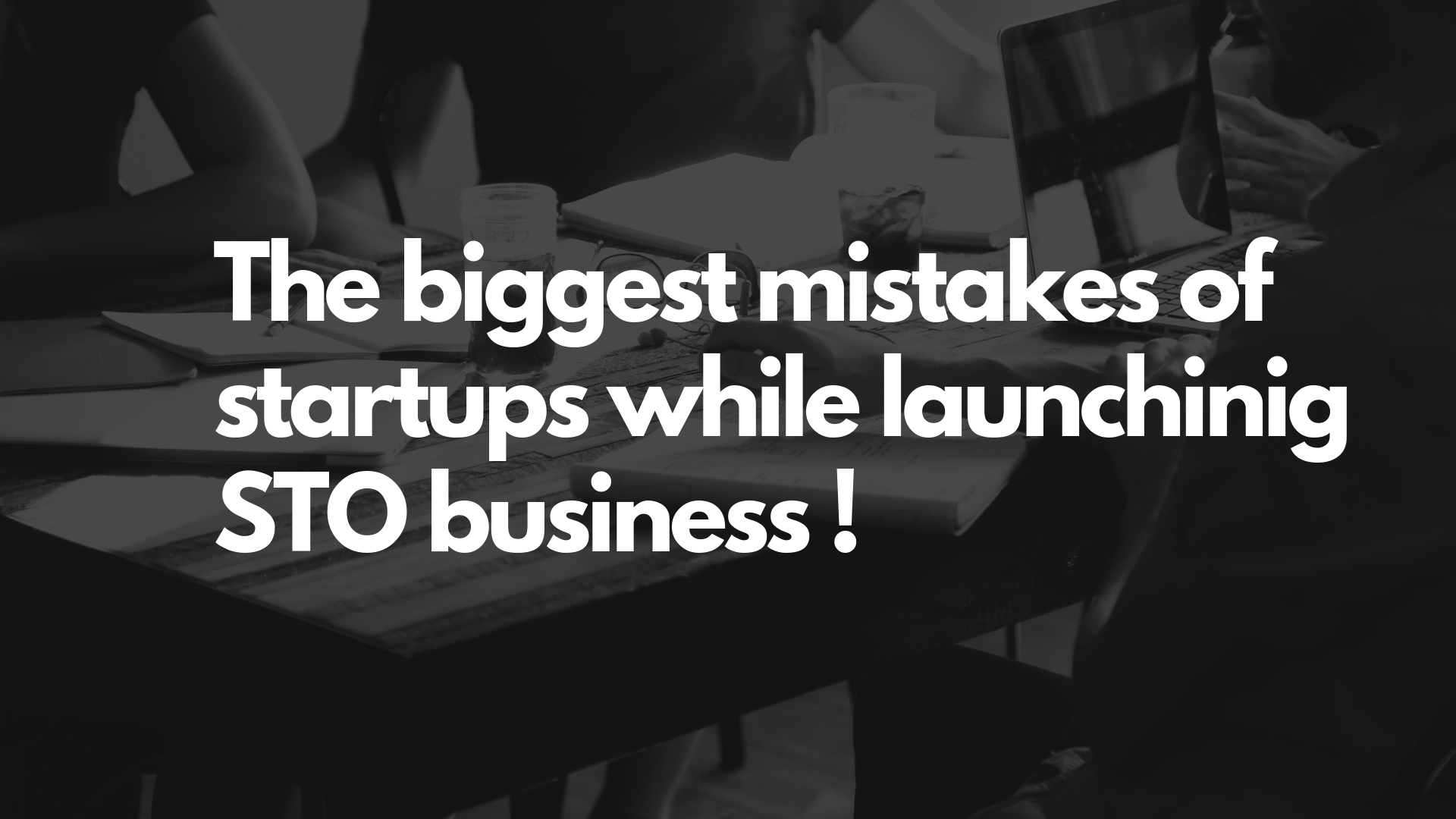 2017 came with ICOs and changed the way business used to secure funds. That was good but was not enough. So, security token offering followed the route and came into play. This eminent player changed the whole game. It changed the way and the approach of using physical properties the digital way.
Everything can now be converted to a token, to be precise, security tokens. It gained traction and many started a journey on this route. Some crossed the finish line, while some crashed en route. This reason compelled blockchain and cryptocurrency experts at Alwintechnologies to diagnose and eliminate those mistakes resulting in a collapse.
Let's get moving to know mistakes to get rid of those.
Is this even required ?
The first mistake which generally issuers make is unable to decide whether STO is even required? Not every business project requires STO. It depends on various factors which need to be taken care before getting to start point of launching STO. It's essential to see that the current project might be more suitable to bring ICO.
To access whether the business project really wants STO or not just have a look at a few key points:
• How much compliance is too much for the project?
• Required investor pool: Small or Big? It depends on the business segment and funds required.
• What amount of cost can be incurred as an expense?
• And is there product to be tokenized or money is needed to make a product!
All these points are essential. If you think this is way too much confusion to reach on consensus, don't remain uncertain! We at Alwin technologies offer free consultation from experts.
Preparing for STO like ICO
Another instance where things go wrong often is the preparation phase. There is a need to sense a line of difference between ICO and STO. Unlike ICO, STOs are regulated and need to be compliant. To launch STO, it's prima facie that the offering complies with every jurisdiction.
For example, China doesn't allow any of its citizens to invest in cryptocurrency, whether residing in China or not. Likewise, Indians can't use INR to transact in cryptocurrency.
Also, countries like the US have authorities like SEC and IRS to control security matter and tax matters related to cryptocurrency. In this ICO doesn't require registration, on the other hand, to bring STO it is must to get registered under SEC, except claiming exemption under any of the regulations. One of those is Reg. D that allows an exemption if security is being offered only to accredited investors. This aspect changes the whole strategy to market and promote the offerings. Furthermore, any small mistakes of being non-complaint will not only sack the offering but attracts a huge amount of penalty as well.
Therefore, experts at Alwin technologies emphasize on the need to understand and act differently in case of STO from that of ICO. In addition to this, working with someone having knowledge of legal and financial compliance is much proves beneficial. Not to mention, we always welcome you to drop a message if you need any guidance in this matter.
Selection Gone Wrong
Actually, when it comes to selection people don't commit a mistake, they do blunder. There are numerous things to make a selection. A small mistake, while selecting any of those quintessential things, can sink the ship of STO in no time. Well, what those key factors are?
Come, we'll have a look at those.
The Team
For any project a team is like an engine oil; is present there, doing its work and not visible to the outer world but has a serious impact on engines' performance. The same way selection of team decides the future of an STO project. One can't just rely on any of those available self-proclaimed blockchains and STO development company.
There has to be vast knowledge, blockchain expertise and guidance approach. Also, the marketing and PR team can't be undervalued in today's digital world. It's not easy to miss partnering with a company like Alwin technologies; having 10+ years of experience and facilities like a dedicated manager and 24/7 customer support. Hence, selecting a team is a decision to be taken wisely.
Target audience
Unable to select the correct set of audience brings multiple problems at once. Problems like extra costing, wasted marketing efforts and falling short of the target. Therefore, due diligence is a must while selecting an investor to be targeted. All the elements like regulation, KYC/AML requirement and jurisdictions in which tokens are being offered must be taken into consideration. This way it would be easy to reach the soft as well as the hard cap of the offering.
Technical aspects
STO is technical above all. So, in no case, technical aspects can be ignored. All decisions in STO are controlled through smart contracts. Along with it, smart contracts take care of compliance part as well. These smart contracts can be based on any of those available token standards.
For these tokens, there are different options available. Few of the available options are Ethereum, Ethereum Classic, NEO and Stratis. And some popular token standards are ERC20, ERC721, ERC1155, ERC1400 and NEP5. All these have different features and provide different functionality to tokens. This is the reason that a token standard needs to be selected cautiously. Other things that are to be taken care include security issues, bug testing and stack used for development.
Time to launch STO
While launching STO every detailing need to be given a proper time. A general approach is of four to six months. But depending upon the STO project total time can be more or less. It is important to make sure that everything is double checked before launch and that everyone is ready for the worst-case scenario. It's never a good idea to ignore the downside of the project.
Loose STO structuring
Last but not the least, structuring is all about getting all pieces together and adding the missing pieces together to get the best out of security token offering. It's simple as well as tough. There are few basic things that are to be done like having a right team, doing basic checks, and setting the framework. The framework includes outlining things like 'Value & Future' and designing 'Revenue Model'. To know more about STO, do read our article on it.
These were some of those mistakes that can prick the balloon and restrict STO from reaching the needed height. All these were pointed just with the aim that issuers could get best out of the STO launch. In case you have any questions regarding STO or any related topic, then don't hesitate and book your free consultation with Alwin technologies today!
A certified blockchain development company leads security token offerings project development with a higher level of value.
"There is no greater wealth than wisdom, no greater poverty than ignorance; no greater heritage than culture and no greater support than consultation."