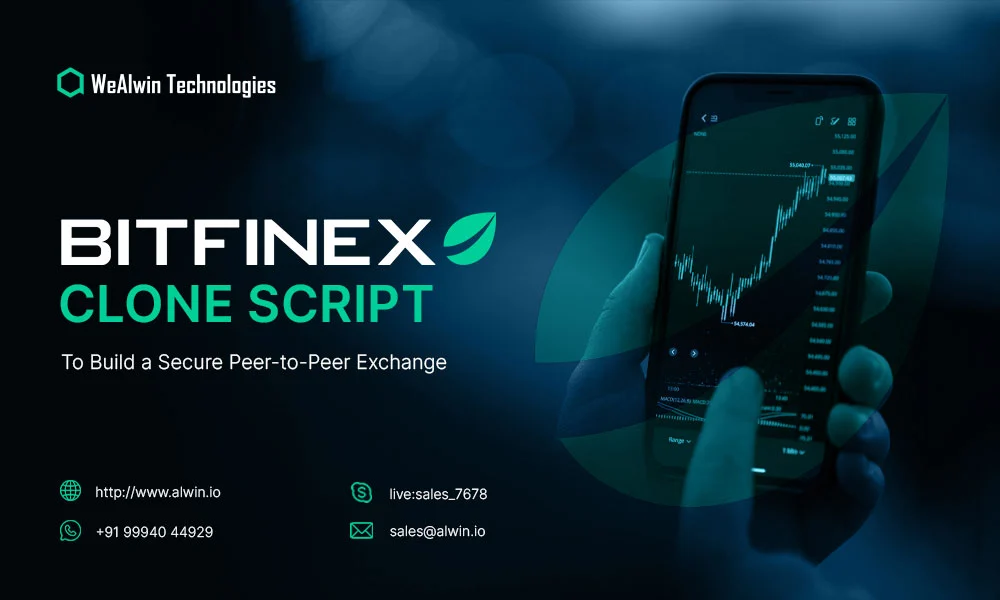 Cryptocurrency exchanges have fixed their roots strongly and vigorously in the blockchain platform. The popularity of crypto exchanges and clone scripts has become more general with its daily uprising innovations. 
Are you planning to develop a crypto exchange platform like Bitfinex? 🤔
You have arrived at the right place to initiate your crypto business idea!
Bitfinex took its birth when the Bitcoin revolution started and their goal was ultimately different from others. Bitfinex exchange invested in educational sectors to expand the understanding of Bitcoin worldwide and to foster financial education.
So, do you want to dip your toes into the goal-oriented exchange platform?
We are here to assist you in launching a powerful Bitfinex exchange.
What is Bitfinex?
Bitfinex was one of the most popular and earliest crypto exchange platforms founded in 2012 to deliver an excellent trading experience for crypto enthusiasts. Bitfinex platform lists 200 different types of tokens and 400 several spot trading pairs. This exchange platform would regularly check the tokens listed on the exchange to assure that they meet the standards of governance and liquidity.
Bitfinex was started as a peer-to-peer lending platform for bitcoins and step by step they expanded their support for all major crypto such as Ethereum, Tron, Cardano, EOS, and Dogecoin. It allows people to buy and sell crypto assets using fiat or cryptocurrency. This exchange is recognized as an excellent revenue-generating business model among startups and entrepreneurs.
Bitfinex clone script
Bitfinex exchange has pulled the attention of many crypto entrepreneurs. 
So what is exactly the Bitfinex clone script?🧐
Let us have a look into it.⏬
Bitfinex clone script is the prebuilt cryptocurrency exchange software that holds the features and plugins of Bitfinex. It offers state-of-the-art trading tools, innovative technologies, and productive customer support for users. Apart from this it also offers live chatting tools, margin trading, and derivative trading options. By using it you can build a crypto trading platform like Bitfinex within a short period.
Consult with our business experts to Build your Bitfinex clone script! Chat with us on WhatsApp
Elite Features of Bitfinex Clone Software
Advanced trending features of Bitfinex clone enables users to taste the success rate of crypto soon. Here is the list of impressive features that you can get from our Bitfinex clone script.
Crypto payment gateway
Cryptocurrency wallet integration
Crypto derivatives trading option
Referral option 
Unlimited currency exchange pairs
Advanced trading tools
Order book system
Multi-lingual support
Security Features of Bitfinex Clone
We provide bulletproof secured features to protect our users account from unwanted intruders.
Jail login
Fingerprint scanner
End-to-end encryption
Two-factor authentication
Anti-denial of service(DOS)
Cross-site request forgery protection(CSRF)
Server-side request forgery protection(SSRF)
Benefits of Our Bitfinex Clone Script
Our Bitfinex exchange clone offers several benefits that are needed for your lucrative business.
Our Bitfinex clone software provides users with different crypto payment options.
We customize the Bitfinex clone exactly as the Bitfinex exchange by including the top features that are needed for effective trading.
Our bug-free Bitfinex clone software supports all major crypto assets. In addition to the business requirements, can add cryptocurrencies, fiat currency, and trading pairs.
Users need not develop a separate cryptocurrency wallet, our Bitfinex clone comes with a multi-currency wallet. Through this option, users get benefitted by trading with multiple currencies.
Transactions take place at high speed in our Bitfinex clone software, users can execute their trading quickly and save a lot of time.
Bitfinex Clone App Development
The Bitfinex clone app is the exact replica of the mobile trading application Bitfinex which exhibits all the features of the exchange platform. We at WeAlwin Technologies offer best-in-class clone app development services with enhanced security features. 
Our Bitfinex clone app ensures fast and secure transactions in a cost-effective way. Users can carry out their trading process from their comfort zone which saves most of their time and makes trading easy. They can also customize the themes, colors, backgrounds, and options based on requirements.
Why Choose Us for Bitfinex Clone Development?
WeAlwin Technologies is a massive crypto development company that provides standardized crypto exchange clone scripts for its customers. We are specialized in offering all sorts of blockchain and crypto-related development services with utmost perfection. So far, we have delivered 100+ highly qualified crypto exchange development services and solutions for global clients. 
Successful achievements have given a path for startups and entrepreneurs to approach us for their crypto business. We offer all our services using advanced trading tools and cutting-edge technology features for an appropriate trading experience. Our technical benefits are listed below,
On-time delivery
Round-the-clock support
Agile methodology
Dedicated blockchain experts
Qualified development team
360° custom development services
Advanced technology stack
Budget-friendly approach
Check out our page on Crypto Exchange Development Company