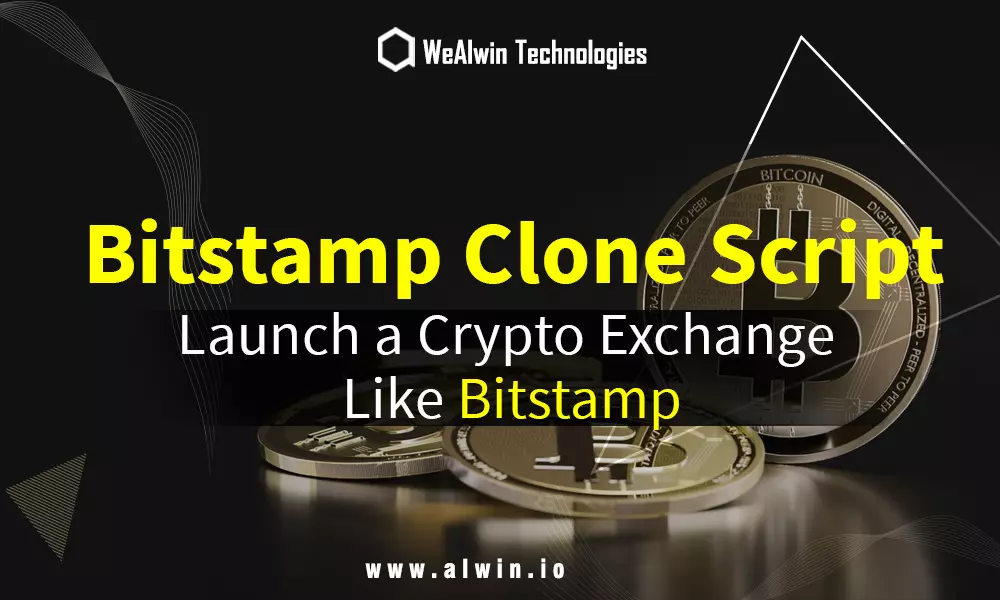 In this Blog, We will discuss What is a Bitstamp, What is a Bitstamp clone script, Why should a cryptocurrency exchange be like Bitstamp, and Get the Benefits of our Bitstamp clone software.
In the modern crypto space,  there are so many cryptocurrency exchange platforms out there for Cryptopreneurs and crypto traders. Such as binance, local bitcoin, Coinbase, Bitstamp, and other cryptocurrency trading platforms. Bitstamp is also one of the popular cryptocurrency exchange revolves around the world.
Nowadays, Making your own cryptocurrency exchange is a difficult task and some risky factor also. So, you need a complete professional Bitstamp exchange clone script provider to develop and deploy your crypto exchange like Bitstamp. You will get the fully customizable and bug-free Bitstamp clone script from WeAlwin Technologies. We are always here to carry out your business goals with your own business requirements and ideas.
What is a Bitstamp?
Bitstamp is a  cryptocurrency exchange started in 2011 and located in Luxembourg. It allows traders to purchase, sell, and safely trade any digital assets using fiat currencies and cryptocurrencies. It allows some of the Fiat currencies, and cryptocurrencies such as USD, EUR, GBF, Bitcoin, ALGO, XRF, Ether, Litecoin, Bitcoin cash, XLM, USD coin, Dash, Ripple(XRP) or PAX, and more for deposits and withdrawals.
It is also the world's longest-standing cryptocurrency exchange website. The Bitstamp cryptocurrency exchange software is a peer-to-peer exchange platform so that in this everything is decentralized under the usage of the blockchain network. In this exchange platform, Traders can transact a wide range of major digital currencies that are present in the marketplace. It lets all global crypto traders exchange instant, secure, and simple transactions.
What is the Bitstamp clone script? 
Bitstamp clone script is a prefabricated software that acquires all the advanced features and functionalities of an original Bitstamp exchange. With the help of our Bitstamp clone script, you can launch your exchange like Bitstamp. And also our Bitstamp clone software has come with customizable options. So that you can customize your exchange platform according to your business requirements. 
Our Bitstamp clone script is fast, secure, and affordable compared to other clone scripts. We provide our clone scripts are completely developed, designed, and tested by our expert teams. So you can deploy your Bitstamp exchange using the clone script within a short span of time.
Why should a cryptocurrency exchange be like Bitstamp?
Functionality:
Bitstamp crypto exchange is a user-friendly peer-to-peer crypto exchange platform. So the users can easy to use it, this site contains all the key stats on prices and orders and it constantly provides updated balance details and charts. The users who prefer a handy service solution, Bitstamp mobile application is available to both iOS and Android users.
Low Fees:
Bitstamp cryptocurrency exchange has charged a lower fee compared with the majority of cryptocurrency exchanges.
Security:
This crypto exchange is more secured with high-level security entities. Compared with other exchanges this crypto exchange is the safest platform for both the buyers and the sellers.
International Availability:
It is very widely available across Europe and the United State countries, this exchange is currently available in overall 60+ countries. The countries like Australia, Brazil, China, Hong Kong, India, Japan, New Zealand, Singapore, South Korea, etc.
Here are some other highlights to starting a crypto exchange like Bitstamp. Let us start 
Did you know? Bitstamp exchange is the first nationally licensed crypto exchange website in a very short time.
This crypto exchange supports USD, EURO, and some other fiat currencies to buy and sell digital currencies on the trading platform.
Bitstamp crypto exchange charge only 0.25% as a service fee from the traders.
This crypto exchange provides 24/7 customer support to its global crypto users.
Bitstamp clone app development:
I have already talk a little bit about this Bitstamp clone app in the above topic, Now we will see expanded. 
Bitstamp clone app is full trading functionality of Bitstamp in mobile phones that can be accessed on both Android and iOS operating systems. Bitstamp clone app features advanced analytical tools and that is helpful as an advanced level for crypto traders. This will keep the market trends at the fingertips, lock screen notification, and instant login feature of Bitstamp clone app services.
Features of Bitstamp clone app:
Order book
Multi-Fiat currency support 
24/7 premium support
Crypto market updates
Bitstamp wallet
Intuitive interface.
Consult with our business experts to launch your cryptocurrency exchange platform like Bitstamp instantly! Chat with us on WhatsApp
How does a Bitstamp clone work?
The users can visit the Bitsatamp crypto exchange site and create an account by the process like signup/register. In the registration process, just enter some of your personal details like name, email address, password, and sometimes country of residence. It is also necessary to tick a mark on the terms and conditions box and click 'Register'.
You can now log in to the Bitstamp platform with your details which will take you to the home page that allows you to change the generated password. Here, you may also choose to set up two-factor authentication, and once this process is completed then you will be able to access the various features of the Bitstamp account.
Before starting the trade, As a user, you need to deposit the funds in your account. You can choose to make a bank transfer using fiat currencies, transfer your preferred cryptocurrencies, or use your credit card in order to transfer the funds.
In this Bitstamp crypto exchange, deposits made onto the platform take nearly 1-3 working days. Once the funds are available, you can make a trade-like purchase by clicking the BUY/SELL button, choosing your preferred trading people by placing a market or limit order. At last, all these processes are completed you can just enter the value price you want, and quantity, and then process the buy order.
After the completion of the purchase, your account will be credited with the cryptocurrency purchased. It will be up to your choice to sell the cryptocurrency or transfer the fiat currencies to the external wallet.
Premium features of Our Bitstamp Website Clone Script:
Integration of cryptocurrency wallet
High processing pace
Reliable support system
High-performance FIX
Secured payment gateway integration
Limit order, market order, and stop order
Auto-match engine
Admin and user dashboard
GPS tracking
Referral program
Multi-lingual
Diverse deposit options
Liquidity API
Security features of Our Bitstamp exchange script:
We also include a lot of security features to eliminate cyber-attacks and scams. So your traders can securely exchange cryptos. 
KYC verification 
Registry lock
Anti-phishing software
Secured crypto wallet
Two-factor authentication
Biometric authentication
HTTP authentication
Data encryption
SQL injection prevention
Anti Denial of Service (DoS)
Anti-Distributed Denial of Service(DDoS)
Get the Benefits from our Bitstamp clone software
High security to your personal data and digital assets can be in cold storage or hot storage as per your wish.
Quick and safe transactions.
You can set a commission fee as your need for deposits, withdrawals, and transactions.
Bitstamp charges a very minimum(5% fee) when users trade cryptocurrency with debit/credit cards. So that you can also charge the same amount of fees to gain a good amount of profits.
Trading liquidity will be high.
You can get safe and reliable services.
You can get multi-language support in our Bitstamp web clone script.
You can get reliable 24/7 dedicated customer support.
Why should you choose WeAlwin Technologies for getting the best Bitstamp exchange clone script?
WeAlwin Technologies is a top most leading cryptocurrency exchange development company and the best exchange clone script provider across the crypto space. We offered 100+ exchange clone scripts to our clients all around the world with the ideal outcomes. We are providing the bug-free Bitstamp clone script with advanced features. If you are a Cryptopreneurs or crypto enthusiast seeking to start an exchange like Bitstamp. WeAlwin Technologies with an expert team will guide you to launch a crypto exchange like Bitstamp by using our premium Bitstamp clone script. We also offer some other popular crypto exchange clone scripts at an affordable price. Such as