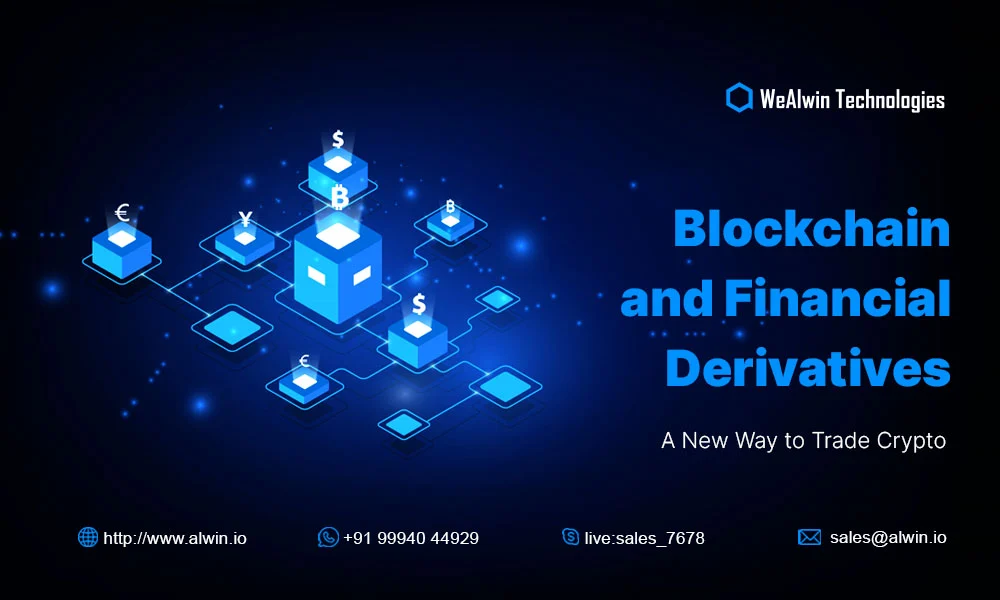 DERIVATIVES - the term is now a hard topic in the crypto market.
What Is It? - -
Derivatives are contracts that derive their value from an underlying asset. 
The most common type of derivative is a futures contract, which is an agreement to buy or sell an asset on a later date for a fixed price. 
And, options and swaps are some other derivatives.
OKAY; Next - 'THE BLOCKCHAIN':
Blockchain is a distributed database that allows for secure, transparent, and tamper-proof transactions of digital assets. 
The cryptocurrency-based derivatives have the potential to disrupt the industry by making it more efficient by providing the chance of applying significant investment strategies for traders.
Followingly, this article will explore it in more detail.
Blockchain and Financial Derivatives - An Overview
Blockchain, the distributed database stores a record of all transactions that take place on the network. 
Financial derivatives are contracts that derive their value from an underlying asset, such as a cryptocurrency, NFT, or crypto token.
When they are both integrated, it enables a more efficient and secure crypto derivatives market space on the blockchain.
It empowers near-instant settlements of trade. It is because blockchain technology allows for settlements to be finalized almost immediately after a trade is made. 
It'd reduce the risk of counterparty default. It's because a blockchain network would provide a more transparent and secure way to track transactions.
Consult with our business experts to know more about how it can be used to trade crypto! Chat with us on WhatsApp
Benefits of the Digitized Financial Derivatives on Blockchain
The financial world is undergoing a major transition as more and more trading is moving onto blockchain-based platforms.
Blockchain offers a number of advantages for crypto derivatives, including increased security, transparency, and efficiency.
Improved Security
One of the biggest benefits of a crypto derivatives exchange platform is the increased security it offers. In it, all data is securely stored on the blockchain, which is actually impossible to hack.
Greater Transparency
Another advantage of your blockchain-based crypto derivative trading platform is the increased transparency. Wherein, all transactions are recorded on the blockchain, providing greater transparency for crypto traders.
Blockchain Crypto Derivative Development
One of the key advantages of crypto derivative development is that it can help to reduce counterparty risk. 
This is because all users involved in the trade would be able to see the details of the transaction on the distributed ledger, which would help to increase transparency and reduce the chances of fraud.
Another potential use case for crypto derivative development is in the area of smart contracts. 
By using smart contracts, it would be possible to automate the process of crypto trading and settling derivative contracts. 
In addition to saving time, this would also reduce the possibility of errors.
The Future of Blockchain Crypto Derivatives
The use of blockchain technology has been on the rise in recent years, particularly in the financial sector. 
It makes it an ideal platform for financial derivatives, which are contracts that derive their value from underlying assets.
The use of blockchain-based crypto derivatives is typically based on Ethereum, which is the most popular blockchain for fin-tech applications.
This will help to bring about more efficient, secure, and transparent financial markets.
The future of blockchain crypto derivatives is very promising. 
Leveraging the advantages, we can expect to see more crypto derivative exchange platforms and products emerge in the market space. 
List of Our Top Cryptocurrency Trading Platforms
Here is the list of our top white-label cryptocurrency exchange apps for your effective blockchain-based cryptocurrency derivative trading platform development.
Coinbase Clone Script
Binance Clone Script
Kucoin Clone Script
Huobi Clone Script
Kraken Clone Script
Paxful Clone Script
Wazirx Clone Script
Remitano Clone Script
LocalBitcoins Clone Script
Zebpay Clone Script
Apart from the list, you can also find many other popular crypto trading platform white-label software to build your existing project. We provide you with 100% customizing crypto derivative platform development solutions. 
In Conclusion
Cryptocurrency derivatives on the blockchain is a new and innovative way to trade cryptocurrency online. 
It has the potential to revolutionize the crypto industry by making the process of trading crypto more efficient and transparent. 
Check out our page on Cryptocurrency Exchange Development Company to get more information
If you have any questions about how this technology works, or how it can be used to trade crypto, please don't hesitate to contact us. We would be happy to assist you.