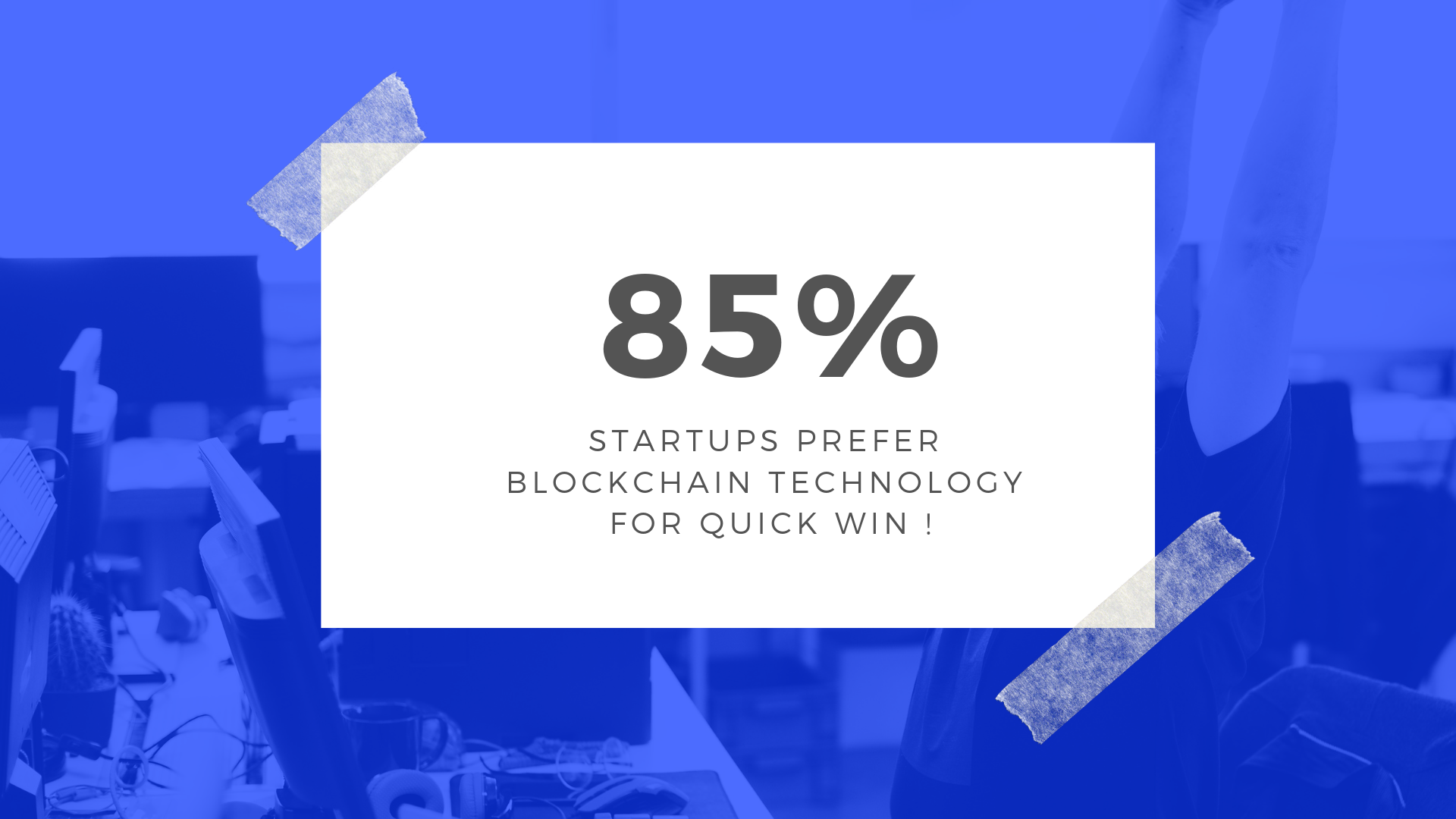 The Startup economy growth is fueled and it's surely growing to get bigger and better. In the list, deep technologies are finding a greater place and are able to attract large startups. Global Startup Ecosystem Report 2019 published by Startup Genome proves it too. In the report, Blockchain is described as the 2nd fastest-growing amongst the technology sector.
After going through the report, the fact that the combination of two words - blockchain and startups are going to rule the future world is undoubted. But why? What's the reason that blockchain technology is of so much importance for Startup Growth?
Through this article, we would try to answer all such questions in a very simplified manner. We would give top-5 reasons for such impact of blockchain on the startup ecosystem.
1) Matchless Security
That's sort of a sunshade for any startup. In this digital world, a wave of the security breach and data leaks is no less than a destructive tornado. In no time a well performing colossal size organization fails, either due to internal security issues or attack by external forces.
Therefore, anyone can imagine how fatal these security issues can be for startups! Moreover, the ones that are in the embryonic stage can't sustain even one such incident. Thus, to ensure that teams' efforts do not go in vain, blockchain is vital. It not only provides cover against such data piracy issues but ensures that you claim the fruit for which saw the seed.
Being a startup it won't be difficult to assimilate blockchain in the IT infrastructure as compared to a more developed and gigantic company. And that's one way in which blockchain could render help.
2) Options = ∞
This is the ultimate beauty of blockchain technology. Using or applying this technology gives a feeling of contentment, no matter where it is being done. As we are talking about a startup, we would look at the options that blockchain uncovers for it.
In terms of funding, you get options like ICO, STO, IEO, and CTO. Not just that, there are many regulated crowdfunding platforms coming up that help startup to access a plethora of funds and are based on blockchain, thanks to its aspects such as transparency and decentralization.
When we change our focus to the application, again this technology doesn't disappoint in any sense. You pick the field and there is always a blockchain application ready to take the shape. Supply chain, hospitality, medicine, oil, and many others have already seen the implementation of blockchain. Interestingly, even within sectorial implication blockchain has been put to different uses. Obviously, the end result was great and way ahead of what businesses used to achieve through the traditional approach.
3) A startup idea in itself
If we are describing the support that blockchain lends to a startup, we can't ignore the fact that 'Blockchain Technology' carries lots of startup ideas beneath its name.
Startups are all about making a difference. So, blockchain + startup ecosystem = a setup of two symmetrical things potent to change the business environment. If you are a close follower of blockchain development, you would have surely seen the germination of disruptive startup ideas or ideas that alter the current startup ecosystem in a positive way. For all those who don't keep a close watch, we want to tell that our team at Alwintechnologies has acted as a growth serum for some of those blockchain based startups. Therefore, we know that how these new blockchain based startups helped old ones without it, to rejuvenate and thrive.
4) Support To Other Technologies
It's a universal truth that in future technologies like robotics, AI and ML would play a significant role in the business process. They all depend on data, rather Big Data. Further, data is a crucial element in the functioning and success of such technologies. Any data which has been altered with can result in big loss to firms.
Even if we keep P&L aside, still, they can ruin the customers' experience by providing faulty & flawed suggestions or in other ways as well. So, for startups using such technologies, it becomes necessary to confirm that the data used for training is stored on a safe and immutable form. And blockchain is the safest way in the current scenario to do so. This is one of the indirect support & the benefit of blockchain.
5) Dashing Growth
Even after spending a hefty amount, balancing growth, expansion, relevant parties and human resource in the initial phase is quite a tough work for startup management. In this realm too, blockchain can help a lot.
Blockchain allows creating a secure P2P network. This means either zero third-part activity or at least lesser than before. Even if there is a need of some third-party services, a startup can get the same from other P2P network catering that segment, which would further reduce the cost and increase the remuneration of the service provider. This saved cost can be invested in other activities.
Next comes HR. This is a sort of mandatory part for any organization but that doesn't mean we always need a team to start with. In fact, in the initial step - lesser is better. Therefore, we can employ smart contracts and automate many tasks in order to get more work done with lesser individuals in the house.
It's better you Talk, Innovate & Grow
These were the 5 ways we decided to show the support that blockchain provides to startup and are essential too. There are many more and we believe that still, blockchain has a lot more to give.
Jennifer Anderson said: "Something that is an exploration today could be an opportunity tomorrow."
That's going to be right for blockchain and we have no doubt in that. Being aware of how blockchain can make a difference, we always motivate people to try this less explored technology. We believe that it's the right time to befriend this technology. You think - 'I'm the one who wants to know further about this!
Alwintechnologies blockchain development company welcome you for a free consultation. Book it now and know how blockchain can help your startup to perform better.