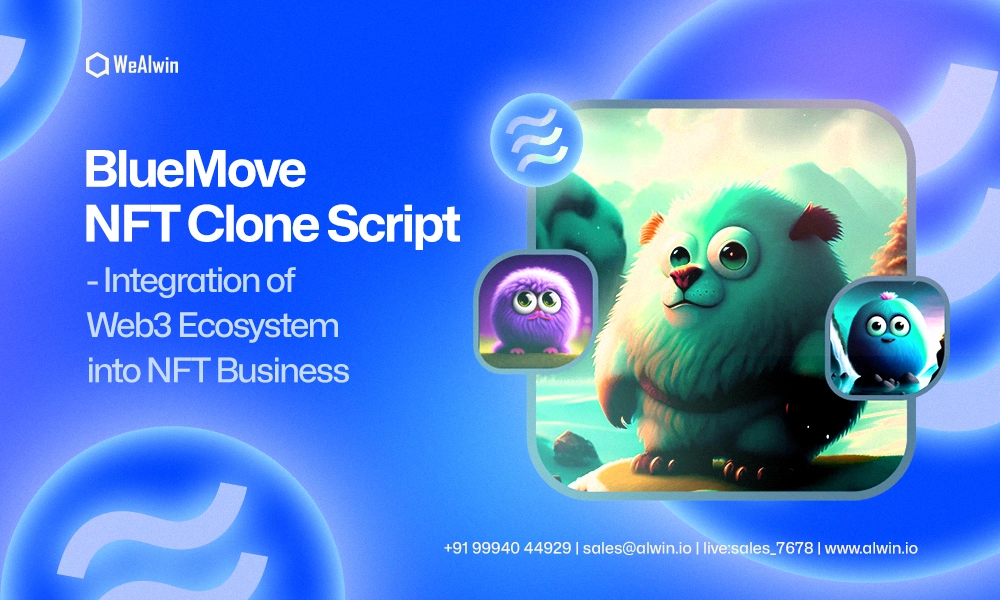 Are you interested in creating your own NFT marketplace? 
If so, then the BlueMove NFT clone script is a great option for you. It's a white-label script that's been developed with the same mechanism as many of the leading NFT marketplaces, such as OpenSea and Rarible. This means that you can launch your own marketplace quickly and easily, without having to start from scratch.
The BlueMove NFT clone script also integrates with the Web3 ecosystem, which means that your marketplace will be fully decentralized. This means that users will have more control over their NFTs, and they'll be able to trade them more easily.
If you're looking to create a successful NFT marketplace, then the BlueMove NFT clone script is a great place to start. It's a powerful and versatile platform that can help you reach a wider audience and grow your business.
What is BlueMove NFT Clone Script?
The term "BlueMove NFT Clone Script" has acquired significance in the dynamic world of blockchain technology and digital collectibles. But what precisely is it? Simply defined, a BlueMove NFT Clone Script is a precisely developed piece of software meant to imitate the functionality and features of the well-known BlueMove NFT platform. This unique script enables innovators, artists, and businesses to establish their own customized NFT markets, comparable to the original BlueMove platform, without the need for considerable coding or programming abilities. The BlueMove NFT Clone Script is a great way to get started in the NFT business. It is affordable, easy to use, and scalable. If you are looking to create your own NFT marketplace, then the BlueMove NFT Clone Script is a great option.
How does BlueMove Clone Software
work

? 

BlueMove clone script is a ready-made solution that allows you to create your own NFT marketplace in minutes. It includes all the essential features and functionality that you need to start selling and trading NFTs, such as:
A user-friendly interface with categories, search functionality, and filters to help users discover and browse through different NFTs.
Integration with digital wallets to enable smooth transactions.
The ability for creators to mint and list their digital assets as NFTs.
Royalty mechanisms ensure creators receive a percentage of the proceeds each time their NFT is resold in the secondary market.
Support for auctions and bidding mechanisms.
The option for creators to set fixed-price sales for their NFTs.
Social elements to foster a sense of community.
To use the BlueMove clone script, you simply need to purchase the script and install it on your server. Once the script is installed, you can customize it to your liking and start selling NFTs.
Consult with our business experts to Build a BlueMove NFT clone! Chat with us on WhatsApp
Remarkable Features of the BlueMove Clone App
The BlueMove Clone App is a decentralized platform that allows users to create, mint, and trade NFTs. It features a number of remarkable features, including:
Register and Login
Users can easily register and log in to the app using their email addresses or social media accounts.
Wallet Integration
The app integrates with popular wallets like MetaMask and Coinbase Wallet, making it easy for users to store and manage their NFTs.
Minting and listing
Users can mint their own NFTs or list NFTs for sale on the app's marketplace.
Royalty
Creators can set royalties on their NFTs, so they earn a percentage of the sale price each time their NFT is resold.
Auctions 
Users can auction off their NFTs to the highest bidder.
Buy & Sell
Users can buy and sell NFTs from other users on the app's marketplace.
Social Interaction
Users can connect with other users on the app and chat about NFTs.
The Advantages of BlueMove NFT Clone Script in NFT Business
Cost-effective
A BlueMove NFT clone script is a cost-effective way to launch an NFT marketplace. It eliminates the need to develop the platform from scratch, which can save you a significant amount of money. Additionally, the script is typically priced much lower than hiring a development team to build a custom marketplace.
Time-saving
A BlueMove NFT clone script can save you a significant amount of time. It takes months or even years to develop a custom NFT marketplace from scratch. However, you can launch a clone script in a matter of weeks or even days. This can give you a significant competitive advantage in the rapidly growing NFT market.
Customizable
A BlueMove NFT clone script is highly customizable. You can change the look and feel of the platform, as well as the features and functionality. This allows you to create a marketplace that meets the specific needs of your target audience.
Scalable
A BlueMove NFT clone script is scalable. You can easily add new features and functionality as your marketplace grows. This ensures that your platform can keep up with the demands of the NFT market.
Why choose us for your NFT Marketplace like Blumove?
If you want to build an NFT marketplace like BlueMove, now is the time to do it. WeAlwin Technologies is a top-tier NFT Marketplace Development Company that aids you in launching the reliable BlueMove clone script quickly. We have a team of professional blockchain professionals, NFT designers, QA analysts, and business specialists who work directly with clients to understand their individual requirements and create personalized solutions that relate to their business goals. Join together with us promptly to obtain a dependable and secure BlueMove clone script.
Check out our page on NFT Marketplace Development