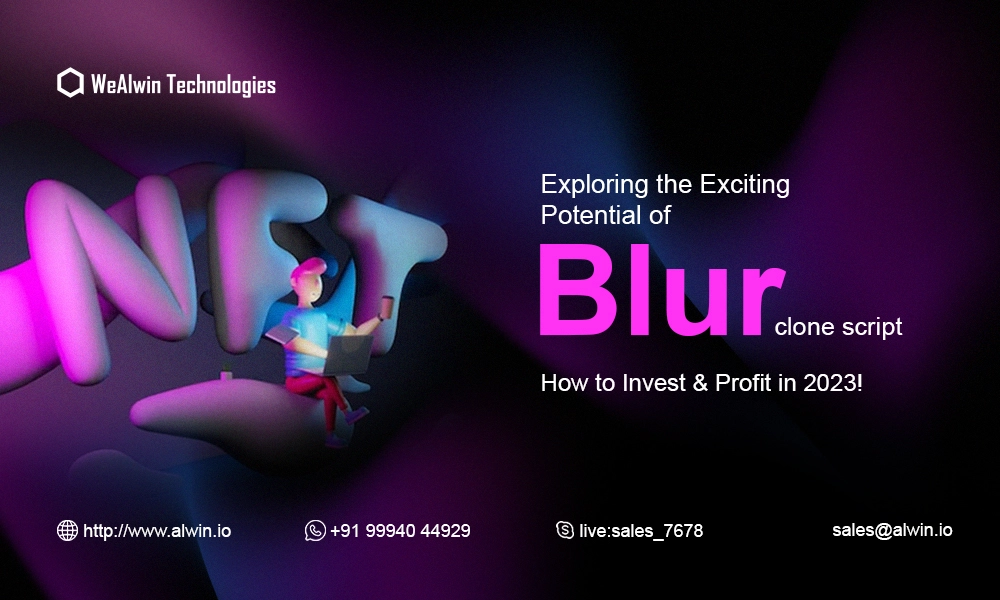 A new era has dawned on cryptocurrency with NFT. These are unique tokens that represent specific assets such as media, digital content, artwork, and more. As an illustration of assets, they bring real-life relevance to the crypto market. NFT can be traded on the market just like trading cryptocurrencies. Blur is providing more advanced experience features and functionalities for professional NFT traders. 
What is the Blur NFT marketplace?
Blur NFT marketplace is a fast and advanced NFT trading platform. It combines an NFT marketplace and aggregator by BLUR token holders. As stated by their official Twitter account, BLUR tokens were launched on February 14, 2023. 
It is a decentralized NFT-based marketplace. This is a spot for artists and art connoisseurs to come together to enjoy themselves. Also, they are supported by Paradigm and are now live with airdrops for NFT traders. 
As it was launched on October 19, 2022, it has been the fastest and most diversified NFT marketplace. In actual fact, it is the only marketplace that allows users to compare the NFT prices across multiple marketplaces. 
Moreover, users can relish amazing features like real-time data feed, chart, total list, and more. With a simple click, users may handle their portfolios using advanced analytics. Users can sweep and snipe NFTs faster as compared to other platforms. 
Also, they are 10X faster than aggregator gem. Up to 17% lesser gas fee where you can sweep the market more faster. As the launch date of their own token approaches, all traders on Blur will receive an airdrop upon launch! 
Then why are you waiting, examine the BLUR today and build a Blur clone script on WeAlwin!
What is the Blur clone script? 
A Blur clone script is a ready-to-use, multi-tested, white-label NFT marketplace that works exactly like Blur. WeAlwin's Blur clone script is a completely customizable NFT marketplace built on the blockchain network. Our Blur clone script is created with market-leading features that make safe and fast trading of digital collections like art, photography, music, video, memes, domains, etc. This marketplace is created with strong architecture, APIs, and advanced security applications to protect NFT assets from hacks and attacks. 
Consult with our business experts to Build your Blur Clone Script! Chat with us on WhatsApp
Features of our Blur clone software
Our developers put their hands in keeping all the following aspects in mind and provide a stable platform to the users of the crypto sphere. 
Speed 
Blur clone script was designed to support faster batch charging than many NFT exchange use today. This improvement speed applies to operations across all the NFT marketplaces and projects. It is an added advantage for the traders who are sniping and doing other activities. 
Sweeps 
Sweeping the floor in the Blur states that traders buy many lowest-priced NFT collections. The ability to plan how much purchases will affect the market is critical to optimize the profitability and there is Blur support for NFT traders in the area. In particular, the Blur clone script has a floor-depth chart for each collection which allows traders to make more accurate predictions. Additionally, it avoids pending, stolen, or suspicious NFT. Gass fees are also reduced through bulk elimination and limiting capabilities. Gas fees are not applicable for NFT sales. 
Listing options
Another unique feature that set the Blur clone script apart from the other clone scripts is its listing option. For instance, the property floor price list, and a ladder list are some of the possibilities. Moreover, portfolio management is improved by the in-depth analytic features accessible to users of this marketplace. 
Portfolio view 
Once you link your wallet to the Blur clone account, then you will have access to a detailed portfolio view of holdings. Likewise, you may view the portfolio activity of all other transactions in the marketplace, including activity specific to each individual wallet. This consists of viewing the activity of a specific wallet, filtering by collection, and overall activity. 
NFT royalties
With Blur clone, NFT owners can develop the creator royalties when they list their assets on the marketplace. Listing royalties as one of the means marketers can access a large portion of the airdrops. Further, users who will list their NFTs with royalty benefits from loyalty points may collect Blur tokens as compensation. 
How does the Blur clone app work?
Blur clone is easy to use, First user, should complete the registration and follow the verification process to create the account. After the account gets created users can connect their Metamask wallet to their Blur clone account. After your wallet is connected, you may upload and connect your existing NFT assets. You get easy access to the popular features in the blur clone along with aggregation. This means that traders can buy various NFTs simultaneously in different markets. This Blur clone script also assists in fast processing. Indeed, it performs more than 10 times quicker than a gem. Additionally, sweeps, multiple listing options, and a full view of portfolio performance are available as stable features for all users. By reducing costs, traders can be improving their profitability.  
Benefits of the blur clone script 
As the NFT marketplaces evolve, our Blur clone is assured to benefit in several ways,
Increased demand for NFT services - as the fame of NFTs has continued to grow, demand platforms and services that make it simple for users to create, manage and exchange NFTs will increase. With its focus on NFTs and decentralized architecture, the Blur clone is well-positioned to capture some of this claim. 
Network effect - A lot of people use the blur clone to create and trade NFTs, the network will become preferable to others and captivate even more users. This network effect can stimulate development and increase the ecological value of the Blur clone. 
Increased transaction volume - while the NFT marketplace grows, a certain number of NFT transactions will increase, which is expanding the volume of transactions processed by the Blur clone. This will lead to an increase in the revenue of the platform and its users. 
Winding up
With the launch of the native token Blur, the bear market has officially ended with Blur hitting an all-time high. As previously indicated, the releases of some exciting NFT collections make it very profitable for users. The current exposure surrounding NFT aggregators drives agencies like us to build an NFT marketplace like Blur, which is rapidly spreading to all business verticals, from real estate to logistics. 
Our eminent NFT marketplace development company is staffed with talented developers, innovative consultants, a market analysis team, and 24-hour technical support.

If you require expertise in development for your NFT project, browse our outstanding launches today and join us! 
Check out our page on NFT Marketplace Development Company to get more information