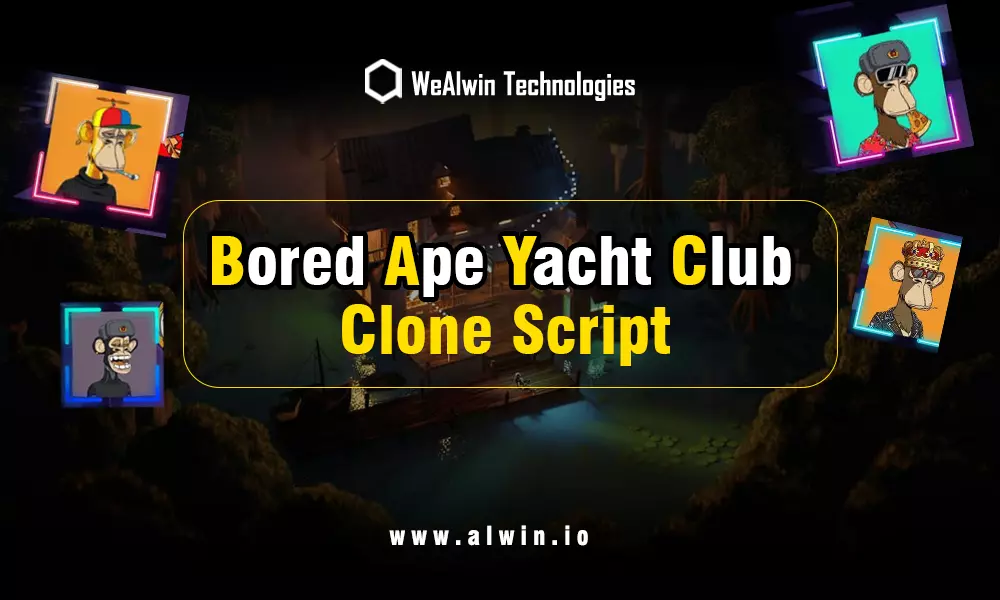 By utilizing our Bored Ape Yacht Club clone script, you may join the ranks of NFT titans and wealthy investors. Participate in the monkey business that is sweeping the globe! 
Bored Ape Yacht Club Clone Script
Bored Ape Yacht Club clone script is a white-label NFT marketplace script that enables a sole proprietor to launch an NFT marketplace where traders can seamlessly exchange digital collections. It is a famous NFT marketplace clone script created to mint pictures like NFTs on top of the Ethereum Blockchain. Bored Ape Yacht Club Clone provides ownership for the digital items where buyers can own only-one version of the image. Probably, the Bored Ape clone lets you list over 10,000 pictures that were created collectively as NFTs. Built with WeAlwin technologies clone script, the platform has all the features and functionalities of Bored Ape Yacht Club. Our Bored Ape Yacht Clone Script is simple to modify so that you may start your own NFT Collectible platform that is comparable to the Bored Ape Yacht Club.
How does the Bored Ape Yacht clone Work?
The Bored Ape Yacht clone platform has a limited set of pixelated portraits enlisted.
To maintain scarcity and consequently increase exclusivity, pixelated portraits are produced in a certain quantity.
Each collector must register on the trading platform by going through the KYC verification procedure.
Once the aesthete came on board, the first and foremost thing to do will connect their digital wallet to the NFT marketplace.
The sales level of the Bored Ape Yacht Club clone will be published.
All of the digital collectibles—those with active bids, those eagerly awaiting inclusion in the auction, and those with no active bids—are mentioned.
The collector makes the property for sale, and the highest bidder wins the auction.
Upon successful bidding, the pixelated assets will be transferred to the new owner.
Attributes of Bored Ape Yacht Club Clone Software
Clothes: Unique outfits like Bored Ape Yacht club clone with attractive colors and jackets.
Backgrounds: Enticing Background colors that match the animated characters.
Eye: Using eyes to convey emotions such as sleepiness, love, rage, etc.
Earring: Earrings with a cross and diamond studs that match the bored ape's attire and environment
Fur: Different colors of fur includes gold, robot, and a lot more.
Hat: A Collection of stylish hats that match entire outfits.
Mouth: A mouth that is expressive and displays the various emotions of collectibles.
Glasses: The Ape can wear sunglasses, spectacles, goggles, and even an eye patch
Cigars: Each ape may carry a cigar or smoking pipe in its mouth which further distinguishes each one. Some may have a slice of pizza in their mouth.
The Outstanding Features of the BAYC clone script
Excellent storefront design: Fascinating storefront layout for efficient digital collectibles display.
Search option: Easy search option will allow users to find desired NFTs instantly and easily.
Integrated Wallet support: Integrated NFT wallet that allows you to list, buy and sell NFTs
Statistics details: Statistical data to get information about current auctions, expensive NFTs, etc.
Native token governance: Native token development and governance to create your own NFT token.
Algorithmic generated characters: The Creation of unique pixelated characters with specific attributes.
Collectibles category: The Category option provides the separation of NFT into different categories. 
Multiple payment gateway integrations: Multiple Payment gateway integrations to endorse various payment methods.
Cross-chain compatibility: cross-chain compatibility furthers interoperability so that users can gain access to collectibles built on other blockchains.
Why Create an NFT collectible platform like BAYC?
There is a surprisingly large audience interested in creating an NFT collectible platform like BAYC. Among many NFT collections, Bored Ape Yacht Club is one of the top five most valuable NFTs of all time, reaching a sales volume of approximately $619 million. Furthermore to the Ape collections, BAYC has also introduced the dogs to the NFT world and its values have reached $1.8 million in a short period of time. So it is obvious that creating your own NFT marketplace like BAYC will soon become a huge success and you will earn a huge income from it. This NFT marketplace has sold $542 million worth of NFTs. To reveal their NFT tokens, Bored Ape Yacht Club has listed their NFTs on Opensea so that Opensea users can also purchase them. The most unique thing about BAYC is its unique digital collections and features. Each Bored Ape is uniquely designed with nearly 170 attributes including clothing, income, and precise expression. 
Bored Ape is stored as an ERC-721 token, hosted IPFS, the Interplanetary file system, and the price of the ape is labeled 0.08 ETH.
Rare Bored Ape Token Collections
Fair cost
Commercial and Ownership rights
Bathroom
Additional Benefits
Consult with our business experts to launch your Bored Ape Yacht Club Clone Script instantly! Chat with us on WhatsApp
Benefits of the BAYC clone
BAYC clone has lots of lots advantages,
High ROI
Unique collectibles
Decentralized platform
Instant market launch
Economical
Highly secured
Rich Features
Quick user Gaining
Fewer Capital Investment
Cost-effective
High endowed features
Why are People Obsessed with White-label Bored Ape Yacht Club Clone?
On the Ethereum network, our smart contract is utilized to sell Bored Ape Yacht Club NFTs. the front-end is a modern SaaS that allows users to interact with the Blockchain in a simple manner. The most powerful celebrities in America have promoted BAYC. Jimmy Fallon and Justin Bieber have the ability to start trends and build anticipation. In 2021 the market for these assets has risen. So as Bitcoin has become more volatile than gold, investors are looking for new ways to hold value in cryptocurrencies. 
Many NFT initiatives have a utility that claims to provide some type of value. They avoid limiting themselves to serving as a profile image. These include games that earn money by playing and the ability to stake NFT in exchange for cryptocurrencies. 
The Bored Ape Yacht Club, a fully developed NFT brand, reported sales of more than $400,000 in a single day. It has a rich Yacht Club with its logo (BAYC), the founder's token (BAYCOIN), private islands, and key cards.  They will have access to special benefits at various real-world Yacht Clubs around the world. To achieve this, it makes use of a cutting-edge innovation called non-fungible tokens (NFT).
In keeping with the BAYC business model, our White-label Bored Ape Yacht Club clone also serves as a sort of exclusive social hub where NFT owners can engage with one another and receive access to special benefits like private communication channels. The NFTs can also be resold, and because of their scarcity, the value of these NFTs will only rise. The Bored Ape Yacht Club's unique business model helps it stand out from the competition and become a success in the cryptocurrency world.
Characteristics of the NFT digital Collectible Platform like BAYC
Indivisibility - The pixelated assets must be kept or controlled by a single owner at all times and cannot be separated.
Unique - Every single collectible is unique and combines a few features that no other digital artwork possesses.
Limited Availability - The overall quantity of collectibles produced is limited and in short supply, raising demand.
Interoperability - The NFT digital collectible platform like BAYC has the ability to work efficiently across Blockchain networks.
Proof of Ownership - Data about ownership of an asset in the digital ledger, making it immutable.
Why did you pick WeAlwin Technologies for your Bored Ape Yacht Club like NFT marketplace Development?
WeAlwin Technologies is a leading NFT marketplace development company, We provide all kinds of NFT solutions starting from NFT development, NFT marketplace development, NFT exchange development, NFT  Real Estate Marketplace development, and so on. Our Blockchain experts develop and deploy NFT marketplaces for different industries such as Arts, E-commerce, Gaming, Collectibles, and more. We have experience in developing NFT platforms on trending blockchains such as Solana, Polygon, Ethereum, EOS, Cardano, and more. We understand the client's requirements and create a roadmap to complete the project within the deadline. With our high-tech Bored Ape Yacht Club clone script, you could launch your Bored Ape Yacht Club like NFT marketplace elegantly.
Our other top-notch clone scripts are,
Contact us to learn more about its functionalities!!!
Check out our page on NFT marketplace development to get more information and launch your own NFT marketplace