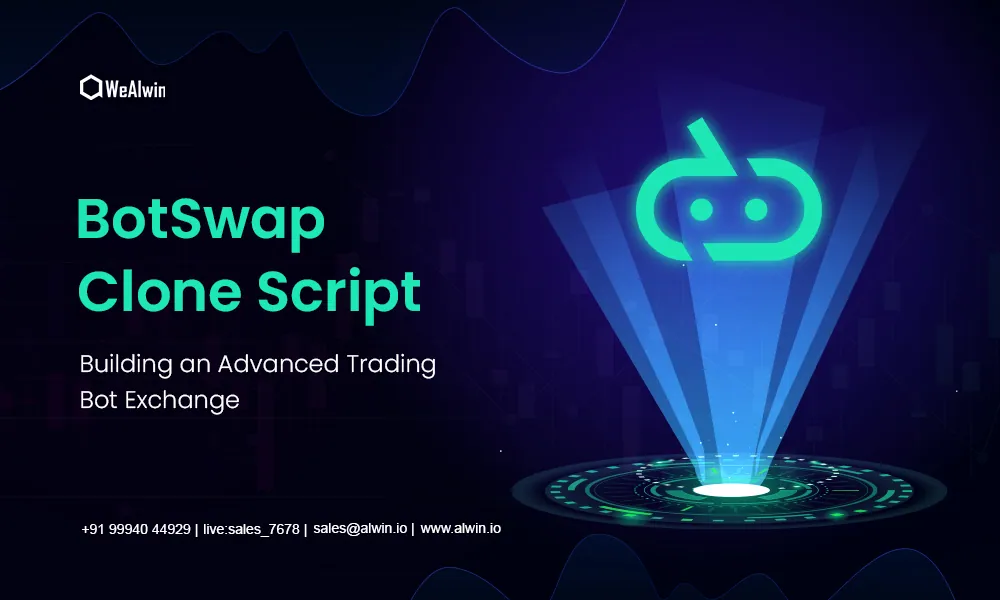 In the rapidly changing world of online business, staying ahead of the competition is crucial. 
One way to gain a competitive edge is by leveraging the power of automation through chatbots. 
If you're looking for a game-changing solution in DEX, you've likely heard about the BotSwap Clone Script. It is a tremendous opportunity in the automation world. Now, we'll explore what the script is, its features, its revenue model, and how it can revolutionize your online presence.
Now explore,
What is BotSwap Clone Script?
BotSwap Clone Script is a cutting-edge software solution that allows you to automate your decentralized exchange quickly and effortlessly. It's a replica of the popular BotSwap platform, giving you access to its remarkable features without the need for extensive development work.
BotSwap Overview: Automated DeFi trading for DEX
BotSwap is a decentralized exchange that uses a distributed registry, which means that it does not keep any of your funds or personal information on its servers. Instead, it functions as a matching tool, directly linking consumers and vendors. There are no middlemen here! 
BotSwap goes beyond that by including farming, staking, and thorough currency charts. It is more than simply an exchanger; it automates the process. It is a one-stop shop for all of your trade requirements. Furthermore, unlike many other DEXs, BotSwap works across various networks. BotSwap is one of the DEX trading bots.
Unique features of BotSwap Clone Script
1. Fixed staking APY
2. NFT staking 
3. Diverse staking rewards 
4. Cross-chain
5. The Lowest fee in DeFi
6. Farming 
Examining BotSwap's Revenue Models
Let's have a look at the various revenue options that BotSwap offers. Prepare for some fantastic prospects!
Exclusive Ownership Through NFT
NFTs have taken over the digital world, and BotSwap has embraced this trend. Users can earn BOT tokens, which are the platform's NFTs, by engaging with adverts or completing tempting tasks. These tokens represent digitized real-world artifacts like artwork, music, films, and other media. What's more, the best part? These NFTs' unique digital signatures prevent replication, ensuring that owners have exclusive ownership. It all comes down to having a piece of the digital revolution!
There are numerous benefits to watching or engaging with advertisements.
Consider being rewarded simply for watching or participating in commercials. With BotSwap, it's no longer a pipe dream; it's a reality. Users are offered appealing tasks in exchange for watching advertisements within the chat and receiving BOT tokens. It's an enjoyable and gratifying way to spend your time while also getting some entertainment. Who said advertisements had to be dull?
P2E Game: Token Battle
If you enjoy video games, you're in for a treat. BotSwap is the concept of play-to-earn (P2E) games. Users can engage in battles against one another, with the winner taking the given tokens and the loser keeping their ki. It gives the platform a competitive element, allowing you to put your abilities to the test and perhaps earn some real BOT tokens. It's time to take your gaming to the next level!
Farming: Increasing the Value of Your Crypto Assets
Farming in the universe of BotSwap, like gardening, entails increasing liquidity for the exchange. You can cultivate and create your own BOT coins by providing liquidity and encrypting your tokens in a smart contract. It's a wonderful way to help the platform while also reaping the advantages of your agricultural efforts. So put on your virtual overall and prepare to reap your crypto benefits!
Staking: Reaping the Benefits
Staking is a well-known concept in the decentralized financial community, and BotSwap does not disappoint. You earn several benefits by staking your assets in the liquidity pool, including a part of transaction fees and governance tokens. It's a win-win situation because you not only earn passive income but also have a say in how the platform makes decisions. So, bet your assets and watch the money come in!
Everyone Has a Chance in the Lottery
Who doesn't enjoy a good lotto game? BotSwap, on the other hand, features an intriguing lottery function where users may buy tickets for a chance to win BOT currency. The BOT lottery is intended to be fair, with everyone having an equal chance of winning big. So, why not test your luck and discover if fortune favors you? It might be your ticket to more BOT tokens!
Consult with our business experts to Build your own BotSwap Clone Script! Chat with us on WhatsApp
Why Choose BotSwap Clone Script?
1. Cost-effective Solution:
Developing a chatbot from scratch can be time-consuming and expensive. With the BotSwap Clone Script, you can save both time and money while still enjoying the benefits of a fully functional chatbot.
2. Rapid Deployment:
In the ever-changing digital landscape, speed is key. BotSwap Clone Script enables you to deploy chatbots within days, giving you a head start in engaging with your audience and outpacing competitors.
3. Customizability:
The script is highly customizable, allowing you to tailor your chatbot's appearance and functionality to suit your brand and specific business needs. This ensures that your chatbot is not just a tool but an extension of your brand identity.
4. Seamless Integration:
Integrating the BotSwap Clone Script with your existing systems is a breeze. Whether it's your website, social media platforms, or customer support channels, this script can seamlessly integrate with your digital ecosystem.
5. Enhanced Customer Engagement:
Chatbots powered by the BotSwap Clone Script can provide real-time responses, answer frequently asked questions, and even facilitate sales. This level of engagement can significantly improve the customer experience.
Conclusion
In the world of online business, staying ahead requires innovation and adaptability. The BotSwap Clone Script empowers you to decentralized exchange by harnessing the potential of automatic chatbots quickly and efficiently. Its cost-effectiveness, customizability, and seamless integration make it an invaluable tool for businesses of all sizes.
Don't miss out on the opportunity to supercharge your online presence with the BotSwap Clone Script. 
Invest in this powerful tool today and watch your business reach new heights in customer engagement and efficiency. 
If you're ready to take the next step in your online business journey, join hands with WeAlwin Technologies today to invest in BotSwap Clone Script, which can transform your digital presence.
Compared to other competitors WeAlwin has immense knowledge in the Blockchain field and DeFi Development for more than 5 years of experience, and we have expert developers.
Check out our page on DeFi Development