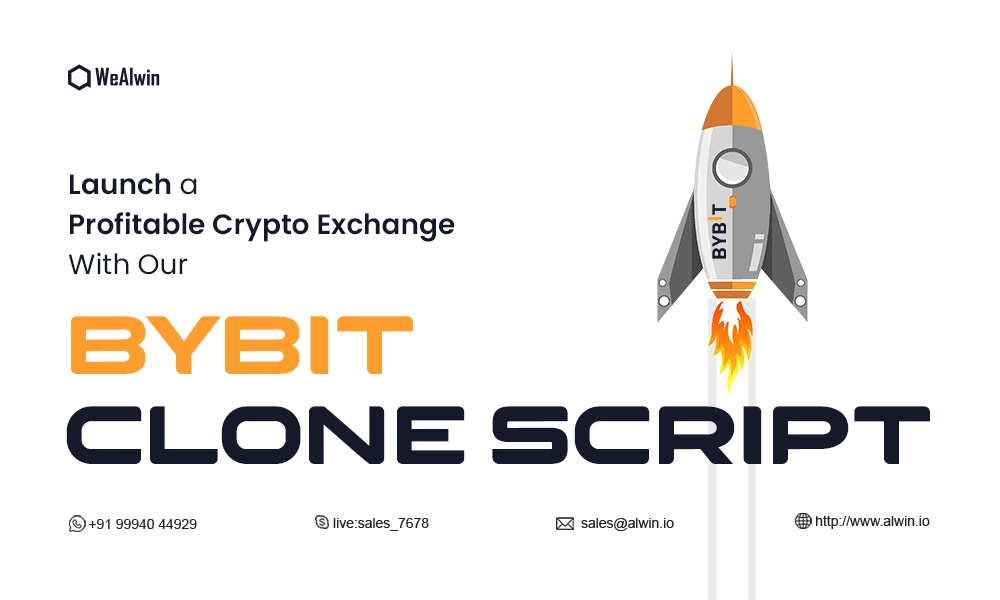 Are you looking to build a cryptocurrency exchange like Bybit? 
If so, you can utilize a Bybit clone script, the robust solution to build the project
Bybit clone script is a ready-made software that replicates all the functionalities of the popular cryptocurrency exchange Bybit. 
By using this innovative app development option, you can smartly get started on building your own winning exchange for a successful business launch.
Consideringly, in this blog, we're going to explore it more in detail.
So, let's get started!
What is Bybit?
Bybit is a cryptocurrency exchange platform that enables users to trade digital assets like Bitcoin, Ethereum, and other cryptocurrencies. With its friendly interface, even beginners can start trading cryptocurrencies without any hassle.
The Bybit exchange gained popularity among crypto traders today, because of its low fees, fast transaction processing, and high liquidity. The platform has become one of the most popular exchanges in the crypto industry, attracting a number of traders around the world day by day.
What is a Bybit Clone Script?
Bybit clone script is a ready-to-deploy exchange software that helps you to launch your own cryptocurrency exchange similar to Bybit. It comes with enhanced application features that mimic the original Bybit exchange.  
Using this app development option is a convenient way for you looking to launch a winning crypto exchange platform. It provides all the necessary components needed to offer a high-quality trading experience for users.
It's a fully customizable clone script, allowing you to add your unique ideas, and features incorporating plans for the new software design. It ensures that your crypto exchange platform stands out from competitors by meeting the specific requirements of your business.
Consult with our business experts to Build your Bybit clone script! Chat with us on WhatsApp
Our Bybit Clone App Development Services
At WeAlwin Technologies, we offer a top-quality Bybit clone script that can help you get your business off the ground fast in the industry. We understand that every entrepreneur has unique aspects for their own crypto exchange development, which is why we offer a highly customizable Bybit clone solution that can be tailored to meet their necessary requirements.
Our Bybit clone script is built with the latest technologies and follows best-in-class practices to ensure its robust application security. Additionally, it has advanced features that enhance the user experience and meet the existing market demands of web3 world.
Core Features of Our Bybit Clone Script
User-friendly Interface - A user-friendly interface that makes it easy for users to navigate your Bybit-like exchange platform.
Trading Engine - A robust trading engine available with our Bybit clone software that executes trades fast and efficiently.
Order Book - The order book displays the current bids and asks for each cryptocurrency pair.
Crypto Wallet - Secure crypto wallet of your Bybit-like crypto exchange that stores users' cryptocurrencies in a most protective blockchain environment.
API Integration - API integration enables building third-party applications that interact with your new crypto exchange like Bybit.
Margin Trading - The feature allows your platform users to trade with leverage, increasing their potential profits.
Stop-loss Orders - Stop-loss orders enable them to limit the traders' losses by automatically selling their positions at a predetermined price.
Multi-currency Support - Our Bybit clone script supports trading in a wide range of cryptocurrencies available in the market.
KYC and AML Compliance - The Bybit clone script includes KYC and AML compliance procedures, ensuring that the platform adheres to regulatory requirements and prevents fraudulent activities.
2-Factor Authentication - It's a security feature that adds an extra layer of protection to your platform users' accounts.
SSL Encryption - Secure Socket Layer (SSL) encryption that protects your exchange users' data from unauthorized access.
Strong Admin panel - Your Bybit-like crypto exchange admin panel empowers you to manage the platform effectively, including user accounts, trading pairs, and platform charges.
Referral Program - The referral program feature enabled in the Bybit clone software incentivizes crypto traders to invite their friends and earn rewards.
In addition to it, extra add-ons can be added to your cryptocurrency exchange like Bybit, for example  Automated Crypto Trading Bots for the users to use pre-built or custom-built automated trading actions — strategies to execute winning trades on their behalf.
Benefits of Our Bybit Clone Script for Your Crypto Exchange Development
By developing your own crypto exchange using our Bybit clone script, you can unlock a number of exclusive benefits. They're like -
Strong Business Control
You'll have complete control over the platform and its features, allowing you to tailor it to meet the specific demands of your target audience.
Revenue Generation
Using our Bybit clone script is the ability to generate revenue through trading fees. As the owner of the exchange, you'll be able to charge fees for trades, withdrawals, and other transactions. This can provide a steady stream of income for your business.
Brand Awareness
By developing your own crypto exchange platform like Bybit, you'll be able to establish your brand in the market and create a loyal user base. This can help you to create a strong reputation in the blockchain industry.
Reliable Business Platform
Moreover, we also use industry best practices to ensure our Bybit clone script is safe and secure, so both you and your platform users will have peace of mind, knowing your cryptocurrency exchange will be safe and secure.
As a Conclusion
In today's fast-moving digital world, cryptocurrencies are becoming more popular than ever before. If you're looking to capitalize on this trend and launch your own crypto exchange accordingly, our Bybit clone solution can help you efficiently.
Check out our page on Cryptocurrency Exchange Development Company
Contact us for more details. You can talk to our expert team at any time. We're always ready to assist you with all your queries