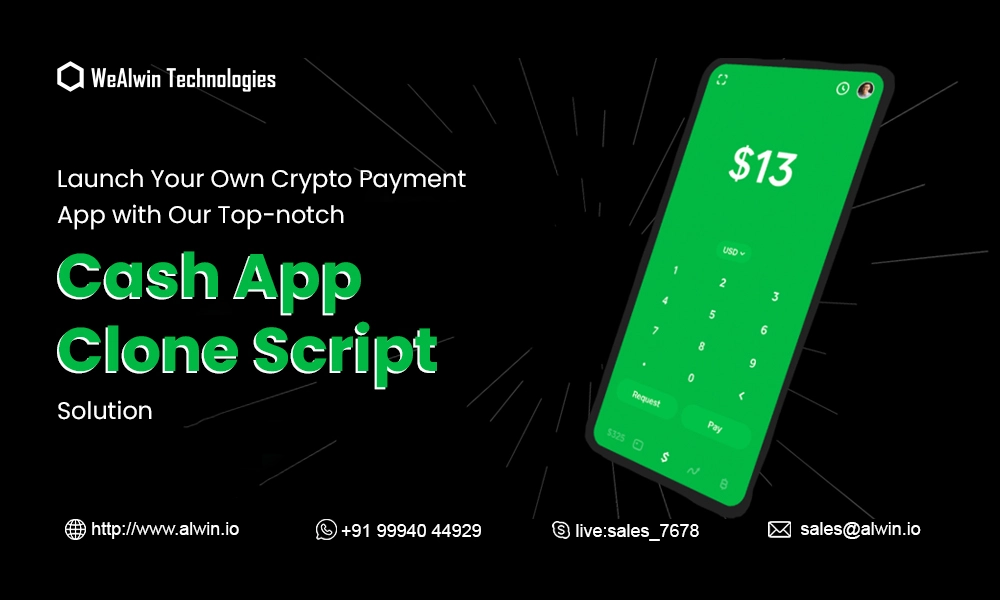 The world of Web3 and cryptocurrency payments is rapidly evolving. Businesses need to keep up with the latest trends to stay competitive. 
By the way, if you're looking for an effective blockchain business? 
This blog is completely for you.
One of the most popular payment apps in today's blockchain market space is Cash App, which has become a go-to option for buying and selling Bitcoin.
At present, it's pulling a number of budding cryptopreneurs to launch an application similar to it For them, we offer world-class Cash App clone script solutions.
Are you one among them?
Great!
We'll get started right away.
What Is Cash App?
Cash App is a mobile payment app that has gained immense popularity in the world of cryptocurrency, today. 
With the growing adoption of cryptocurrencies, Cash App has become a convenient way for users to buy and sell Bitcoin. Users can link their Cash App account to their bank account or debit card and purchase Bitcoin instantly. 
They can also store their Bitcoin in the Cash App wallet and use it to make purchases in real-time or send it to other Cash App users. 
Cash App has also introduced the ability to systematically buy Bitcoin on a regular basis, making it easier for users to invest in digital assets. 
With its user-friendly interface and fast transactions, Cash App has become a famous choice for both beginners and experienced traders in the world of cryptocurrency.
What Is a Cash App Clone Script?
A Cash App clone script is a ready-made payment app development option. With the Cash App clone script, businesses can customize the app to their specific needs and integrate it with different payment gateways. This makes it easy for the application users to make payments efficiently on the blockchain. 
The ready-to-deploy clone app also comes with advanced built-in security options such as two-factor authentication and end-to-end encryption, ensuring that the application users' funds and personal information are always secure on services.
Consult with our business experts to Build your Cash App Clone! Chat with us on WhatsApp
Why Use the Cash App Clone Solution for Your Business Project?
Primarily, launching a cryptocurrency payment app with a Cash App clone script option would be a profitable business venture ever. 
Then, with the growing adoption of cryptocurrencies, the demand for a reliable payment platform is increasing in the world. 
So, by launching your own payment app, you can tap into this demand and provide a valuable service to users.
Following, the Cash App clone script is an excellent solution for your business to launch your own cryptocurrency payment application. 
And, it provides a cost-effective way to enter the market and can lead to a fruitful business enterprise.
Features and Options Available With Our Cash App Clone Script Solution
Our Cash App clone script solution for your powerful crypto payment app development requirement incorporates advanced features to ensure seamless transactions and user experience. From that, some of the key in-app characteristics are listed below.
Easy application navigation
Two-factor authentication
Instant buy and sell cryptocurrency
Quick payment transactions
In-app chatting options
Secure payment gateways
Apart from the listed features, our Cash App clone solution offers you the option to incorporate extra add-ons to the business application - i.e., multi-currency support to make your crypto payment gateway development with us feature-rich in the market space.
Significant Benefits of Using Our Cash App Clone Script Solution for Your Business
You can find many important benefits of using our Cash App clone script solution for your payment app development. They include -
Cost-effectiveness - Building a payment app from scratch can be a costly and time-consuming process. Subsequently, the ready-made clone script solution saves your business time and money.
Customizability - The Cash App clone solution is highly customizable, allowing you to create a fully tailor-made crypto payment app that meets all your specific business plans and requirements.
Scalability - Our Cash App clone is designed to be scalable, enabling your business to handle increasing transaction volumes as your customer base grows in the latest crypto market square.
Security - The powerful payment app development solution is built on the latest blockchain technology, providing a secure and tamper-proof payment infrastructure to your business application, all the time.
Why WeAlwin Technologies for Your Cash App Clone Application Development?
Here are the major compelling reasons why you should choose WeAlwin Technologies to build your own crypto payment app using the prime Cash App clone script.
Strong Expertise - Our team has 5+ years of experience in developing blockchain-based payment solutions.
Client-oriented Service Provision - We work closely with businesses to understand their specific enterprise needs and adapt our solutions accordingly.
Enhanced Application - Our pre-made Cash App clone is designed to handle high transaction volumes, so can scale as your business grows.
Full Custom Support - We provide ongoing support to ensure that your payment app is running effortlessly in the market.
In Conclusion
Our Cash App clone script solution for your new crypto payment app development comes with a highly personalized, scalable, and secure payment infrastructure built on the latest blockchain technology.
Our blockchain developers can help your business build a profitable cryptocurrency payment app that meets the needs of your target audience in the crypto market and keeps you ahead of your competitors.
Check out our page on Cryptocurrency Payment Gateway Development
Just connect with us for your immediate collaboration with our experts!