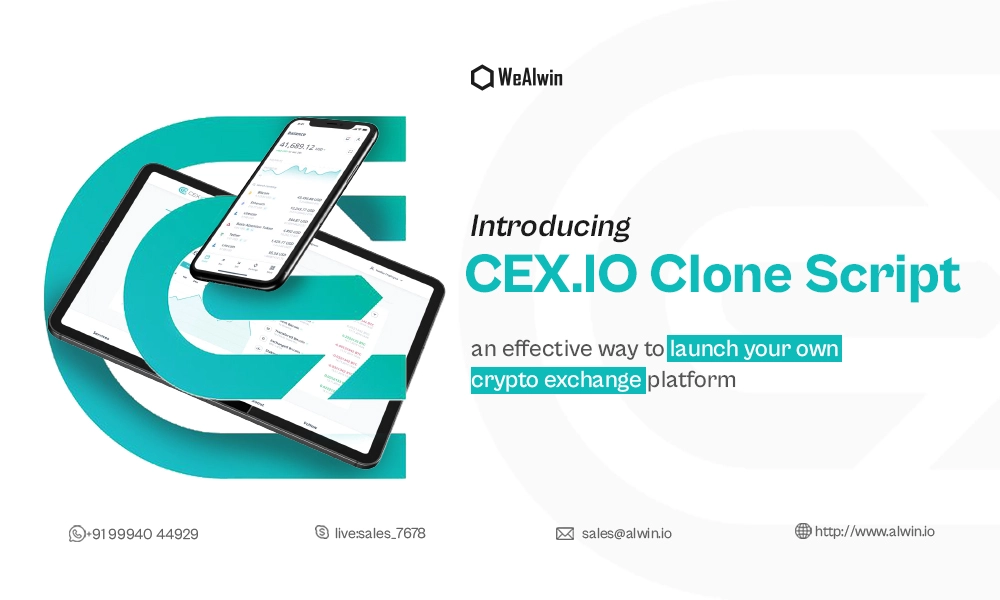 Cryptocurrencies have revolutionized the financial world, and the demand for cryptocurrency exchange is constantly rising in the market. 
If you're looking to build an effective crypto exchange for business, the CEX.IO clone script is a viable option. 
With a CEX.IO clone script, you can smartly set up your own crypto exchange platform for a profitable business. 
And, it provides lots and lots of exceptional benefits for your immediate crypto enterprise launching in the modern Web3 universe.
Accordingly, we can explore it in more detail.
Let's get started without wasting any time!
What Is CEX.IO Clone Script?
The CEX.IO clone script is a pre-built software solution that allows budding cryptopreneurs (like you) to create their own crypto exchange websites to initiate a successful business. 
It is a white-label product that replicates all the features and functionalities available in the CEX.IO exchange platform. 
The clone script saves the important time, effort, and resources of the business people that would otherwise be spent developing the same-kind project from scratch.
By the way, it's a scalable software solution that also comes with advanced application features. 
Why CEX.IO Clone Script?
The CEX.IO clone script has several advantages that make it an ideal option for building your crypto exchange. 
Here are some of the reasons why you should choose the CEX.IO clone solution for your exchange software development.
Saves Time and Money
Developing a crypto exchange from scratch can take several months and sometimes years. The CEX.IO clone script eliminates the need for a time-consuming development process, allowing you to launch your exchange platform shortly.
Highly Scalable Option
Our CEX.IO clone script is built using reliable technologies, makes it highly scalable, and ensures that your exchange platform with this solution can handle large volumes of transactions and user base on the go.
User-friendliness
The ready-to-deploy CEX.IO clone has a user-friendly interface that is easy to navigate. This feature empowers your exchange platform users can easily access the business application and have a smooth trading experience on different cryptocurrencies available in the market.
Highly Customizable Resource
Importantly, the CEX.IO clone script is an entirely white-label solution and can be customized to meet all your specific business model requirements. You can customize its user interface, and add your own branding, logos, and color schemes to make your own exchange unique among rivals.
Very Cost-effective
Creating an exchange like CEX.IO from the very initial coding can be expensive compared to the same platform development using the CEX.IO clone script. It's an affordable option that offers all the needed in-app features and options.
Consult with our business experts to Build your CEX.IO clone script! Chat with us on WhatsApp
Features of CEX.IO Clone Script?
Our CEX.IO clone solution is the perfect way to develop a crypto exchange like CEX.IO. It's built on blockchain technology, which ensures a tamper-proof system for securing your platform users' digital asset transactions. 
It comes with a wide array of technical features that make it a robust software development solution to build your new crypto exchange platform for business launching.
Following, here are some of the key features available in the CEX.IO clone software for your existing project development requirements.
Multi-currency support
Our CEX.IO clone script supports multi-cryptocurrencies, including Ethereum, Ripple, Stellar, Bitcoin, and Dash. This feature allows modern cryptocurrency traders to trade in a variety of digital assets, providing them with more convenience in application usage.
Effective Trading engine
CEX.IO clone development includes an effective trading engine that executes trades fast and accurately. The trading engine available with our ready-made CEX.IO clone software uses advanced algorithms to match buyers and sellers, ensuring that the best price is obtained all the time.
High Liquidity Option
CEX.IO clone provides access to deep liquidity pools, which enables crypto enthusiasts to buy and sell various cryptocurrencies in an easy manner. This feature is crucial for maintaining the liquidity of your cryptocurrency exchange platform in the trendy market scenario.
Wallet Management
Your exchange like CEX.IO provides a friendly wallet management system. So, the users can store, deposit, and withdraw cryptocurrencies with ease. The system always makes sure that its assets are safe with strong distributed ledger technology.
KYC/AML Verification
Developing an exchange like CEX.IO using the CEX.IO clone script has built-in KYC/AML compliance features which help your exchange website meet regulatory requirements. They include identity verification, anti-money laundering checks, and so forth.
Robust Security
Majorly, our CEX.IO clone script comes with advanced security features, including 2-factor authentication, SSL encryption, and DDoS protection. They safeguard your new crypto exchange using the CEX.IO clone solution and are protected from third-party hacking attacks.
In a Nutshell
The CEX.IO clone script is an excellent solution for businesses that want to launch their own cryptocurrency exchange quickly at an affordable price list. 
The ready-made CEX.IO clone software available with WeAlwin Technologies offers you numerous benefits, including client-centric app design, customization, scalability, fast deployment, technical support, and advanced security features.
By using our CEX.IO clone script, you can smartly enter the latest crypto market to take advantage of the growing demand for cryptocurrency exchange platforms.
Subsequently, if you're interested in launching a crypto exchange like CEX.IO, approaching the best crypto exchange development company is a great choice to consider.
Check out our page on Cryptocurrency Exchange Development Company
For any additional assistance and detail, you're always welcome to contact our technical team. 
We're ready to help you!