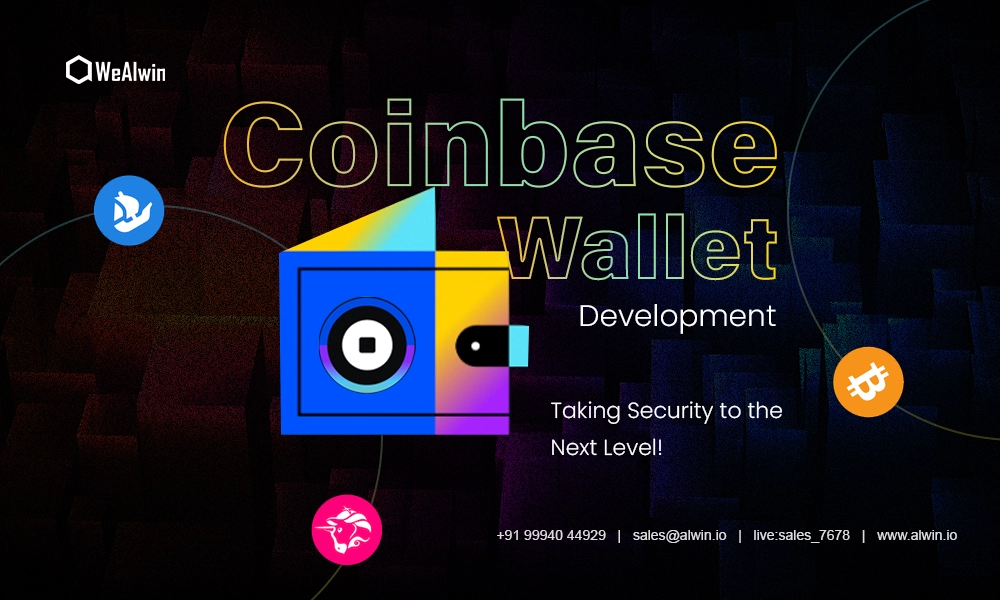 Looking to Secure your crypto with ease, as Coinbase Wallet leads the way in blockchain security. Security is a paramount concern in the arena of Cryptocurrencies. By taking the security to the next level the Coinbase Wallet comes into play. It is upping the ante on security across various blockchain networks. It also supports hundreds of coins and a whole world of decentralized apps. So, be ready, as we explore how Coinbase Wallet is revolutionizing the way we secure our precious cryptocurrencies.
Self-custody cryptocurrency wallet Coinbase Wallet gives you control over your coins, keys, and data. Now you have a secure location to save both your uncommon NFTs and cryptocurrency.
What is Coinbase Wallet Development?
At its core, Coinbase Wallet Development encompasses a series of strategic efforts undertaken by Coinbase to bolster the security of its cryptocurrency wallet. As one of the most widely recognized cryptocurrency exchange platforms, Coinbase has been taking significant steps to ensure that its users' digital assets remain safe and sound.
Coinbase's Efforts to Improve Wallet Security:
Concerns about security have been actively addressed by Coinbase. Through continuous research, development, and implementation of cutting-edge security measures, we have managed to carve a niche for ourselves in the fiercely competitive cryptocurrency market. Coinbase recognized the importance of creating a secure ecosystem, and over time, they have consistently enhanced their wallet security features.
How Coinbase Utilizes Multi-Signature Technology for Enhanced Security?
Multi-signature Technology, often referred to as multi-sig, is one of the cornerstones of Coinbase's security strategy. This technology requires multiple private keys to authorize a transaction, making it significantly harder for unauthorized parties to gain access to your digital assets. Even if one key is compromised with multi-sig, the other signatures act as a safeguard against potential threats, ensuring that your cryptocurrencies remain intact.
Consult with our business experts to know more about Coinbase Wallet Development! Chat with us on WhatsApp
Role of Hardware Wallets in Securing Cryptocurrencies:
When it comes to security, hardware wallets emerge as superheroes. Coinbase Wallet Development has embraced the concept of hardware wallets, which are physical devices designed solely to store cryptocurrencies offline. These devices add an extra layer of security by keeping your private keys isolated from online threats. By using Hardware Wallets, Coinbase ensures that even in the face of cyber adversaries, your digital fortune remains virtually impenetrable.
Features of Coinbase Wallet:
Secure Storage: 
Safely stores a variety of cryptocurrencies and tokens in a single, user-controlled wallet, making sure unauthorized access is prevented.
Private Keys Control: 
Full ownership of private keys empowers users with complete control over their funds and transactions, enhancing security and privacy.
Decentralized Access: 
Seamlessly interact with Decentralized Applications (DApps) and the broader blockchain ecosystem directly from the wallet interface.
Multi-Coin Support: 
Enjoy support for a wide range of popular cryptocurrencies, facilitating diversified portfolio management within a single wallet.
User-Friendly Interface: 
Both beginner and experienced users may easily manage their crypto holdings because of the simple layout and user-friendly navigation.
Backup and Recovery: 
Create secure backups with ease and quickly regain access to your wallet to give you peace of mind in case your smartphone is lost or damaged.
QR Code Scanning: 
Simplify transactions by quickly scanning QR codes to send and receive cryptocurrencies in a fast and convenient manner.
Coinbase Wallet  Benefits:
Enhanced Security
Store all of your NFTs
Industry Leading Security
Decentralized Empowerment
Seamless Transactions
Portfolio Diversity
User-Centric Experience
Ownership and Control
Accessibility
Is Coinbase Wallet a Good Idea?
Obviously Yes, Your entry ticket to the decentralized web is your Coinbase Wallet:
With just a few taps or clicks, you may add money to your Coinbase Wallet and begin collecting NFT.
Utilise DeFi liquidity pools to lend or buy cryptocurrency.
Utilise decentralized exchanges to trade assets
Join a DAO to influence a significant web3 project.
How Does Coinbase Wallet Make Money?
While Coinbase Wallet Development primarily focuses on security, you might wonder how Coinbase monetizes this endeavor. Coinbase does offer a range of services beyond just wallet security, such as trading and exchange fees. Additionally, they provide a platform for developers to build and launch Decentralized Applications (DApps), generating revenue through various partnerships and collaborations.
Web3 Wallet Development: Here What You Need To Know?
How to Create a Coinbase Wallet Development?
Creating a Coinbase Wallet is a user-friendly process that can be accomplished in a few simple steps. 
Project Blueprint: Creating a comprehensive plan outlining the roadmap, features, and technical specifications for the development of a customized Coinbase Wallet to meet specific user needs.
Wallet Development: Skillfully crafting and coding a secure and user-friendly Coinbase Wallet, integrating cutting-edge blockchain technology to enable seamless cryptocurrency transactions and portfolio management.
Testing: Thoroughly assess the functionality of the Coinbase wallet, security measures, and performance through thorough testing, ensuring a bug-free and reliable user experience before deployment.
Wallet Deployment: Introducing the fully-tested Coinbase wallet with expertise to the market, making it accessible to users, and providing ongoing support to ensure a smooth and successful user adoption process.
Follow these steps after Deployment:
Download the Coinbase Wallet app from your preferred app store. 
Once installed, follow the intuitive setup process to create your wallet. 
Remember, your wallet's security starts with you, so make sure to store your recovery phrase in a safe and secure location.
Is Coinbase Wallet's Future Promising?
The future for Coinbase Wallet Development looks remarkably promising. Security will always be of the highest importance as the Bitcoin market changes. Coinbase's commitment to staying ahead of the curve by adopting the latest security technologies ensures that their wallet users can have peace of mind. Moreover, as more individuals and institutions embrace cryptocurrencies, the demand for secure storage solutions like Coinbase Wallet is only set to rise.
Conclusion:
In a world where digital threats loom large, Coinbase Wallet Development (Coinbase.com) is a beacon of hope for cryptocurrency enthusiasts. Through the implementation of Multi-signature Technology and the integration of Hardware Wallets, Coinbase has elevated the standards of security on various blockchain networks. As they continue to innovate and adapt, the future of Coinbase Wallet shines brightly, promising a secure and prosperous journey into the world of cryptocurrencies. So, whether you're a seasoned crypto veteran or a curious newcomer, rest assured that Coinbase Wallet has your back, keeping your digital treasure safe and sound. Talk with our experts to develop your own Coinbase Wallet Development which provides many blockchain-related services with many features.
Check out our page on Crypto Wallet Development Company