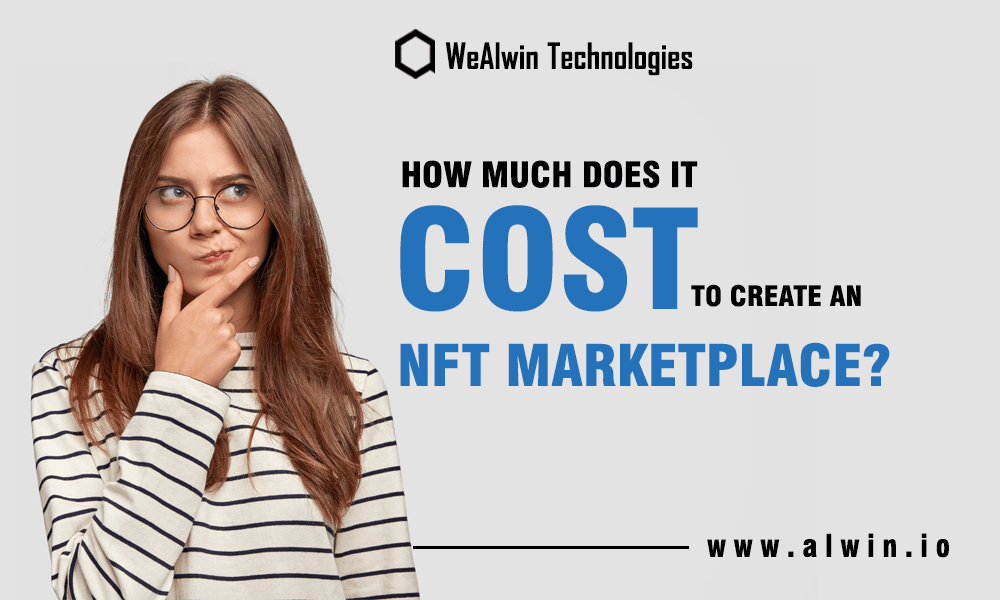 Building an NFT marketplace appears to be a worthwhile investment today. However, before embarking on such a venture, it is prudent to develop preliminary estimates. So, how much does it cost to launch an NFT marketplace? The development costs are depending on the marketplace type, blockchain platform, features, team size, and location.
Fortunately, we at WeAlwin can help you through all of the complexities. We will estimate the cost of building an NFT marketplace in 2023 based on our extensive expertise in NFT marketplace app development and blockchain technologies. Let's get to know the cost of the NFT Marketplace!
What is an NFT marketplace? 
An NFT marketplace is a digital platform for purchasing and selling NFTs. It enables users to store, display, and manufacture digital assets, as well as sell them for crypto or fiat currency. NFTs, unlike fungible tokens, are based on blockchain technology, hence they cannot be traded in traditional online stores. Instead, it is only achievable with an NFT marketplace. Furthermore, such methods are useful for artists who want to tokenize their artwork and collectibles.
One of the most important characteristics of NFTs is versatility. A marketplace may include non-fungible tokens like art, music, media, real estate, and gaming. Furthermore, such platforms should be transparent and available to clients. They, in particular, display client activities in real-time and ensure transaction security.
The Cost of Different NFT Marketplace Types
Premium and open marketplaces
It is one of the most common NFT marketplace kinds. As they aggregate multiple sources in a single open market, such platforms are accessible to everyone. However, open marketplaces provide fewer premium features than closed marketplaces. OpenSea is the most well-known example of an open NFT marketplace.
Curated and uncurated marketplaces
Curated marketplaces are excellent platforms for artists to sell their work. However, to do so, they must first be authorized on the platform. Non-curated markets, on the other hand, do not require authentication, making artwork trade easier. Netflix, Spotify, and Cargo are among the most well-known markets of this sort. 
Marketplace for games
Today, the gaming business has an eternal connection with the world of NFTs. Unsurprisingly, there exist markets where players may exchange game assets. Axie Infinity, The Sandbox, and Decentraland are a few examples.
Marketplace for collectibles
Such markets are ideal for collectors who want to trade various sorts of digital artworks. NBA Top Shot, CryptoPunks, and Solanart are some examples of NFT collectibles platforms.
Different ways to create an NFT marketplace 
We will create your NFT Marketplace with all of the features you need to launch it. We provide two crucial choices for building an NFT marketplace. 
Build an NFT Marketplace from scratch
Whitelabel NFT Marketplace clone script
By creating an NFT Marketplace from scratch, users may add their unique features for an improved user experience. 
The NFT Marketplace may be launched immediately if a clone script is used. The NFT Marketplace will be built on top of the existing source code, and further functionality will be added as needed. 
To know more click here - How to create an NFT Marketplace like Opensea, Rarible.
Common features of the NFT Marketplace
The features you select when creating an NFT marketplace app have a major impact on the entire cost. However, when creating such a solution, the following important factors should be taken into account:
Storefront: A dashboard that offers users information about NFTs, such as details, owner, bids, and pricing history, hence increasing customer engagement.
Advanced search functionality: Support for category labeling and maintenance, making it easier for users to discover desired items.
Create a listing: Sellers should be able to create listings and provide details about their NFTs.
Auction and Buy: A successful platform that allows users to submit bids, specify expiry dates, and track bid status.
Wallet integration: The integration of wallets enables seamless NFT and cryptocurrency transactions, either through in-app wallets or integration with existing wallets.
Instant notification: Real-time notifications through email and smartphone notifications, offering information on new collectibles, NFTs, and upcoming auctions.
Ratings: A reputation system for buyers and sellers that promotes trust and prevents undesirable actions.
Get a Live Demo - Whatsapp | Telegram
Cost of Developing an NFT Marketplace
You now have an extensive knowledge of NFT marketplaces. With the technology and complexity required in developing an NFT marketplace, it is obvious that a significant amount of funds would be spent. The entire cost of building an NFT marketplace is determined by a variety of factors, which are given below.
The number of features contained
Cost of tech stack customization for developers
The total amount of time required for development
Integration with third-party APIs
Creating an NFT marketplace from scratch is a great solution for businessmen. But budding entrepreneurs may choose the ready-made solution because it reduces the time and money rather than from the ground up to launch their NFT marketplace instantly. 

                                  Click here to know more about the cost of NFT marketplace 
Who can provide the best NFT Marketplace development solutions?
Entrepreneurs and business leaders are actively participating in shaping the future of the world by utilizing Web3 technology.
With a focus on innovative technological applications, Web3 combines decentralized platforms with blockchain technology.
The immense potential of Web3 is likely to revolutionize a variety of sectors. Non-fungible tokens, or NFTs, are one of the most important uses of Web3, and they are leading the way in these disruptions. WeAlwin, a renowned NFT development company, assists business entities in this field.
We have a dedicated team of developers who use cutting-edge techniques and technology to provide high-quality NFT development solutions. While working on such a project, we take care of all that is needed to ensure the success of your project.
As a result, it is vital to conduct market research, understand your requirements, and then contact a reputable NFT Marketplace development Company like ours. You may also contact us for a consultation and a quote.