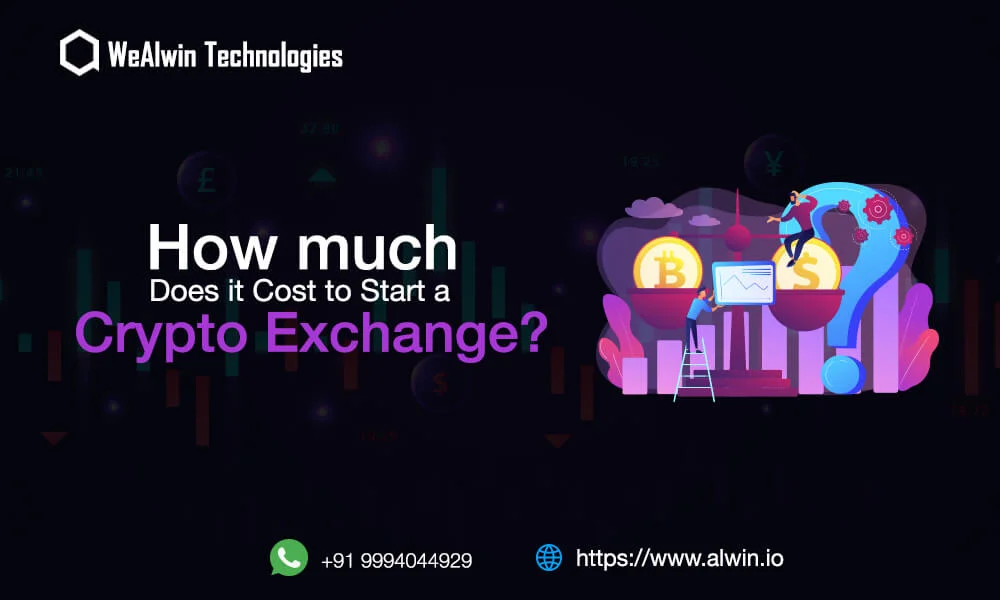 Setting the Global Standard for Crypto Exchange Development
Passionate about cracking the cryptic world of cryptocurrencies?
Well, then you must be familiar with the heart of cryptocurrency trading – the Cryptocurrency Exchange. A platform teeming with dynamic opportunities and challenges.
Drawing a parallel between setting up a cryptocurrency exchange and erecting a skyscraper wouldn't be too far off the mark. The construction process is often laborious, demands attention to myriad details, and of course, requires substantial investment.
But what is the resulting paradigm shift in the city skyline (or, in our case, the financial market landscape)?
Absolutely worth it.
Cryptocurrency Exchange Market - A Unique Perspective
Imagine venturing into uncharted seas without a compass or a map. Sounds dreadful, right?
That is precisely what the crypto-landscape feels like to an amateur. Swarming with volatile market trends, regulatory complexities, and tech advancements, The world of cryptocurrency can be risky.
As seasoned sailors in these waters, we strive to guide you past these daunting waves and keep you braced for the treasures this brave new world can offer.
A Glimpse into Our Cryptocurrency Exchange Development Strategy
Pioneering Crypto Exchange Development in 2023-2024
Innovations that define our Crypto Exchange Development Services
With the crypto marketplace growing ever more vibrant, competition is fierce. We don't merely build platforms; we engineer experiences. To deliver standout Crypto Exchange Platforms, ensuring our clients always stay ahead of the curve.
A Deep Dive into Cryptocurrency Exchange Development Cost Analysis
We believe transparency is the best policy. Let's dissect the cost structure of setting up a robust cryptocurrency exchange.
The cost of setting up a cryptocurrency exchange can be quite variable, depending on multiple factors and the chosen development approach. Typically, the cost of building a cryptocurrency exchange from scratch can range from $500,000 to over $1 million, with variations based on the complexity and desired features.
Part 1: Technology and Infrastructure
Building the tech infrastructure for a cryptocurrency exchange is one of the biggest costs and can't be overlooked. Here's what you need to consider:
Software Development
The software runs the show. Starting from scratch can cost upwards of $500,000, given the complexity of developing a secure and efficient trading platform.
Customized trading engine
Wallets for different cryptocurrencies: These must provide robust security against hacking attempts.
Admin system: for monitoring and managing transactions
Lightweight mobile applications
To reduce costs, some businesses opt for white-label solutions. These are ready-made platforms that are rebranded and can range from $5,000 to $15,000.
Security Infrastructure
User security is of paramount importance in the crypto exchange business. Significant investments should be allocated to protect against hacking attempts on both user wallets and the exchange itself.
Cold storage for cryptocurrencies
Anti-DDoS protection: To safeguard against distributed denial-of-service attacks.
encryption techniques: To prevent access to sensitive data.
Regular penetration testing
Part 2: Legal and Compliance
The crypto space isn't the Wild West to be used. Today, governments worldwide have regulatory requirements that pertain to the operation of cryptocurrency exchanges.
Legal Counsel
Obtaining legal advice for setting up a crypto exchange is vital to navigating the complex regulatory landscape. This counselling could range anywhere from $50,000 to $200,000, depending on the jurisdiction and complexity.
Compliance
Secure licenses and integrate Know Your Customer (KYC) and Anti-Money Laundering (AML) measures. Compliance costs can range from $20,000 to $100,000 annually.
Part 3: Operations and Maintenance
Once your exchange is up and running, operational costs come into play:
Support Staff
Keep in mind the cost of maintaining staff to manage customer service, software maintenance, security, and compliance.
Marketing and Customer Acquisition
Getting users onto your platform requires a sustained marketing effort. Likewise, high-quality customer support is crucial for retaining users.
Setting New Global Standards
It's important to note that development costs can fluctuate significantly depending on the location of your development team. Staying awake to these geographical realities adds little to understanding the true cost of development.
Cryptocurrency Exchange Development Costs in India
Popular for its IT sector prowess, India offers cost-effective solutions, even with varying quality standards. India offers crypto exchange development at a range of $25,000 to $100,000, making it budget-friendly. Navigate this landscape wisely!
Cryptocurrency Exchange Development Costs in USA
The Silicon Valley types guarantee unrivalled quality and cutting-edge innovation, but this promise comes with a heavier price tag. starting at $75,000 and potentially exceeding $300,000 for advanced features.
Cryptocurrency Exchange Development Costs in UK
The UK, known for its stringent regulatory norms and high technical standards, could be a more expensive yet regulation-friendly alternative. The UK's development costs fall between $75,000 and $300,000, with potential budget increases for additional features and regulatory compliance.
Why Opt for WeAlwin to Develop Your Crypto Exchange?
Well, we believe the proof of the pudding lies in the eating. We offer a delectable blend of technological innovation, industry-leading security features, and customized solutions specially cooked up for you.
Elevating the Crypto Exchange Development Landscape
We craft unique platforms, but our process is not secretive. Let's demystify our approach:
Types of Crypto Exchange Platforms
Our expertise extends to various exchange types, including
Factors Affecting the Cost of Developing a Cryptocurrency Exchange
From employing a dedicated team to integrating APIs and choosing the right blockchain, we understand that multiple factors tie into cost determination.
CEX or DEX? Our Recommendations
The choice between CEX and DEX should come from a thorough understanding of your business objectives and regulatory constraints.
Tailoring features to your needs
Right-sized teams for efficient development
Blockchain & platform selection with our guidance
Integration costs – our efficiency
Apis with our touch
Server and hardware costs – optimized by us
Our ironclad security measures
Choice of Development Model - Our Expertise
Choosing to build from scratch or to clone a successful model is an operational strategy decision. We bring our expertise to help evaluate both methods.
DEX Cloning
CEX from Scratch
Empowering Your MVP with Our Insights
We help identify the core features of your Minimum Viable Product (MVP) must-have, optimizing development time and cost.
Beyond the Basics - Extra Features & Estimations
Sometimes, the basics aren't enough. Going beyond offering extra features can enhance the user experience and differentiate you from the competition.
Industry-leading fraud detection
Seamless messaging integration
Tailored trader profiles
Trustworthy escrow services
Cutting-edge crypto wallet development
Our staking solutions
Stellar support systems
Margin trading excellence
An array of order types crafted
Advanced security features
True Cost of Building a Cryptocurrency Exchange with Our Expertise
We invite you to an open conversation to unravel the true cost of setting up a competitive Cryptocurrency Exchange tailored just for you.
Consult with our business experts to Launch your Own Crypto Exchange! Chat with us on WhatsApp
Other notable features that determine the cost of Crypto Exchange Development include:

Admin Account Management - Making an easy-to-use account system is imperative in cryptocurrency exchange development. The client records ought to be planned in a way that visibly distinguishes and deals with the clients and empowers them to deposit and withdraw virtual currencies on the platform.

Cryptocurrency Exchange Aggregator - It permits clients to set up a Bitcoin Exchange on their sites. Additionally, with this instrument, clients can make their own coins and tokens, which measure enormous amounts of exchanges per second. Subsequently, this is viewed as a costly component of crypto-exchanging platforms.

Trading kernel - It is the core piece of an exchange platform. The essential criteria for this are to make a request book, control the exchanges, and update the balances. Then having a natural interface is a must. It is necessary to have a user-friendly interface on your platform.

As an owner, you should have the skills to deal with your dashboard adequately. Consequently, it is essential to coordinate features like managing pending transactions, investors, and so on in an issue-free way.

Crypto Wallet integration - A few users will lean towards Hot wallets for momentary exchanges while others favor cold stockpiling for more secure transactions. It is better if you have options for both types of wallets on your crypto exchange.

In a nutshell, your users should appreciate the extraordinary highlights of your exchange platform. For this situation, you can coordinate elements like live insights, history of exchanges, purchasing and getting digital currencies in a flash, seeing balances, etc.

Finally, you should execute security conventions like DDoS, HTTP Authentication, Data Encryption, Jail Login, CSRF Protection, and so on to prevent exchanges from being hacked.
Beyond Development Costs
Setting up a crypto exchange isn't just about development costs. There's a slew of post-launch considerations - much like raising a pet after bringing it home. Let's explore
Efficient server maintenance
Hardware costs
Exceptional customer care
Continuous security improvements
Our legal counsel expertise
Minimizing bank transfer fees
Streamlining liquidity providers' fees
Answers to Common Questions
How much does Cryptocurrency Exchange Development Cost?
Cryptocurrency Exchange Development costs are underlined by a plethora of factors,  from team size, location, design, and backend infrastructure to the complexity of features. Proper planning can ensure cost optimization without sacrificing quality.
What Factors Truly Matter in Cryptocurrency Exchange Development Cost?
Three crucial factors that need careful consideration in cost planning are quality of development and design, Backend Infrastructure, and Security Measures.
Our Blueprint for Cost-Effective Development
Optimizing costs without compromising on functionality requires a fine balance,  and we've got just the right blueprint.
Our Perspective of Ongoing Costs in Crypto Exchange Operation
Ongoing operational costs are often overshadowed by developmental costs. A careful appraisal of these recurring expenses is crucial for long-term financial planning.
Tips for Reducing Development Costs Without Compromising Quality
Choosing the right development team like WeAlwin, leveraging open-source technologies, and prioritizing essential features could significantly reduce development costs without compromising quality. Well, remember the adage:  A penny saved is a penny earned!
Conclusion: Crunching the Numbers
Setting up a cryptocurrency exchange is no cakewalk; it requires a hefty investment, a well-calibrated plan, and a team of dedicated professionals. While initial costs might seem daunting, a successful exchange can generate substantial revenue over time, making it a worthwhile endeavour for those up to the challenge.
Remember, the path to success often requires investments, time, and relentless efforts, with cryptocurrency the exchange business being no exception.
Are you ready to dive into the world of cryptocurrencies and establish your digital market?
We at WeAlwin Technologies are dedicated to turning your dreams into reality, all while staying within your budget.
To kickstart the initial conversation about your exchange development project.
Please note: All cost factors addressed above are approximate and may vary depending on various factors, including location, scale, and regulatory requirements. It's recommended to conduct a comprehensive market analysis and seek professional guidance before starting your crypto exchange business.