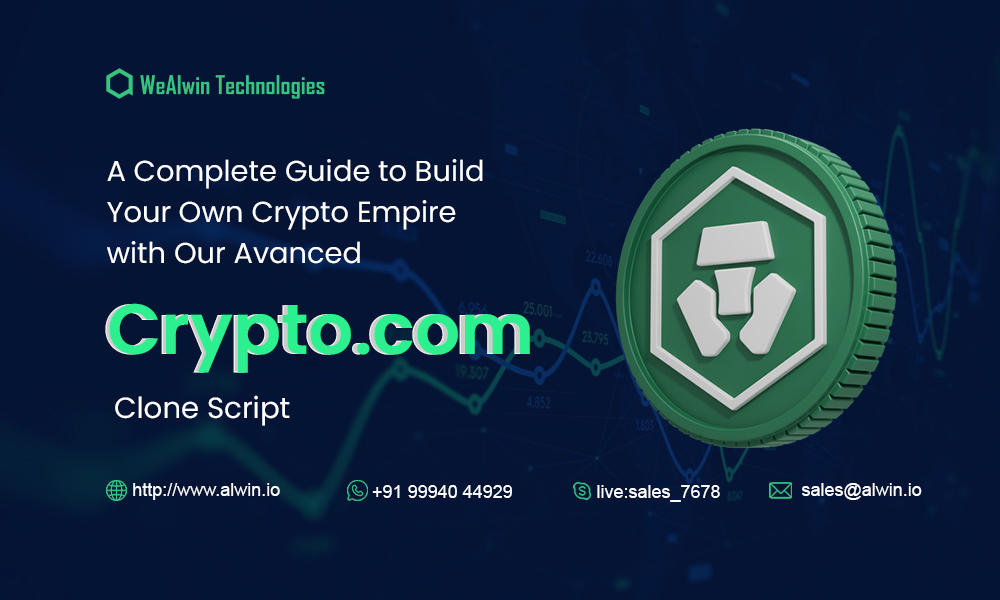 Get ready to join the big league with your own crypto empire! 💰 💻
Introducing the advanced Crypto.com clone script - your one-stop solution to create a cryptocurrency exchange platform, just like the popular Crypto.com.
With this powerful pre-made software solution, you can replicate all the functionalities of Crypto.com and launch your own business quickly. 💪
Consideringly, in this blog, we'll explore deeply what this clone script offers, the endless business opportunities and revenue options, top-notch security features, and the step-by-step process to develop your own Crypto.com-like exchange platform.
So, what're you waiting for?
Let's dig into the topic and turn your crypto dreams into reality! 💫
Crypto.com Clone Script - What Is It?
Crypto.com is a multifunctional platform founded by Kris Marszalek as Monaco Technologies in 2016. It offers a range of popular services on the cryptocurrency market, including cryptocurrency exchange, debit cryptocurrency cards, credit programs, and payment services.
Crypto.com exchange is a centralized platform that supports leading coins like BTC, ETH, ADA, LTC, XRP, and MATIC. 
With a daily trading volume of 1.7 billion dollars, the exchange offers high liquidity and excellent performance with low charges. 
Traders can access the exchange platform via Web, Android, and iOS versions and can use margin and leverage for spot trades.
The exchange also offers access to derivative markets, staking, and DeFi farming.
Consult with our business experts to Build your Crypto.com clone script! Chat with us on WhatsApp
Investing In a Crypto.com Clone: Business Opportunity and Revenues
Crypto.com clone script offers an excellent opportunity for businesses to enter the cryptocurrency market. By using innovative ready-made resources, companies can quickly build a powerful crypto exchange platform with a wide array of features and services. 
For the greatest user engagement, your exchange platform like Crypto.com can provide credits for the users' deposits without charging any commissions. By the way, the users can withdraw coins to external wallets with a minimal charge. You can empower your platform users to save money on fees by holding native tokens in their wallets.
Additionally, your exchange from the solution can also be monetized easily by charging fees and commissions for each transaction.
Overall, with the help of our Crypto.com clone solution, your business on the blockchain can easily step into the world of cryptocurrency and take advantage of its modern opportunities.
We Offer Supreme Crypto.com Clone Solution
Using our ready-to-deploy Crypto.com clone script, you can smartly set up your new exchange similar to the popular Crypto.com. 
The supreme clone application includes all the necessary features like secure user authentication, easy cryptocurrency deposits and withdrawals, and a user-friendly interface.
In addition to it, you can use our full-app customization options with the Crypto.com clone script solution. Meaning, you can tailor your Crypto.com-like exchange to your complete specific business needs and ideology preferences. 
On that, for the successful development of your crypto exchange, our experienced development team is on hand to provide support and assistance throughout the entire process.
Our Crypto.com Clone Exchange Development Faces Existing Market Demands
Our team of experienced developers is working hard to build your Crypto.com clone, incorporating all the necessary features as per the existing market demands  They're as mentioned below.
Effective Admin Interface - The admin interface is necessary to track the platform's current state and manage users, monetization, marketing, trading pairs, and other essential functions. 
Powerful Trading Engine - The trading engine of the crypto.com clone exchange is responsible for matching trading orders, processing transactions, and offering traders ample opportunities to improve their trading efficiency.
Incorporated Crypto Wallet - In-app cryptocurrency wallet provides the platform's liquidity, and the traders will have fast and reasonable access to their funds, increasing the effectiveness and profitability of the trades on the platform.
Inclusion of Order Book and Transaction History Tracking Facility - These assist open orders for the purchase/selling of digital coins, which groups and matches the traders' sell and buy orders.
Analytical Instruments - Analytical instruments for traders help find additional information on the market, find trends, and create, check, and improve trading strategies.
Notification Alerts - Notifications inform users of significant market events and allow traders to choose which notifications they want to receive.
Liquidity Management -  Managing liquidity requires providing enough orders on buying or selling of coins to close transactions at an acceptable price. Liquidity can be provided by a third-party market maker, creating liquidity mining.
Optimized Trading of NFTs - is a trendy feature in the cryptocurrency world of today. It involves utilizing strategies and techniques to maximize the effectiveness of buying, selling, and trading non-fungible tokens or NFTs.
By incorporating all these application characteristics, your Crypto.com clone from WeAlwin Technologies works in an enhanced manner; offers existing crypto traders a user-friendly platform with the necessary functionalities for trading multiple cryptocurrencies in a seamless manner.
Robust Security Solutions Come With Our Crypto.com Clone Script for Your Business
Our Crypto.com clone script solution offers a wide range of advanced security features to protect both your crypto exchange development business and users' assets. On the server end, our platform is designed with secure APIs and limited access rights to prevent data theft.
We also implement backups of all user and transaction data in multiple instances and servers, providing maximum protection during any data disasters. 
With the flexibility to handle sharp increases in system load, our platform is ready to handle the extreme volatility of the crypto market, as we do not compromise on security.
For queries, please feel free to contact our team anytime. 
We're ready to assist you here! 
Check out our page on Cryptocurrency Exchange Development Company
Just connect with us now!