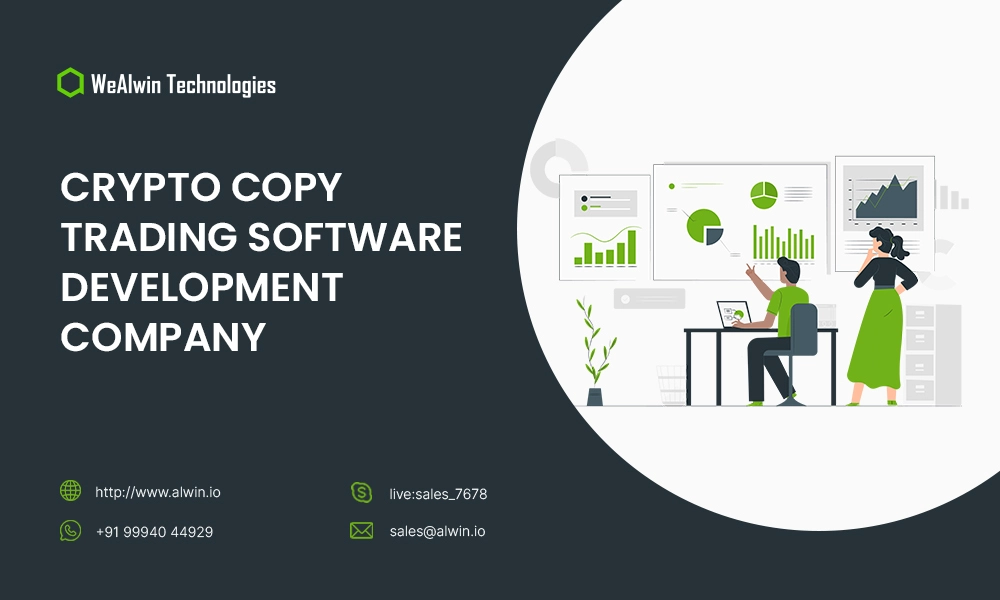 WeAlwin Technologies is the leading development service provider of automated crypto copy trading software. Our cutting-edge technology helps you to make an enhanced copy trading platform for crypto traders. It will be suitable for all levels of traders to maximize their profits and minimize risk, as it's the high demand in the crypto industry, currently.
With our advanced algorithms and sophisticated features incorporated into our white-labeled copy trading software, you can easily make the most of your business by developing an enhanced as well as cost-effective copy trading software for your company.
Following, let's get into deeper details about copy trading software for crypto and the platform development for your business.
Crypto Copy Trading - What Is It?
Crypto copy trading is an innovative way to trade cryptocurrencies that allows you to copy the trade modules of other successful traders. With that, you can set your account to trade automatically on autopilot. Thus, you can make huge money even while you sleep, from its winning strategy-applied crypto trading processes that are systematically expected by the platform.
Types of Crypto Copy Trading Platforms
There are a few different types of crypto copy trading platforms, but the most common is the automated platform. These platforms use mathematical algorithms to automatically make trades based on the copy. This makes it easy for traders to trade without having to worry about the details of the trade.
The second type of platform is the manually operated platform. These platforms are similar to automated platforms, but they require the trader to make the trade themselves. This lets traders learn about the details of the trade before making it.
The final type of platform is the hybrid platform. These platforms combine aspects of the other two types of platforms. For example, a hybrid platform might use an automated system to make the trades but also allow the trader to make the trade themselves. This makes it possible for traders to use either type of platform depending on their preference.
All of these platforms offer a unique way for crypto traders to make money in the crypto markets. Whether they are beginners or experienced traders, a crypto copy trading platform is a great way to improve their trading skills and profits.
How the Crypto Copy Trading Became Popular?
In the past few years, crypto copy trading has become increasingly popular in the cryptocurrency world due to its convenience. Copy trading is a relatively new strategy. The users can get enormous returns from crypto trading on the signals of other traders, which is known as "scalping." 
Scalping is a quick and easy way to make profits in the market by trading on the signals of other successful traders. It allows traders to copy the strategies of more experienced and successful traders and apply them to their own trading executions. 
This way is for all ranges of crypto traders to increase their chances of success and expand their knowledge of the crypto markets.
Consult with our business experts for developing Crypto Copy Trading Bot! Chat with us on WhatsApp
Why Copy Trading is Beneficial?
Copy Trading Software enables the traders to automatically execute buy and sell orders as well as maintain a watch list of potential targets.
Crypto copy trading involves copying the trades of other traders and then trading on those copies. This can be a profitable approach, as it allows the traders to make lots of money easily while the market is moving.
Copy trading software also empowers users to set alerts to notify them when particular securities have reached predetermined price thresholds.
In addition, copy trading software also allows users to customize their strategies to account for different market conditions.
How Does Copy Trading Work?
Copy trading works by analyzing the trades of successful traders in the market and automatically processing the same trades in the user's account. 
The user sets the parameters of the copying process, such as the capital fund to invest, the risk profile, and the types of trading strategies to follow. 
The copy trading software will analyze the trading history of successful traders, identify their strategies and patterns, and automatically apply them to the user's account. 
This is done in real-time and gives users the opportunity to quickly capitalize on profitable trades.
In addition, copy trading can be used to diversify the user's portfolio. By copying the strategies of different traders, users can spread their risk and exposure across different markets. This helps to reduce the overall risk in their portfolio and can lead to more consistent returns. 
Overall, crypto copy trading is an excellent way for both experienced and novice traders to maximize their profits and gain more knowledge of the cryptocurrency markets. 
By following the strategies of experienced crypto traders, users can replicate their success smartly as well as gain insight into them easily.
Features of Copy Trading Software
Automated Trading
Crypto copy trading platforms provide automated trading, meaning that traders can set up a trading strategy and all trades will be made automatically in accordance with that strategy. 
Social Trading
Crypto copy trading platforms provide a social trading environment that allows traders to interact with one another, discuss strategies, and share trading ideas.
Copy Trading Capabilities
Crypto copy trading platforms allow traders to copy or mirror the strategies of successful traders. This feature allows even novice traders to benefit from the expertise of more experienced traders.
Low Fees
Crypto copy trading platforms offer competitive fees and commissions which makes them attractive to traders.
Advanced Security
Crypto copy trading platforms use advanced security measures to keep traders' funds and data safe and secure. 
Flexible Trading Platforms
Crypto copy trading platforms offer a range of flexible trading platforms which are easy to use and provide a range of features to make trading easier.
Apart from these discussed, you can also find lots of other features like cold wallets, regular audits, demo account, and live chatting with crypto copy trading software.
Security Options of Copy Trading Software
Crypto copy trading software is a secured platform for crypto traders to manage and execute their trades within a protective environment. Consequentially, it incorporates the enhanced security options mentioned in the following.
Authentication
This feature allows traders to securely log into the platform using strong passwords, two-factor authentication, and other authentication methods.
Data Encryption
Data encryption ensures that stored data and user credentials are secure and protected from unauthorized access.
Secure Network Connections
Secure network connections and secure sockets layer (SSL) encryption protocols protect the data being sent and received from the server and users.
Secure Storage
Secure storage of user data is provided by the platform, and users can also enable additional security protocols, such as additional password protections and data backups.
Monitoring
The software has automated monitoring systems to detect and prevent malicious activities and suspicious activity.
Auditing
The platform has automated auditing systems to ensure fair trading conditions and maintain a secure environment.
Apart from these, the crypto copy trading platform also includes security features like multi-sig wallets, multi-coins supporting cold storage, DoS, CSRF, DDoS, and SSRF.
What will be the best crypto copy trading platform in 2023?
Cryptocurrency copy trading software is becoming an increasingly famous platform for traders in the crypto space. The ability to copy trades from expert traders, and then replicate their success, has made copy trading a preferred choice for many modern crypto traders. 
Following this, here we'll take a look at some of the top copy trading software that will rule the crypto market in 2023.
Binance CopyTrade
The Binance exchange is among the most popular exchanges in the world. It has now introduced a copy trading platform called Binance CopyTrade. This platform allows users to copy the trades of top traders using automated software. It has many significant features including stop loss setting, the option to take profit levels, and risk management solutions.
Zignaly
Zignaly - It is also one of the well-renowned copy trading platforms that allow users to connect to different exchanges and copy the successful trades of others. It offers diverse features, such as the ability to copy multiple traders at once, and set up automated stop loss and take profit levels.
CryptoHopper
CryptoHopper is a cloud-based copy trading platform that allows users to smartly copy profitable trade strategies. This famous copy trading software has many significant in-app characteristics like customizing the amount of risk taken on each trade and multiple payment gateway support.
eToro
eToro is also one of the world's most well-renowned copy trading platforms. It enables the users to easily copy the trading ways of trade wizards in the crypto market and assists users to apply the same for profitable trading. It provides a variety of application features, they include the ability to access a wide array of technical indicators and robust protection for their assets.
Shrimpy
Shrimpy is a copy crypto trading bot designed specifically for budding cryptocurrency traders. It allows the users to connect to different exchanges and performs to trade with winning trade copies. The platform provides users with several salient features. They're like easily tracking crypto performance and managing crypto and other assets in one place, smartly. 
Copy Trading Software Development
Building a crypto copy trading software for your cryptocurrency business is important for a few reasons. They are as mentioned below.
It provides an automated way for traders to benefit from the market without having to constantly monitor it. 
It allows traders to diversify their portfolios without having to buy multiple coins at once. 
It helps users to increase the liquidity of the market and make it more appealing to crypto investors.
Are You Ready to Create Your Own Copy Trading Bot?
Creating copy crypto trading bot for your market requires a few steps. 
Sept 01 - you need to build a trading platform that can handle the data and algorithms necessary to execute copy trades. 
Step 02 - You need to create the user interface and back-end systems that will support the trading platform. 
Step 03 - you need to integrate the platform with the exchanges where your users will be trading. 
Step 04 - you need to make sure the software has adequate security measures in place to protect traders' digital funds, as well as provide customer support to answer any questions traders may have.
And importantly, The creation of a new crypto copy trading software can lead to a longer development duration compared to white-label crypto exchange solutions.
So, to make sure your software is successful, you also need to create a user-friendly interface that allows crypto traders to easily set up their copy trading parameters.
It can help to increase liquidity, provide an automated way for traders to take advantage of the market, and make the market more attractive to investors. 
With the right planning and execution; with the right team like WeAlwin Technologies, you can ensure your software is successful in an easy and effective manner.
White-label Copy Trading Software
Using white-label crypto copy trading software to develop a copy trading platform for business launching is considered so valuable in the modern era. 
This software technology allows businesses to take advantage of its pre-developed framework and customize it apt for their entire business plan and priorities when there is no need to dedicate time, energy, and resources to developing the same from the beginning. 
By the way, our premium white-label copy trading software is often much more reliable and robust for the business, as it has been tested and proven to work with diverse crypto markets. 
With the right pre-built software for the project, you can maximize your profits by cost-effectively developing your new crypto copy trading platform and launching the business.
Build Your Own Copy Trading Platform With WeAlwin Technologies
WeAlwin Technologies has years of experience in the fin-tech market, and our team of experts is dedicated to providing you with the best copy trading software development service. Thus, you can be sure that you're getting the best white-label crypto copy trading software with us.
Check out our page on Crypto Trading Bot Development Company to get more information
Our experienced team of developers, blockchain engineers, and analysts are here to provide you with the resource you need to make informed decisions to enter the volatile crypto markets with the plan for lucrative copy trading platform services enterprise.
So don't hesitate to contact us today. We're always ready to hear from you!