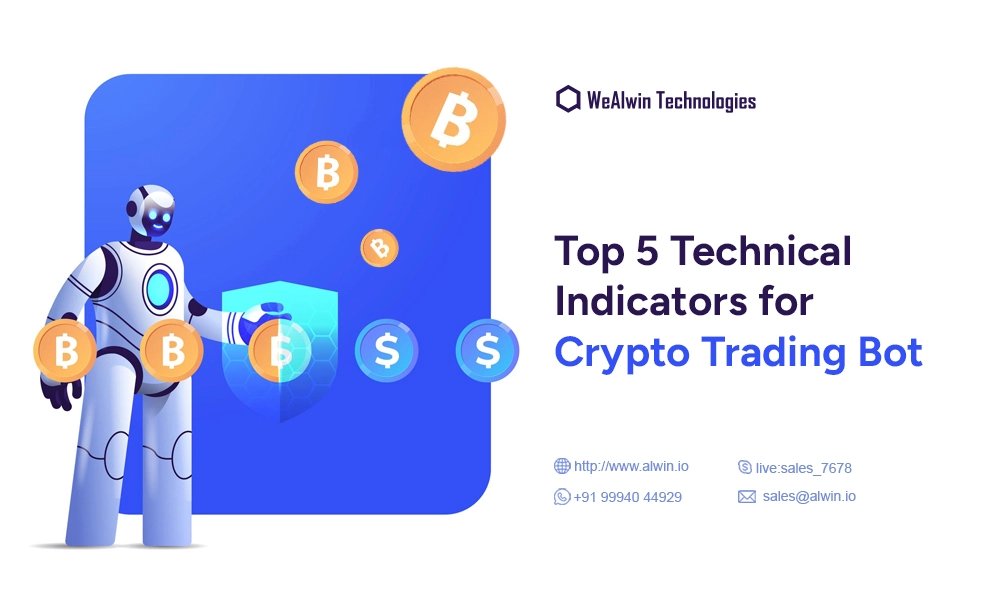 Cryptocurrency trading bots are becoming increasingly popular for trading digital assets. While most traders rely on manual techniques, trading bots offer an automated way to enter and exit trades, based on predetermined technical indicators. 
This article will explore the top 5 technical indicators for a crypto trading bot, and how to best utilize them for successful trading. 
Each indicator will be discussed in detail. With this knowledge for your new crypto trading bot development project, you can offer your platform users or crypto traders create more efficient trading strategies and be highly engaged with your trading bot software.
So, let's get started!
What Is an Indicator for Crypto Trading?
Cryptocurrency trading indicators are statistical tools used by traders to make informed decisions about when to enter and exit a trade, as well as the direction in which to trade. 
These indicators are used to identify trends, potential reversals, and other market conditions. The most popular indicators used by cryptocurrency traders include -
Moving Average Convergence Divergence (MACD)
Relative Strength Index (RSI)
Stochastics
Additionally, there are also some popular indicators. I.e., Ichimoku Clouds.
Why Use Crypto Trading Bot - Indicators?
Crypto trading bots use a variety of indicators to make decisions about cryptocurrency buying, selling, and holding. These indicators provide a trader with important information about the market and can be used as signals to enter or exit trades. 
Many indicators are based on technical analysis, which examines price, volume, and other market data. i.e., Bollinger Bands.
Consult with our business experts to create your own powerful indicators for a crypto trading bot!Chat with us on WhatsApp
Types of Popular Indicators In Crypto Trading Bot
Bot trading is becoming increasingly famous with traders of all skill levels due to its ability to analyze market conditions, identify trends, and execute trades with ease. 
Crypto trading bots are a powerful tool for automating and optimizing the process of buying and selling cryptocurrencies. 
Subsequently, review which indicators work best for different trading strategies, and how to keep your crypto trading bot running efficiently on the blockchain in the following.
Price Indicators
Price indicators measure the current price of a crypto asset and are used to determine the best entry and exit points for a trade. 
They include -
Average True Range (ATR)
Bollinger Bands
Moving Average Convergence Divergence (MACD)
and Price Volume Trend (PVT). 
Volume Indicators
Volume indicators measure the amount of buying and selling interest in a crypto asset. 
They incorporate -
On Balance Volume (OBV)
Money Flow Index (MFI)
Chaikin Money Flow (CMF)
Momentum Indicators
Momentum indicators measure the rate at which the price of an asset is changing over time. 
They embrace -
Relative Strength Index (RSI)
Stochastic Oscillator
Commodity Channel Index (CCI)
Ultimate Oscillator. 
Trend Indicators
Trend indicators measure the direction and strength of a trend in an asset's price. 
They are - 
Moving Average (MA)
Hull Moving Average (HMA)
Average Directional Index (ADX)
Ichimoku Kinko Hyo
Sentiment Indicators
Sentiment indicators measure investor sentiment and can be used to identify potential buying or selling opportunities. 
They include -
Fear and Greed Index
Market Profile
Put or Call Ratio
Boost your Crypto Trading with Our advanced trading bot - Watch the video now!
Top 5 Crypto Trading Bot Indicators
Cryptocurrency trading has become a popular way to generate profits in recent years, and one of the best tools to do that is by using trading bots. 
But, how do you know which bot is the best in the market today for your effective business analysis for your current project?
As an answer to the million-dollar question, here are the top 5 crypto trading bot indicators that can help you make an efficient decision for new crypto trading bot development and business planning.
Moving Average Convergence Divergence (MACD)
The Moving Average Convergence Divergence (MACD) is a momentum indicator used to identify trend changes in the price of a cryptocurrency. A relationship between two moving averages of prices can be seen here. It is used to identify the direction of the trend and identify potential buy and sell signals.
Relative Strength Index (RSI)
The Relative Strength Index (RSI) trading indicator is a technical analysis tool used to analyze the momentum of a cryptocurrency's price. It measures the strength of recent price movements. It is used to identify overbought and oversold conditions, as well as divergences that could indicate the market is about to reverse direction.
Stochastic Oscillator
The Stochastic Oscillator (SO) is a popular technical analysis indicator used by traders to identify potential entry and exit points for cryptocurrency trading. Stochastic Oscillators indicate whether securities are likely to revert when trading close to their high or low. By using the Stochastic Oscillator indicator, traders can attempt to anticipate whether a cryptocurrency is overbought or oversold, and take positions accordingly.
Bollinger Bands
Bollinger Bands are a type of technical indicator that helps traders identify potential areas of support and resistance. It consists of three lines: upper, middle, and lower. In that, the upper and lower follows the price of security while the middle comprises the price action as a simple moving average. Consequentially, crypto traders can use the Bollinger Bands to provide reversal and continuation signals, identify trends, and trade in the direction of a breakout.
Ichimoku Cloud
Ichimoku Cloud is a popular trading indicator used in technical analysis. It is designed to identify potential trends in the market and provide traders with clear signals for when it is optimal to buy, sell, or hold a crypto asset. It combines several moving averages and is used to identify areas of support and resistance. It also helps traders identify trends and possible breakouts in an effective manner.
All Things Considered
Once you have assessed the usefulness of the top 5 technical indicators for your crypto trading bot development and business planning, you can begin to implement the project more powerfully. 
By the way, with an adroit blockchain developer like WeAlwin Technologies, you can create a comprehensive strategy that takes into account the advantages and disadvantages of each of the indicators we discussed now and decide which is best for your new crypto trading bot development and markets.
Check out our page on Crypto Trading Bot Development Company to get more information
Consequently, you're always free to contact us for any of your queries regarding technical indicators for crypto trading bot and crypto trading bot indicator development for your profitable crypto business. We're ready to help you, all the time!