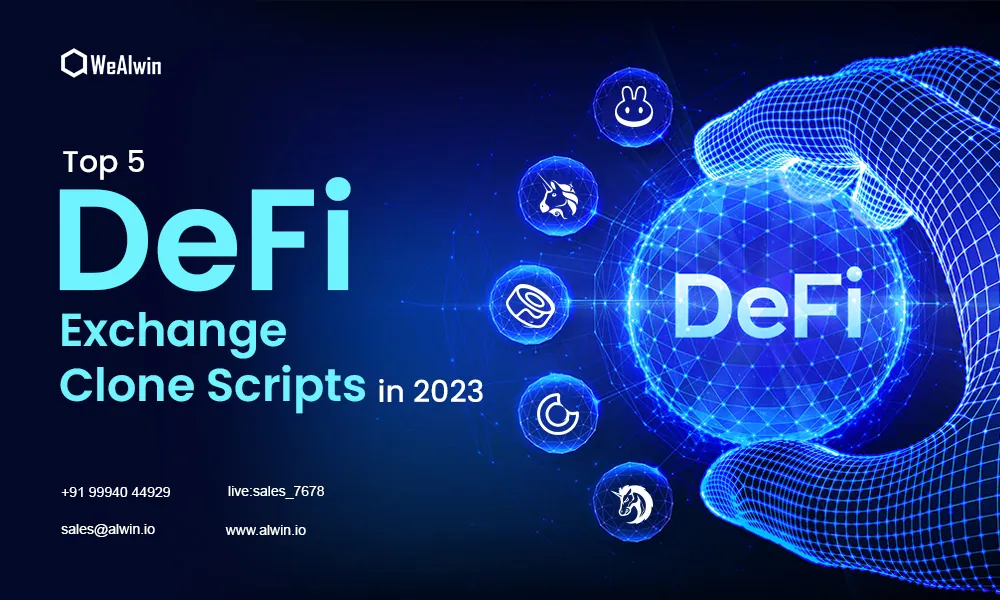 If you are an entrepreneur or Defi enthusiast?
Are you looking for the best Defi Exchange Clone Scripts?
Then this blog will be your destiny, 
Here we provide the perfect options for top Defi Exchange Clone Scripts to start a profitable startup for your future.
Blockchain networks and crypto industries are booming rapidly in the modern world. Many business enthusiasts follow behind Blockchain technology and initiate effective startups focusing on a lucrative environment. 
Consequently, most of them have now started to launch Decentralized Finance (DeFi) exchanges considering their mass growth worldwide.
For elaboration, this blog will explain the top DeFi Exchange clone script for business launching in 2023.
first,
What Is DeFi Exchange Clone Script?
The DeFi Exchange Clone Script is a replica of any existing, popular DeFi Exchange platform available in the crypto world. Which is an application of Defi Exchange development. It is a readymade software solution, obtaining all the trendy features and options as default. 
Therefore, as an entrepreneur, you can smartly create your powerful exchange based startup on the blockchain network.
Such a convenient software solution would be so advantageous for you in many business aspects such as cost, development timing, and enhanced in-app characteristics incorporation. 
So, you launching in the middle of the digital era with a DeFi exchange that performs effectively in the contemporary crypto world.
Regarding this, let's find out how the scope of the DeFi Exchange development and enterprise to the present era is, in detail.
How DeFi-Based Business Scopeful in the present world?
DeFi Exchange business on the blockchain is a profitable choice at the current period. Decentralized finance is evolving as an infrastructure development tool for small-scale businesses in their market improvements. 
According to Dune Analytics, there were 6.77 million DeFi customers as of January 2023, from 110,000 users in 2020.
It shows they are the future of existing Internet and financial transaction methodology. The current banking industry and transactions are also starting to see DeFi's potential to revamp its rigid traditional progress. 
Such importance is widely concentrated by a large amount of audience today worldwide. Consequently, the scope of your DeFi Based enterprise startup now would be a blast for the greatest achievement in the crypto world.
now,
Top 5 Profitable DeFi Exchange Clone Script for Your Business in 2023
It is a core part to select the right clone source to build your exchange as a lucrative enterprise in the crypto industry. 
Taking this point into account, the following list contains the top 5 profitable DeFi Exchange clone scripts for your advanced Exchange software and launching.
Pancakeswap Clone Script
The Pancakeswap clone script is a replica of the renowned token-swapping application of PancakeSwap. It has more liquidity support for more transactions into crypto exchange services. It is a leading exchange clone scripts in Defi world.
Its user-attractive working functionality captivates several budding business people around the globe.
Uniswap Clone Script
Uniswap clone script is a copy of the UniSwap exchange. It is a completely tested and error-free DeFi Exchange source. The Uniswap DEX script is built on the Ethereum blockchain..
It naturally accompanied both the swapping and liquidity pool functionality, which facilitates a smooth DeFi exchange business atmosphere in the blockchain domain. 
SushiSwap Clone Script
It replicates the automatic money-making SushiSwap Exchange on the blockchain network. Utilizing the Sushiswap clone script, your Exchange provides users with immersive options like pooling, swapping, leveraging, and yield farming. 
As well, by supporting 20+ crypto wallets, the clone script makes your platform would be so convenient for them than any of your competitors.
BakerySwap Clone Script
The Bakeryswap clone script is also a DeFi exchange development solution. Right from it introduced new yield farming techniques and pooling ideas for the merchants, it becomes so user-engaging for high productivity in the business. Its integrated wallet support allows users to connect BSC-based wallets, i.e. Metamask.
1-inch clone script
A 1-inch clone script refers to a software solution that replicates the functionality and features of the popular decentralized exchange aggregator platform called 1-inch. 
1-inch is a Decentralized Finance (Defi) protocol that aggregates liquidity from various Decentralized Exchanges (DEXs) to provide users with the best possible trading rates. It automatically splits orders across multiple DEXs to achieve the most favorable prices and lower slippage for traders.
Above are the Best 5  exchange clone scripts currently. After choosing one of the best clone scripts for your Exchange, building it apt to the latest crypto market circumstance is a must. Considering, the following would provide you the information regarding.
What are The Potentials of a DeFi Exchange to Win in the Industry?
Following the listed top-notch DeFi Exchange clone script, getting to know some included features for your software development is significant. 
Given that, the following DeFi exchange characteristics are needed to include with your platform to win in the trendy blockchain industry in 2023.
Low Trading Fee
It is the primary reason why the cryptocurrency exchange is so famous among crypto enthusiasts today. Hence, how low your Exchange platform's trading fees are, and it shows how forcefully it attracts users in the crypto world.
Ease-to-Use Interface
Your application needs to be user-friendly and interacted with users. It must be incorporated with easy-to-use characteristics such as a dedicated dashboard, transparent crypto exchange, multi-wallet support, multi-currencies, and multi-linguals.
Additional Security
Always security in the sense, a vital part while coming to real-time trading services. Considering, apart from the blockchain security protocols, providing extra prevention for user data is always important.
How WeAlwin Technologies Assembles All the Necessaries for Your DeFi Exchange?
On, Decentralized Finance (DeFi) Exchanges have become the greatest choice among users to transfer digital currencies seamlessly online. Because Its robust security protocol became an unmatchable alternative to our existing internet, currencies, and transaction methodologies.
For pursuing the above demands, WeAlwin Technologies, the leading DeFi development company, provides some immersive solutions for your Exchange development. Therefore, you could build your entire DeFi Exchange incorporating all the necessities to meet existing DeFi industry requirements cost-effectively and launch your business on the blockchain and win in the trendy crypto industry shortly.