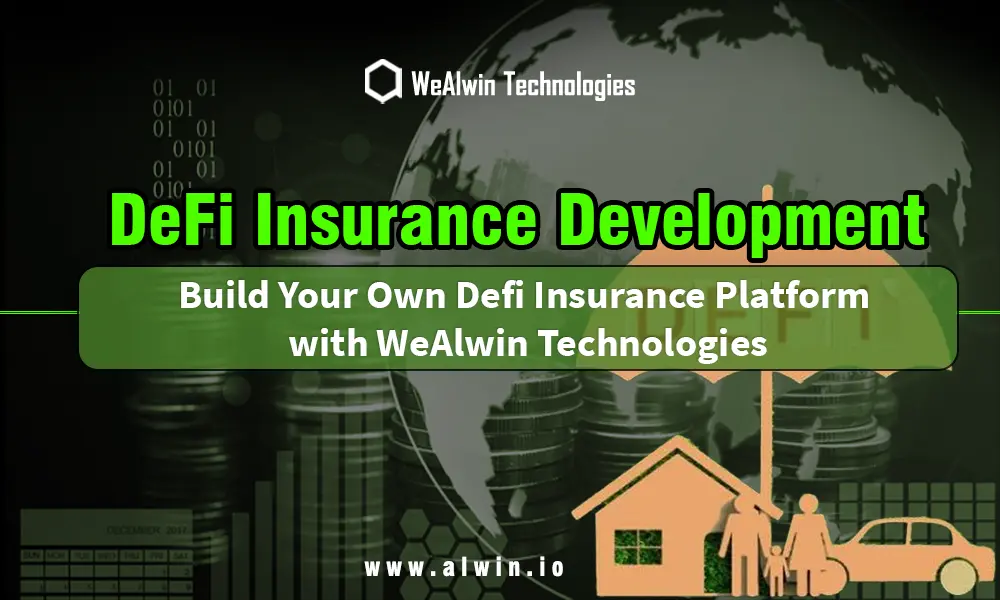 What is Defi Insurance Development?
Decentralized finance(Defi) insurance development is the process of developing software or Dapps with the help of leveraging the open-source Defi protocols. In Defi insurance, we can eliminate the challenges and risks in the present traditional insurance and increase the opacity, trust, productivity, and trustworthiness in the insurance.
Decentralized Finance(Defi) insurance - A Detail Explanation
Global revenue is one of the main sectors that involve a greater share and faces many difficulties and problems in handling all the processes in the "Insurance Sector."
Blockchain technology increases security in the financial sector as a whole. The insurance sector has been newly reshaped by decentralized finance(Defi).
Before getting into a deep discussion of decentralized insurance, let us take a look at traditional finance.
Traditional Insurance:
We all know that this is nothing but a contract that is represented by a policy in an individual document format or any data that gets financial security or payment from an insurance company for losses. To make their payments to the insured more manageable, these companies pool the risks avoided for their clients.
These traditional insurance plans are regarded as risk-free because they offer fixed returns in the event of death or term maturity. Endowment, return, and safety terms are covered by this insurance.
Insurance is essentially the pooling of financial resources. Insurance policies are based on the three Ps, which are
Premiums - It suggests the periodic payments we make
Pooling of money - We make the period payment
Payout - this is what we receive when there is a risk and we have to carry the financial cost.
Many insurance companies are in the sector with different kinds of insurance plans and all meet many challenges in offering high efficient insurance services for end-users. 
How does the Defi insurance platform work?
In the Defi insurance platform, insurance borrowed some of its intentions from the traditional insurance market. Defi insurance protects entrepreneurs, business people, and startups from financial losses like fraud or system failures resulting from data theft.
For example, a platform for decentralized finance is attacked, and money is stolen. If so, business investors would suffer a $1 million loss. The specific insurance provider would give money to the Defi exchange platform, which would subsequently give money to those who had been hacked.
Decentralized Finance (DeFi) Insurance Projects:
The majority of the insurance industries are prepared to migrate to decentralized financing so that they can provide their customers with more advantageous factors:
Nexus Mutual:
It creates decentralized insurance by using Ethereum blockchain technology, and it was initially launched with a smart contract that enables anyone to get insurance on any open Ethereum smart contract, meaning DeFi users can easily get protection for their funds.
CDx:
When you insure your funds against hacks on well-known exchanges with CDx, you can easily protect your money as well as your crypto assets.
Etherisc:
With the help of Etherisc, anyone can build applications for decentralized insurance, create their own insurance products, and provide some protection for their crypto wallets and lending collateral.
Difference between Decentralized finance Insurance and Decentralized Insurance App?
People frequently use the terms decentralized insurance application and decentralized finance(Defi) insurance interchangeably. A decentralized finance insurance platform serves a completely new purpose, namely to protect users in the Defi sector.
Defi insurance focuses especially on securing business investors, Defi providers, and financial transactions. People can launch their own decentralized insurance services and products using a decentralized insurance application on the blockchain.
Consult with our business experts to launch your Defi insurance development instantly! Chat with us on WhatsApp
Features of Our DeFi Insurance Protocol
The characteristics of our DeFi Insurance platform development are listed below.
Perfectly Audited Smart Contracts
Integrated Cyber Security
Highly Automated
Ultra-Transparent
New Token Generation
Ethereum Token Swapping
Crypto Wallet Insurance
Collateral Protection for Crypto-backed Loans
Complete Governance
Claim Management Setup and more.
The Benefits of Decentralized Finance(DeFi) in the Insurance Sector
Here are some advantages of decentralized insurance, which aims to take the place of outdated centralized insurance.
Comprehensive security against DeFi deposits
Protection from Hedge and DeFi Risk
Prevention of cryptocurrency volatility and the flash crash
Covers prevent the occurrence of technical and financial risk
Instant Claim Procedure
Protection from financial hacking
Trustless claim 
Risk Assessment
Easy and immediate submission, claim, and process of payouts
Complete safety and transparency in processing and more.
Premium Advantages of Defi insurance:
Non-custodial
Security against collateral
Highly automated
Lower margin requirements
Easy and time-saving process.
Major Use-Cases of DeFi Insurance 
Blockchain-based Insurers Enter the Market:
The assets on a blockchain-based insurance platform are all controlled by smart contracts and are safely stored; by storing the claims process on the network, the process will be automated and open to everyone. 
Due to DeFi Insurance's smart contract functionality, the healthcare industry is seeing significant benefits from implementing a blockchain network. Insurers are collaborating with blockchain-connected businesses, insurance providers, and insurance users in order to benefit from DeFi Insurance.
Protection for Crypto backed loans:
DeFi insurance can reduce the risk to lenders who offer loans if the loan can be provided in terms of collateral loans; if the collateral is stolen or lost, the loan is repaid under the name of an insurance policy. This way, loans backed by cryptocurrency are secured by DeFi insurance.
Smart Contract Cover:
It was created to cover the loss, if the smart contract address could be hacked by someone, such as the loss of funds from the investor account. By using smart contract covers, the funds are transferred to another address, which, to put it simply, covers all losses and makes them simpler to recover. 
Cyber-security: 
Blockchain technology is the foundation of decentralized finance. Keys from a private wallet and a cryptographic algorithm make it secure. Although decentralized systems have easily restored the safety of users' funds and data, security is a national concern.
Automation: 
The reduction of human resources does not hamper the work. In their place, smart contracts, the automated pre-set codes or agreements between an organization and its customers, execute the functions based on the conditions set. As a result, accuracy is 100%, costs are greatly decreased, and conflicts are essentially zero. 
Transparency: 
Users are more likely to have faith in the system because it is decentralized and there is no involvement from a third party or centralized organization. Every transaction that is made is anonymous and publicly visible on the blockchain. Additionally, users can direct the system's operation by using governance tokens. 
Where To Get The DeFi Insurance Platform Development Services? 
In the modern era, there is a high demand for creating a decentralized insurance platform. Among them, WeAlwin Technologies assists you to launch your own Defi-based projects with an advanced decentralized ecosystem with technical experts and skilled Defi developers. As a leading Defi insurance platform development company. We have completed successful  Defi insurance development services on time across the world with fully secure. And also, we help you to develop your custom Defi insurance platform as per your own business requirements.
Launch Your Defi Insurance Development With WeAlwin Technologies
Book a Live demo which is free of cost
Check out our page on Decentralized finance(Defi) development to get more information
We also provide popular Defi services, Like
Our First Class Defi-based Clone Scripts are,