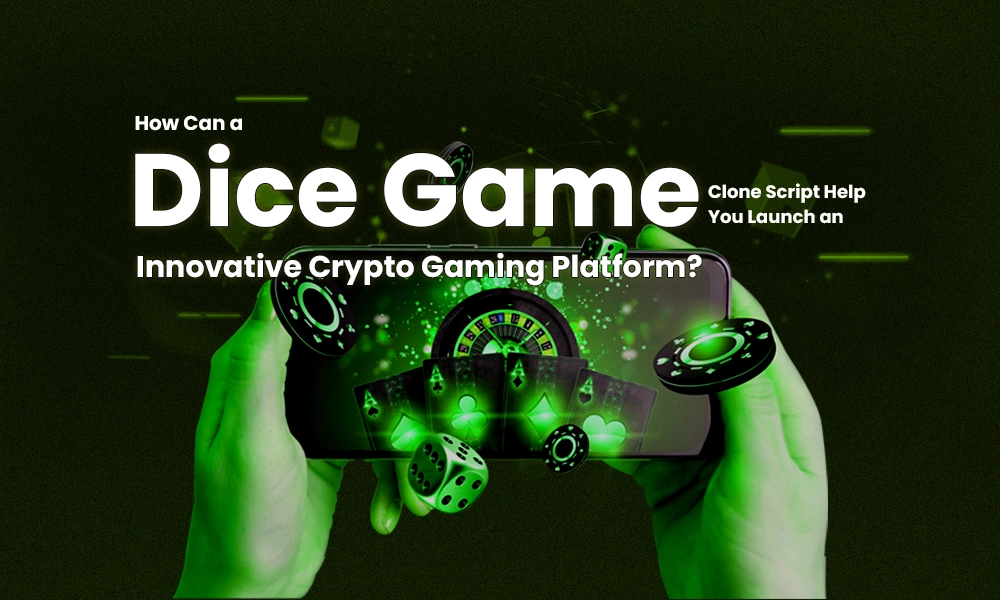 Step right up, crypto enthusiasts! Are you ready to shake things up in the world of online gaming? If so, then we've got something exciting to share with you today. In this blog post, we'll be discussing how a dice game clone script can help you launch an innovative crypto-gaming platform. 
With the explosive growth of cryptocurrencies and blockchain technology, now is the perfect time to dive into the world of digital currency-based games. We'll explore how a dice game clone script can give your platform a head start by providing all the essential features needed for success. 
So let's roll those virtual dice and get started on launching your very own crypto-gaming revolution!
What is a Dice Game Clone Script?
A dice game clone script is a ready-made software solution to launch your own online crypto casino platform with a dice game. It contains all the necessary features and components to get your dice gambling site up and running in no time.
A dice game clone script gives you:
The dice game logic - This includes the random number generation, payout calculations, and everything else that makes the game work. There's no need to build it from scratch!
An attractive UI - The script will come with a sleek and modern interface that crypto players expect. You can customize the look and feel to match your brand.
Admin dashboard - As the admin, you get a dashboard to manage players, payouts, bets, and all the backend operations. It makes operating your crypto casino a breeze.
Greater security - A dice game clone script is built with security in mind. It ensures fair play, protects players and their bets, and keeps your crypto casino data safe.
Scalability - As your player base and bets increase, the script can scale up to handle the higher loads. It's engineered to work for both small startups and established platforms.
A well-made dice game clone script provides everything needed to launch a profitable crypto-gambling platform without needing advanced technical skills. It's a simple yet powerful solution to build your own online casino business around a dice game. With some marketing, you'll be making big bitcoins in no time!
Features and Functionalities of a Dice Game Clone Script
To build an engaging crypto casino platform, you need a feature-packed dice game clone script. Here are some must-haves:
Provably fair gameplay - Players want to know the game is fair, so your script should use cryptographic hash functions to generate random numbers and verify game outcomes on the blockchain.
Multiple cryptocurrencies - Support major coins like Bitcoin, Ethereum, and Litecoin so players can bet and withdraw in their currency of choice.
Custom bets - Let players manually enter bet amounts for maximum flexibility. Set minimum and maximum bet limits to manage risk.
Auto betting options - For convenience, offer presets like double up, increase bet, decrease bet, and more. Players can enable auto-betting to speed up gameplay.
Exciting 3D graphics - Eye-catching graphics keep players engaged. Choose a script with animations, sound effects, and 3D dice that mimic real rolling dice.
Mobile optimization - A large percentage of players access crypto casinos via mobile, so ensure your script has a responsive design and intuitive controls optimized for smartphones and tablets.
Admin control panel - As the admin, you need full control over payout rates, bet limits, currencies, and more. Look for a script that lets you easily configure settings to suit your needs.
With the right dice game clone script, you'll have a thrilling casino gaming platform up and running in no time. Now start rolling the dice and watch the crypto roll in!
How to Launch a Crypto Casino Platform With a Dice Game Clone Script?
Once you have your dice game clone script, it's time to launch your crypto casino platform. Here are the main steps to get up and running:
Set up your website
You'll need a custom domain name and hosting for your crypto casino platform. Choose a domain name that's memorable and relates to crypto gambling or dice games. Get shared hosting with a provider that allows crypto-related businesses.
Design your site to be visually appealing and user-friendly. Include pages for your dice game, promotions, FAQs, terms of service, etc.
Integrate your dice game clone script into your website. This may require some custom coding to match your site's style. Test thoroughly to ensure seamless gameplay.
Obtain proper licensing
Crypto casinos are regulated differently in each country and jurisdiction. Make sure you understand and comply with all regulations regarding operating an online crypto casino platform before launching. Failure to do so can result in legal trouble and fines.
Promote your new platform
Start building hype for your new crypto casino platform through social media marketing and SEO. Post updates, share demo videos, and run promotions and contests to increase traffic and signups. Optimize your site content with related keywords like "crypto dice game," "bitcoin gambling," and "Ethereum casino."
Provide great support
Customer service is key to a successful gaming platform. Offer live chat support for your players whenever your casino is operational. Quickly respond to support tickets or emails as well. Your support agents should be knowledgeable about crypto, your dice game rules, and any promotions you're running.
Following these essential steps will get your crypto casino platform up, and running, and ready to start attracting players. With an engaging dice game clone script and the right marketing, you'll be on your way to building a popular hub for crypto gambling. Just be sure to keep improving, optimizing, and enhancing the player experience over time.
Choosing a Dice Game Clone Script Provider
Choosing a Reputable Provider
When searching for a dice game clone script provider, you want to find a reputable company with a proven track record of success in the industry. Look for providers that:
Specialize in crypto casino software and gaming platforms. They will have the expertise to build a customized dice game that integrates with cryptocurrencies.
Offer high-quality scripts 

Read reviews from their current clients to determine the quality and reliability of their products.
Provide good customer support

 Once you purchase the script, you'll want to help customize it, addressing any issues that come up, and updating it as needed. Look for providers that offer ongoing support.
Have competitive pricing

 While you want a high-quality product, you also need to stay within your budget. Compare packages and pricing from different companies to find a good value.
Offer customization options

Choose a provider that will customize the script to your specific needs and preferences. This could include custom graphics, house edge configuration, bet types, and more.
Provide updates and upgrades

The crypto casino and dice game markets are fast-moving, so you want a script that is continuously improved and upgraded to keep up with trends, security needs, and new features.
When evaluating companies, check if they meet these criteria. WeAlwin Technologies is a leading Blockchain Game Development company in the market. By choosing a reputable dice game clone script provider like WeAlwin, you'll have a strong foundation to build a successful crypto casino business.
Why should you choose WeAlwin Technologies to create your dice game?
WeAlwin Technologies has over 6 years of experience developing online casino gaming platforms and gaming software. We have a team of developers who are experts in blockchain technology, smart contracts, and game development. We have successfully launched many dice game platforms and helped clients achieve their business goals.
We offer customized dice game clone script development services. Whether you need a simple Bitcoin dice game or a full-fledged Ethereum casino, we can build it for you. Our scripts are highly scalable and secure and can be customized to match your brand. We make sure to understand your specific business needs and requirements to provide the best solution.
We provide dedicated support to all our clients. Our support team is available 24/7 to help you with any issues related to the dice game platform, ensuring smooth operations and maximum uptime. We also provide free bug fixes and software updates to continuously enhance your platform.
WeAlwin Technologies offers very competitive and affordable pricing for dice game clone script development and other crypto casino gaming solutions. We do not have any hidden fees and are very transparent in our pricing model. We strive to provide maximum value for your investment.
We have a fast and efficient development process. We can develop and deploy a basic dice game platform within a few weeks. The exact time frame depends on the complexity of your requirements. We follow agile development methodologies to ensure quick turnaround times and frequent interactions with our clients.
Conclusion
You now have the knowledge and tools to build a highly profitable online casino business. All that's left is to take action. Don't sit on the sidelines while others are making money in this exciting space. Get started today by purchasing a dice game clone script, customizing it to your needs, marketing your new casino, and watching the crypto roll in as players enjoy your games. Before you know it, you'll be running a successful crypto casino and wondering why you didn't start sooner. The opportunity is out there, you just have to grab it. Get building, and good luck! The crypto casino world awaits.