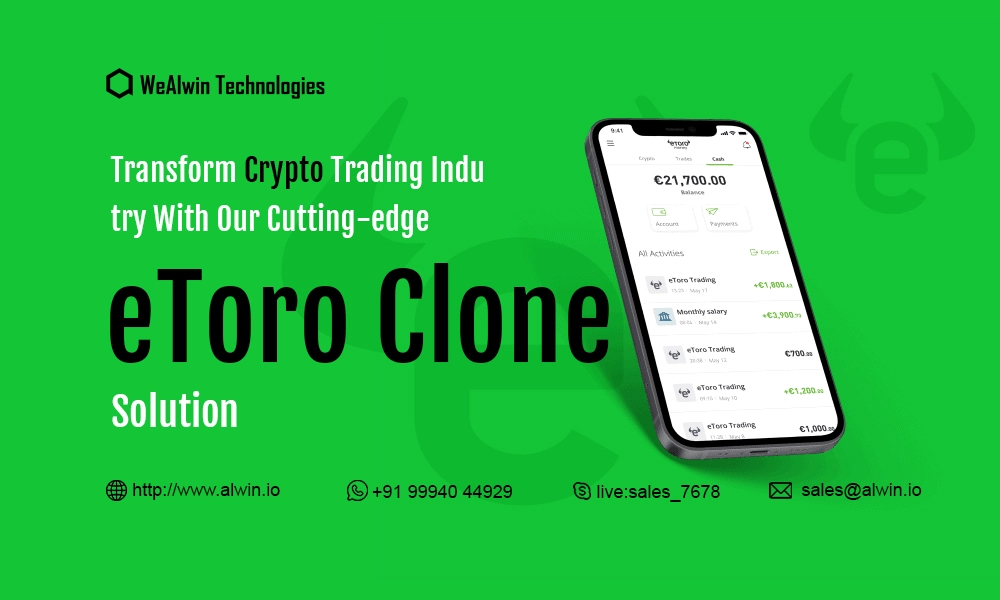 Are you looking for a comprehensive yet easy-to-use tool to start your own social trading platform? 
Then, our eToro clone script is the perfect solution for you. 
This revolutionary resource enables you to create an exact replica of the eToro platform, with all its features and options. You can make your own mark in the world of social trading and reap the rewards.
In this blog, we're going to discuss it in detail.
So wasting no time, let's dig into the topic fast!
eToro - An Overview
eToro is an online social trading network that enables users to share, discuss, and trade in financial markets. It is one of the most popular social trading platforms in the world of crypto and has attracted millions of users from all over the globe. It is a revolutionary platform that allows its users to copy, follow and replicate the trades of other users in real time.
eToro is a comprehensive platform for traders to share their knowledge and experiences and learn from each other. With its simple and user-friendly interface, it makes trading easy and accessible for everyone. It also provides its users with several prompt features including charts, analysis, and signals to help them make informed decisions.
Significant Benefits of an eToro Clone Platform
The main benefit of this social trading platform is its entirely commission-free trades. 
In addition, the platform users can buy fractional shares in the eToro social investment platform and trade and invest in leading stocks, exchange-traded funds (ETFs), and CFDs. 
Furthermore, the copy trading technology allows users to connect with other traders, discuss trading strategies, and copy their trading portfolio performance. 
And lastly, a cryptocurrency trading platform like eToro offers an ever-growing array of cryptocurrencies, allowing users to purchase and sell the underlying asset.
eToro Clone Script - What Is It?
eToro clone script is the greatest application creation solution that enables you to create a social trading network platform similar to eToro. It provides everything you need to quickly and efficiently set up your own version of the eToro clone in an advanced manner.
Following this, WeAlwin Technologies's eToro clone script is highly secure that offers an intuitive and easy-to-navigate interface.
It is a complete resource that not only builds an exact replica of the eToro but also comes with plenty of customization options that enable you to smartly create a unique platform from your own business plan and ideas.
It is encrypted with industry-leading security protocols to ensure all your business and user data are safe and protected, ever.
And most importantly, our eToro clone script empowers you to smoothly manage and monitor every aspect of your business, from user accounts to transactions via a dedicated admin panel.
Features of Our eToro Clone Script
Our eToro clone script is packed with a number of advanced features that will make your crypto social trading platform stand out from the competition. Some of the key features include -
User-friendly interface
Social trading
Copy trading
Virtual trading
Market trends
Advanced charting
Seamless trading experience
Real-time market insights
High liquidity
Complete transparency
Advanced risk management
Multi-currency support
Automated trading bots
Multiple asset classes
User Advantages of eToro Clone Social Trading Platform
Your eToro clone website will have advanced social crypto trading technologies that are designed to increase the quality of the platform users' trading experience. 
By the way, new traders can also trade like professionals even if they lack prior trading experience by selecting a trading strategy tailored to their needs.
Additionally, it provides a virtual platform that allows traders and investors to study trading strategies, as well as live chat, email, and service options.
And, your eToro clone social trading software with us will have a cold wallet that works with all other wallets and regular audits to strengthen market security by reducing unwanted activity.
Why Choose WeAlwin Technologies for Your eToro Clone Platform Development?
It is crucial that you choose the right developer for your eToro clone platform. That's why WeAlwin Technologies is always recommended. 
Subsequently, here are just a few reasons why you can choose us for your eToro clone script development requirement.
Experienced developers
Customizable solutions
High-end security protocols
Real-time API integrations
Built-in customer support system
Custom UI/UX design