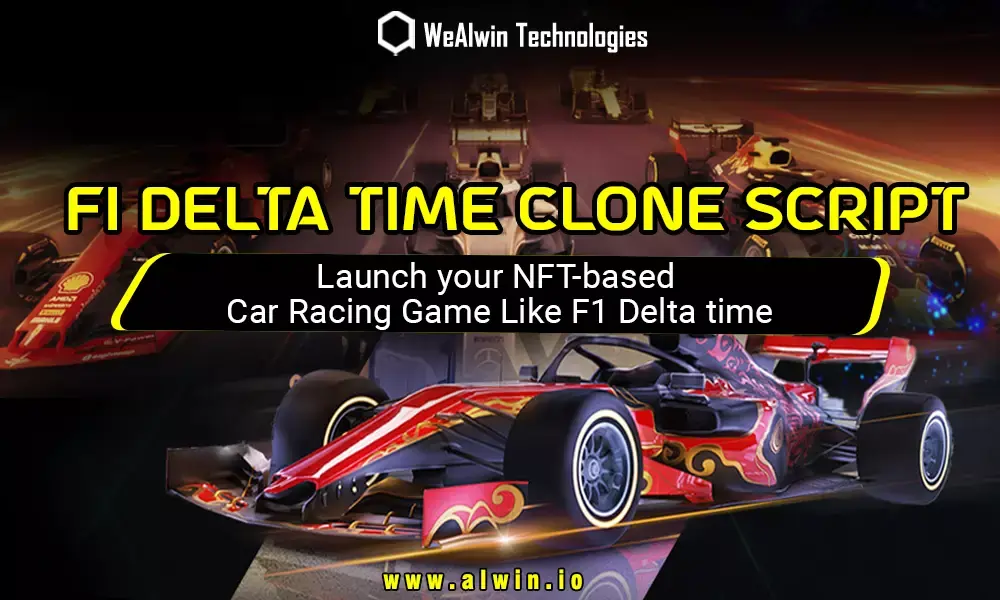 Take the racetrack to the web 3.0 world with F1 Delta Time Clone Script and win the race seamlessly. Start a play-to-earn racing game with us now!!
F1 delta time clone script
F1 Delta Time Clone Script is a pre-built NFT-based car racing game script that anyone can start their NFT gaming platform like F1 Delta. It is a completely customizable and fully tested NFT car race gaming script with all the same features and plugins as the F1 Delta Time Platform, providing players with the best user experience. WeAlwin Technologies is the foremost NFT game development company that offers the best F1 Delta Time clone script for crypto beginners and entrepreneurs to launch their F1 Delta Time like the NFT Gaming platform.
Components of our F1 Delta Time Clone
Script type: NFT marketplace script
Platform type: Car Racing
Blockchain Network: Ethereum (customizable)
Version Update: F1 Delta Time clone script (updated in 2021)
Special features: Garage, Staking, Play to Earn, Racing.
Our Outstanding Features of F1 Delta Time Clone Software
Own everything
Action Arcade Racing Game Play
Play-to-earn 
Multiple Wallet Connection
Staking
Garage
Time trial
Workshop
Grand Prix mode
Driver 3D model
Driver 2D thumbnail 
Racing stats
What is F1 delta time?
The F1 Delta Time is the official formula of the F1 game on the blockchain. It is completely different from the other traditional games. Items in the F1 delta time are unique and all items belong to players. Players can purchase their favorite F1 car, trade with other players, and sell the cars. Players can customize their own car with a variety of car parts. Are you willing to race on F1 Delta Time!! Let's peek at the F1 Delta Time.
F1 Delta Time is a blockchain-based Game on Ethereum that uses non-fungible tokens, fungible tokens, and REVV-ERC-20 tokens, respectively.  It is an action racing game that basically revolves around collecting and exchanging unique Formula one(F1) cars, drivers, and components. It will include non-fungible tokens and collectible elements using racing elements based on the trading and acquisition of these NFTs. REVV is utilized as in-game currency and can be used in transactions such as paying entry fees and buying certain items.
F1 Delta time has two essential components
Collectible game
Racing game
Collectible game
F1 Delta's Collectibles game includes acquiring and trading digital assets and rare virtual properties such as cars, drivers, trinkets, and parts. It adds layers like gamification and leaderboards and achievements for the collection of NFTs. The collections are designed to stimulate traditional scarcity-based gaming activities and elements such as models, baseball and football stickers, and more.
Racing Game
In a Racing game, players will enjoy a traditional racing gaming experience where they can pick up the collectibles and drive the car on a 2.5D viewpoint over the specified tracks, and take actions according to commends such as acceleration and braking.
Consult with our business experts to launch your F1 Delta Time Clone Script instantly! Chat with us on WhatsApp
What is the Staking of F1 Delta Time?
Staking is one of the beneficial features of F1 Delta Time. Traditionally, staking relates to holding a token for a certain period of time and earning rewards on it. Rewards may vary depending on the length of time and the value staked. During F1 Delta Time, staking is a new feature designed to permit owners of the car NFTs to generate REV tokens in a relaxed manner.
What is a REV token?
REV tokens or REVs are ERC-20 tokens. REVs are the major currency used in F1 Delta Time Gaming. REVs have many uses in F1 Delta Time, as an in-game currency used to make payments and receive rewards and certain items during races. Just like any other in-game currency, the more REVs you won, the more in-game options you get - be it participating in races, buying cars, or upgrading your racing assets. So simply, staking is a mechanism that allows you to generate REVs passively.
Tokenization 
Our F1 Delta Time clone script uses two standards of the Ethereum Tokens. They are ERC-20 and ERC-721 tokens.
Non-fungible Token
Collectibles are Non-fungible tokens that are part of unique digital content. The player has complete control over the collections as they have full rights to use, buy, sell and trade them. Requested collections such as cars, drivers, parts, and tracks are made up of NFTs. These products attract drivers and car owners to improve their performance. All NFTs are compliant with the ERC-721 standard. NFTs on the platform are ERC-721 standard.
Fungible Token
A fungible token is non-unique and interchangeable. F1 Delta Time will use REV as a fungible token in the game. 
REV - like collectibles - can be owned outright by a player, but do not act as part of the game's content. REV serves as the game's primary currency.
This currency is used in various ways
Reward a player for purchasing certain types of collectibles, and completing certain actions or achievements.
For payment to complete in racing games and use as rewards for races.
Both fungible and non-fungible tokens are limited supply.
How do players get collectibles on F1 Delta Time like the NFT game?
There are many ways for the players to get and purchase the collectibles. They are,
Giveaways - Players can be rewarded with collectibles by holding a series of giveaway events.
Store - This is the major source for selling the new collectibles.
Fixed price sales - Fixed price sales are pre-defined prices at which collections are sold. Sales will be based on the following factors: availability, specifications, and market value.
Auctions - various collectibles will be available only in the auction.
Our F1 Delta Time like Gaming Platform Development Process
User interface - The first impression of the game depends upon the UI of the gamer rather than the idea or the amazing features that come with it. Our team is dedicated to creating the best UI that will attract gamers.
Security protocol - Security is essential, and we'll make the game protected with protocols like Anti-DDOS, Anti-Phishing, and Anti-SSL scripting. We assist you to develop a safe space for gamers to play and earn.
API integration - Every game needs to be updated on a regular basis otherwise, it becomes boring and obsolete. With this, we've created for you a game that can be seamlessly updated and unscaled with various APIs.
Why did you choose WeAlwin to build an NFT-based Blockchain Game like F1 Delta Time?
Now that you're aware of the gaming features and functions of the F1 Delta Time, do you want to build an NFT-based Blockchain Game like F1 Delta Time? We are here to guide you. 
We WeAlwin Technologies is the best NFT game development company providing high-tech blockchain-based NFT game clone scripts on different platforms Android, iOS, Windows, and Native. Our high skilled blockchain and NFT game developers build unique and high-end gaming platforms for the users with a focus on providing a gaming platform with spectacular graphics, HD display, high-end processor, and other attributes. Our major goal is to implement our client's ideas and offer them a gaming platform in line with the competitive market, able to meet all the demands of users, customers, and players based on modernity and advanced features.
Would you like to launch an NFT-based game like F1 Delta Time to get an Enriched F1 Delta Time clone script from WeAlwin!!!
Check out our page on NFT Game Development to get more information
We also provide Ready-made NFT game clone scripts including,
Would you like to launch an NFT-based game like F1 Delta Time to get an Enriched F1 Delta Time clone script from WeAlwin!!!