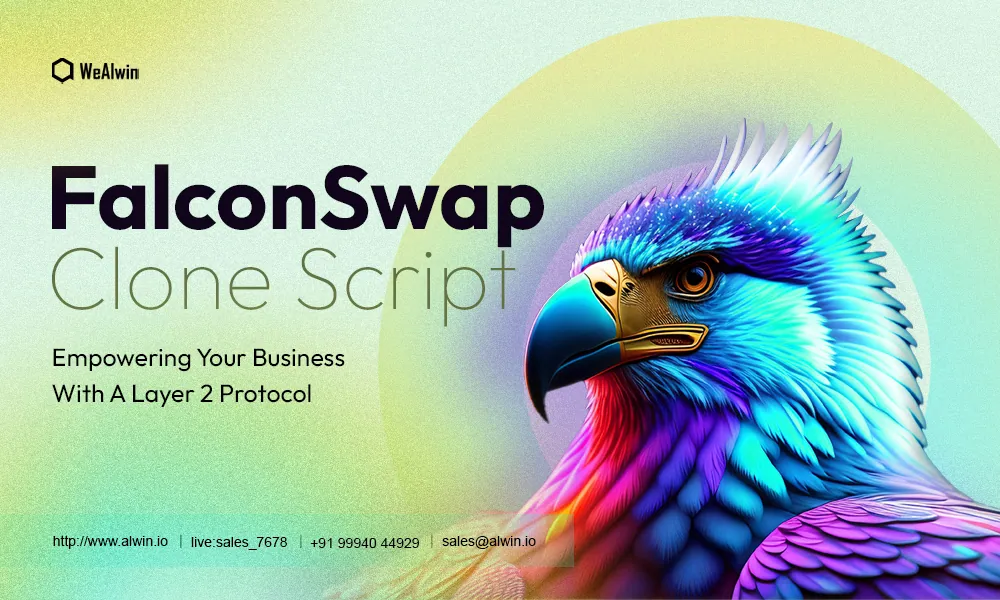 If you are a Defi enthusiast or want to be an entrepreneur?
Then DeFi offers vast opportunities. Defi provides various platforms like Smart contract development, Defi Yield Farming Development, Defi Exchange Development, etc.
Defi exchange provides recently numerous chances to invest in Defi. whereas in Defi exchange platform FalconSwap is a leading exchange script.
Numerous options and features are available on Falconswap.
If you want to take advantage of these chances and the commercial benefits offered by WeAlwin's Falconswap clone script. It provides the entire Falconswap user manual as well as additional features that can be customized to meet your needs.
FalconSwap 
The FalconSwap was created on the Ethereum network's apex as a decentralized exchange for trading tokens with a cheap gas cost. It allows for quicker token swapping in the liquidity pool with the performance of a second-layer scaling solution on Uniswap.
Falconswap Clone Script
FalconSwap Clone script is a platform of defi similar to Falconswap that helps you with decentralized exchange. They have several features and benefits of Falconswap without deteriorating the original software. 
It is 100% customizable software that you can modify or change the development criteria and add or remove extra features and security options to make it more secure and reliable as per your business requirements. Now let us learn about how this FalconSwap like decentralized finance exchange platform works.
Consult with our business experts to Build your own FalconSwap Clone Script! Chat with us on WhatsApp
How does the Falconswap clone work?
FalconSwap revolutionizes the way users engage with decentralized finance through its flagship feature, FalconPool. 
By leveraging multiple smart contracts, FalconSwap empowers users to sign up for FalconPool and experience a new level of token pooling and exchange. 
FalconPool operates through a network of smart contracts, ensuring a smooth and efficient user experience.
1. Token Pool Creation: FalconPool's pool builder efficiently handles and consolidates transactions from contributors by forwarding them to layer 2, streamlining the entire process.
2. Efficient Transaction Processing: Ethereum's main net host contracts provide comprehensive details about the available token pools, enabling users to make informed decisions.
3. Fair Fund Distribution: FalconPool redistributes the collected funds among contributors, fostering fairness and transparency within the ecosystem.
4. Easy Token Unlocking: The pool creator gains access to a user-friendly dashboard to unlock the locked tokens, ensuring flexibility and accessibility.
5. Wallet Integration: Users link their supported wallets to their FalconSwap accounts, facilitating secure token storage and transfer.
6. Contribution Acceptance: Before utilization, contribution tokens undergo an acceptance process, ensuring the compatibility and authenticity of tokens within FalconPool.
7. Determining Contribution Amount: The required contribution amount is determined based on the pool's parameters, allowing users to participate accordingly.
8. Smooth Transaction Execution: Users can choose the "buy" option and securely sign the deal using their corresponding wallets, finalizing the exchange process.
9. Completed Exchange: Users can see the "Already Participated" button once the exchange is completed, indicating their successful participation.
10. Token Distribution: The pool's creator takes charge of distributing tokens among contributors, ensuring a seamless and efficient process.
What is FalconSwap V2?
FalconSwap V2 is an advanced decentralized exchange (DEX) built on the Ethereum blockchain. It offers a seamless trading experience with enhanced liquidity, reduced slippage, and minimal fees. With FalconSwap V2, traders can enjoy the benefits of decentralization while experiencing lightning-fast transaction speeds and improved efficiency.
Key Features of FalconSwap V2
1. The listing process will be ideal on the FalconSwap V2 exchange only one relayer will be used to list several tokens.
2. Instead of using predetermined timed cycles, the FalconSwap V2 exchange will use the number of orders as its criteria for initiating transactions, supporting both high and low-volume pairs.
3. xPrivacy, a cutting-edge privacy exchange, is now available. It will allow for immediate privacy trades on Uniswap and other AMM pools.
4. Introducing FalconPay, a platform for payments with features like gasless payments, redeemable cryptocurrency vouchers, etc. that allows for a variety of use cases to be developed on it.
Features Of FalconSwap Clone Software
Layer-2 Order Matching
Executed matching orders are pooled on layer 2 before being used to access liquidity from Uniswap's liquidity pools.
Lower trading fees & Lower Slippage
Trading fees operate with a lower slippage rate to prevent slippage from the pool and are way too low below 80%.
Extreme Faster Transactions
2-layer implementation is the reason for the faster transaction in falconswap exchange. faster transactions are powered by aggregators for layer-2executing traders
Privacy
Layer 2 order matching provides extreme privacy.
Liquidity mining 
When trade takes place on this platform, mining is done with falconswap tokens.
Permissionless
Exchange has decentralized access to all liquidity token pools and is entirely permissionless.
 Token Lockups
The ERC-20 token known as FalconSwap Lockups (FSWL) is locked up and then made available for trading.
Why You Should Build Like FalconSwap?
Building a FalconSwap can provide several benefits and opportunities. 
1. Increasing Demand for Cryptocurrency Trading:  
The demand for cryptocurrency trading platforms has increased. Building a cryptocurrency exchange like FalconSwap can tap into this growing market and attract traders who are looking for reliable and efficient platforms to trade digital assets.
2. Diverse Revenue Streams: 
A cryptocurrency exchange can generate revenue including transaction fees, listing fees, margin trading, token sales, and more. 
By offering a diverse range of services, you can create multiple revenue streams and establish a sustainable business model.
3. Liquidity and Market Making: 
Building liquidity is crucial for traders as it ensures the ability to buy or sell assets quickly without significant price slippage. 
By providing you can facilitate liquidity and attract traders seeking efficient trading opportunities.
4. Innovation and Differentiation: 
FalconSwap has gained attention for its unique features, such as the Layer 2 aggregation protocol and the FalconSwap token (FSW). 
5. Market Growth and Expansion Opportunities: 
You can adapt to market trends, integrate new cryptocurrencies, and expand your services to meet the changing needs of traders.
6. Community Engagement and Token Economy: 
FalconSwap has implemented a token economy around its native token (FSW). This allows users to participate in governance, earn rewards, and enjoy various benefits within the platform. By creating you can foster user engagement, incentivize participation, and establish a loyal user base.
7. Security and Trust: 
FalconSwap prioritizes security by implementing various measures such as smart contract audits, bug bounties, and robust security protocols. 
8. Market Fragmentation: 
Currently, the cryptocurrency market is fragmented, with several exchanges operating independently. This can simplify the trading experience for users and attract traders looking for a consolidated trading environment.
Before building a cryptocurrency exchange like FalconSwap, it is crucial to conduct thorough market research, develop a comprehensive business plan, and ensure compliance with legal and regulatory requirements.
Check out our page on DeFi Development
Why Choose WeAlwin Technologies For Your Falconswap Clone?
WeAlwin Technologies is a reputable DeFi development company. We create feature-rich, and User-friendly clone scripts with the help of our team of blockchain specialists.
Our FalconSwap Clone script is a ready-made software and replication of the FalconSwap DEX that can be adjusted to meet your unique requirements. To start developing your FalconSwap clone software, connect with us.