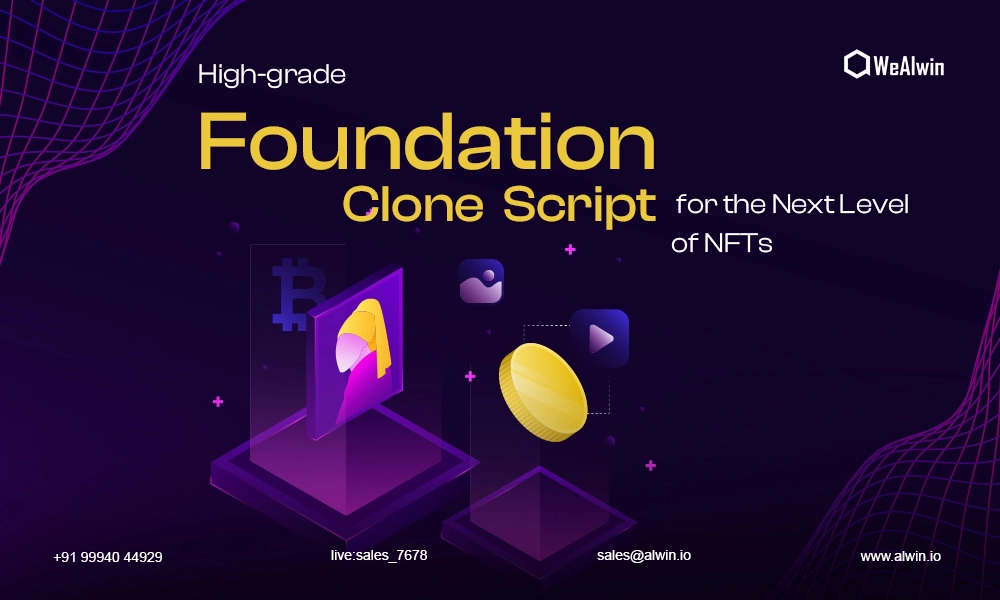 Hello, NFT enthusiasts! 
Are you eager to take your NFT world to the next level? 
If you're reading this, certainly, you must have come across the buzz and enthusiasm surrounding NFTs and how they've transformed the world of digital art and collectibles. Today, we will offer you a top-notch Foundation clone script that will blow your mind and let you establish your very own NFT marketplace like never before!
An Overview of Foundation NFT Marketplace
Before we go into the magnificence of our Foundation clone script, let's briefly review the Foundation NFT Marketplace. The foundation is a well-known and successful NFT platform that has overtaken the art world. It offers a platform for artists, makers, and collectors to promote, purchase, and sell non-fungible digital artworks.
Foundation has become the preferred platform for NFT enthusiasts looking for original and exclusive digital art pieces, owing to a user-friendly design and a large community of producers.
Foundation clone script
The Foundation Clone Script is an NFT Marketplace clone that performs similarly to Foundation and allows users to mint and sell non-fungible tokens (NFTs) in a dedicated NFT marketplace. Developcoins provides a White Label Foundation Clone Script that enables the customization of the crypto-asset collector's marketplace according to client needs. Our clone script is completely customizable, and there are several ways to enhance the system.
WeAlwin provides you with a bug-free Foundation clone that has numerous device compatibility and is integrated with high-end security features to let you establish your own NFT marketplace. Contact us for a free consultation with one of our blockchain specialists.
Consult with our business experts to Build your own Foundation Clone Script! Chat with us on WhatsApp
Owing Features of Our Foundation Clone 
Listing 
The platform's producers may easily offer a variety of collectibles thanks to NFT listing features. 
Bidding 
Users use this option to bid on the price of the NFT offered for auction, through which the NFTs are brought. 
Payment Gateway 
Several payment methods, including crypto payment gateways, credit cards, debit cards, and others, are included in the clone script. 
Multiple Compatibility 
Our clone script is compatible with a variety of devices, allowing us to reach a large spectrum of people.
NFT Wallet 
Wallet integration allows buyers to save their NFTs in different categories, simplifying the user experience.
Storefront
An appealing and user-friendly storefront feature that shows the NFT platform's listed products. 
Classification of Assets
The categories into which the assets are divided allow for streamlined user searches. 
How to Create an NFT Auction Marketplace Like Foundation?
We will help you build an NFT Marketplace-like foundation. Our foundation clone script has similar features, such as a live auction, the capacity to generate NFT mints, and the ability to sell NFTs, all at a reasonable cost.
The Foundation clone script is a multi-tested, ready-to-market NFT marketplace source code that can be used to create an NFT Marketplace with equivalent features and capabilities similar to Foundation. Our Foundation clone script will let you construct your own specialized NFT marketplace where you can create and sell NFTs for artworks to share and support enthusiastic artists on a blockchain-based platform.
How does the Foundation Clone app work?
Interested in learning more about how our Foundation clone app works? Let me take you through the steps:
Registration: Artists and collectors create their profiles on the site by signing up in a few easy steps.
Listing of Artwork: Artists may simply list their digital works as NFTs, determining the length of the auction and the beginning bid.
Bidding & Auctions: During the auction period, collectors get a vast collection of NFTs and put bids on their top items.
Winner Announcement: When the auction concludes, the highest bidder receives the NFT and ownership of the unique digital artwork.
Blockchain Verification: All transactions are recorded on the blockchain, which ensures the NFTs' transparency and legitimacy.
Benefits of Foundation clone software 
Profitable mining
Quality-defining dashboard
Scalability is increased by using airdrops. 
Farms for passive income generating
NFT auction listing and bidding
Advantages from referrals
Increasing the value of rewards for involvement.  
Where do you develop your Foundation clone script?
You're in the correct place! We are a top NFT Auction Platform Development Company with experience in NFT marketplace solutions. Our team of talented engineers and designers is dedicated to developing high-quality, user-friendly systems.
Ready to take the plunge into the world of NFTs with our high-quality Foundation clone script? Get in contact with us today and let's make your concept a reality!
Remember, NFTs are the future of digital art and collectibles, and you can be at the forefront of this exciting transformation using our Foundation clone script. Embrace the power of NFTs and build an engaged community of artists and collectors on your own NFT auction platform!
Check out our page on NFT Auction Marketplace Development