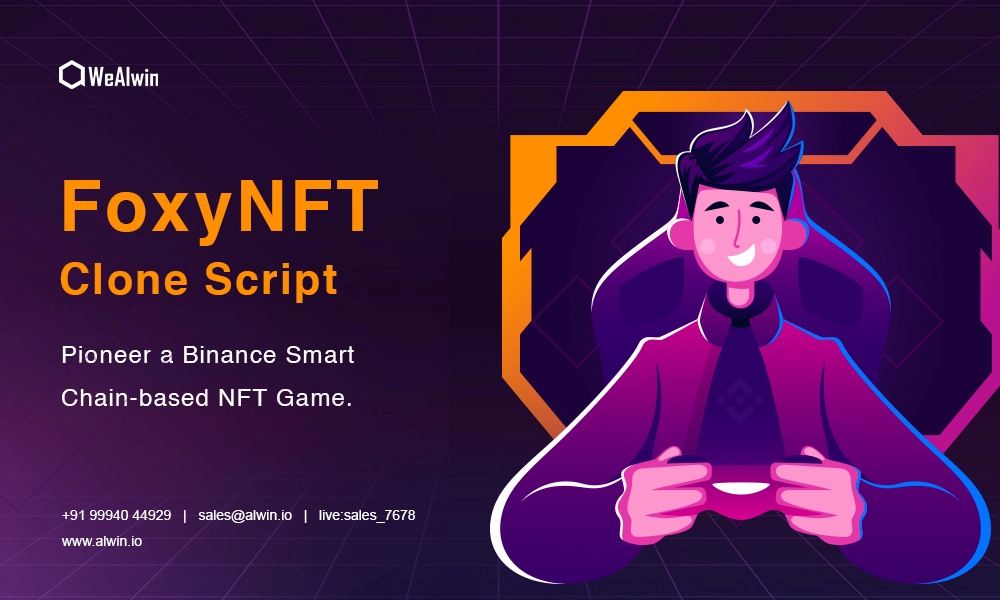 FoxyNFT Clone Script
FoxyNFT clone script is a ready-made NFT game development solution that allows you to launch a game similar to FoxyNFT on the Binance Smart Chain (BSC) network. The script comes with all the features and functionality of the original game, including:
A breeding system that allows players to create new foxes with unique attributes.
A battle arena where players can compete against each other to earn rewards.
A marketplace where players can buy, sell, and trade NFT foxes.
A comprehensive in-game economy that allows players to earn money by playing the game.
FoxyNFT clone script is a great way to get started in the NFT gaming industry. It is a cost-effective and time-saving solution that allows you to launch a game quickly and easily.
Briefing out FoxyNFT
FoxyNFT is a collection of 10,000 unique foxes living on the Ethereum blockchain. Each fox is a 1/1 NFT, and they come in a variety of different traits, including fur color, eye color, and accessories. FoxyNFT is a promising new project in the NFT space. The project has a strong team, beautiful designs, and a clear roadmap. If you're looking for a unique and valuable NFT, FoxyNFT is worth considering. 
The FoxyNFT project is still in its early stages, but it has already generated a lot of excitement in the NFT community. The project has a dedicated Discord community where you can learn more about the project and connect with other collectors. The FoxyNFT team is always looking for ways to improve the project, and they are always open to feedback from the community.
Consult with our business experts to Build a FoxyNFT Game clone! Chat with us on WhatsApp
How to initiate an NFT game platform similar to FoxyNFT?
Step 1: Choose your NFT game genre
The first step is to choose the genre of your NFT game. There are many different possibilities, such as collectible games, trading card games, role-playing games, and strategy games. Once you've chosen a genre, you can start to develop your game concept.
Step 2: Select a game engine
The next step is to select a game engine. A game engine is a software development kit that provides the tools and frameworks you need to create your game. There are many different game engines available, such as Unity, Unreal Engine, and Godot.
Step 3: Create the game assets
Once you've selected the game engine, you can start to create the game assets. This includes the characters, environments, and other objects that will appear in your game. You can create these assets yourself or hire a third-party artist to do it for you.
Step 4: Start the NFT game development process
Once you have the game assets, you can start the NFT game development process. This involves creating the smart contracts that will govern the ownership and transfer of NFTs in your game. You will also need to integrate the NFTs into your game.
Step 5: Launch your NFT game
Once your NFT game is complete, you can launch it to the public. You can do this by creating a website or app for your game and then marketing it to potential players.
Our FoxyNFT Clone Software Features
Our FoxyNFT clone software is a turnkey solution that allows you to launch your own NFT marketplace in a matter of days. It comes with all the features you need to create a successful NFT marketplace, including:
A swap/exchange functionality that allows users to trade NFTs with each other.
A mint function that allows users to create their own NFTs.
A liquidity pool that provides liquidity for NFT trading.
A NFT elements system that allows users to create and customize their own NFTs.
A game floor that allow users to play games and earn NFT rewards.
Our FoxyNFT clone software is also highly customizable, so you can tailor it to your specific needs. We offer a variety of features and add-ons that you can choose from, so you can create a marketplace that is perfect for your users.
FoxyNFT: A Burning Mechanism Play-to-Earn Game
FoxyNFT is an idle merge game that allows players to merge foxes to create new, more powerful foxes. As players merge foxes, they earn tokens and coins, which can be used to purchase new foxes, eggs, and other items. Players can also complete daily quests and earn rewards, such as free capsules that contain NFT cards.
The game features a variety of worlds to explore, each with its own unique challenges and rewards. Players can also participate in the Bingo game mode to earn NFT cards. FoxyNFT is a free-to-play game with in-app purchases.
Gameplay: FoxyNFT is a turn-based card game where players collect FoxyNFTs to create decks. Players can then battle each other in PvP matches to earn rewards. The game also features a variety of mini-games that players can complete to earn rewards.
Utility Token: The FoxyNFT utility token is used to purchase FoxyNFTs, enter the lottery, and pay for in-game items. The token is also deflationary, as a portion of the game's revenue is used to buy back and burn tokens.
Burning and Lottery Prize: A portion of the game's revenue is used to buy back and burn FoxyNFTs. This helps to keep the supply of FoxyNFTs in check and drives up the value of the tokens. FoxyNFT also has a lottery system in place. Players who hold FoxyNFTs can enter the lottery to win prizes, such as ETH, NFTs, and other valuable items.
Benefits of Our FoxyNFT clone app 
Ready-to-launch platform: Our FoxyNFT clone app is a ready-to-launch platform that can be customized to meet your specific needs. This saves you time and money on development costs.
Zero revenue sharing: With our FoxyNFT clone app, you keep 100% of the revenue generated from your app. This means you can maximize your profits.
Instant user-friendly software: Our FoxyNFT clone app is designed to be user-friendly, so you can easily get your app up and running. This will help you attract and retain users.
Engage audiences from different locations: Our FoxyNFT clone app is compatible with multiple devices and languages, so you can engage audiences from all over the world. This will help you expand your reach and grow your business.
Admin features: Our FoxyNFT clone app comes with a comprehensive set of admin features that allow you to manage your app's users, transactions, and content. This will help you keep your app running smoothly.
Why do you create an NFT game like Foxy with WeAlwin Technologies?
NFT games are the next big thing in the gaming industry. They offer players the ability to own their in-game assets, which can be traded or sold for real-world money. This gives players a sense of ownership and control over their gaming experience, and it also opens up new possibilities for monetization.
WeAlwin Technologies is a leading NFT Game Development Company that has been at the forefront of the NFT game development space. We believe that NFT games have the potential to revolutionize the gaming industry, and we are committed to creating high-quality, engaging NFT games that players will admire.
Check out our page on NFT Gaming Platform Development