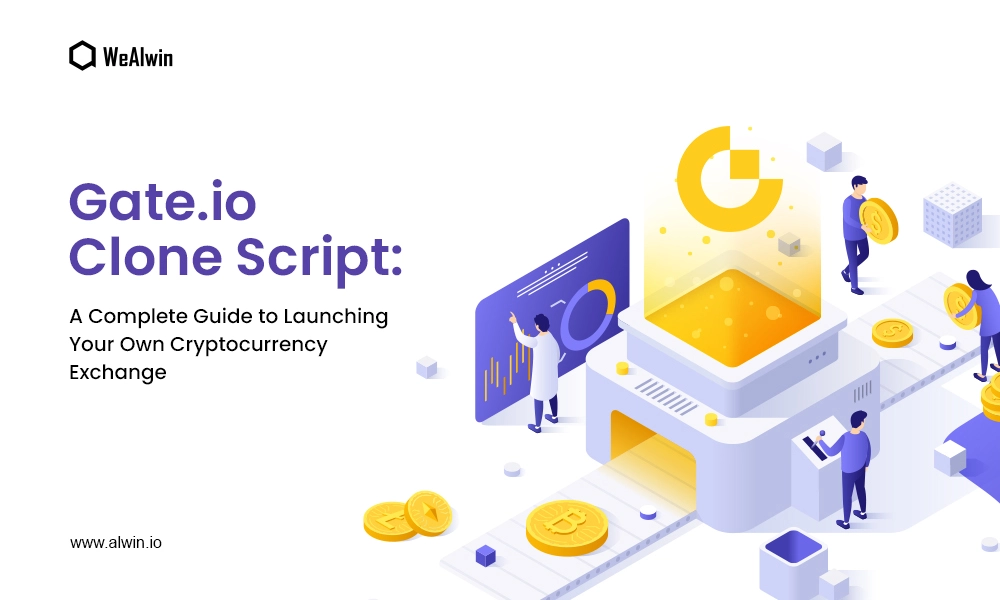 If you are planning to launch a crypto exchange platform, you might have considered developing it from scratch. However, developing the crypto exchange platform from scratch can be a costly process and also needs lots of time.

But, there is a simpler solution available - using a 'Gate.io clone script'. With Gate.io clone script, you can easily launch your own cryptocurrency exchange platform without having to invest too much time or money.

Curious to know more?

Let's dig deep into the topic!


Table of Contents
What Is Gate.io?
Gate.io is a cryptocurrency exchange that was launched in 2017. The platform allows users to trade a variety of cryptocurrencies in the market. It offers margin and futures trading, as well as various trading tools with user-centric application features.

In addition, Gate.io has its own native token, called GateToken (GT), which can be used for trading fee discounts; and provides a number of other benefits for users on the platform.
What Is a Gate.io Clone Script?
A Gate.io clone script is a pre-built crypto exchange software similar to the popular Gate.io exchange. It allows you to develop an exchange platform like Gate.io for business.

The Gate.io clone script is fully customizable, which means you can add or remove application features as per your enterprise plan and requirements. This enables you to tailor the entire software model and functionalities to meet your exact needs.

It's an excellent solution for you if you want to launch your own crypto exchange, in an efficient manner.

With the Gate.io clone development, you can focus on growing your business while providing an exceptional user experience for your exchange application users.
Features Available With Gate.io Clone
Incorporating an array of built-in application characteristics, the Gate.io clone script can assist you in streamlining the user journey with your new crypto exchange platform.
For example, here are some of the enhanced in-app features and options available with our Gate.io clone solution for your exchange software development.
User-friendly interface
Multi-currency support
High scalability
Liquidity integration
KYC/AML verification
Trading pairs management
Margin trading
OTC trading
Secure wallet integration
Referral and affiliate program
Consult with our business experts to Build your own Gate.io clone script! Chat with us on WhatsApp
Transaction history
Order matching algorithm
Real-time market data updates
Compatible application model
Multi-language support
Advanced charting tools
Two-factor authentication
Advanced trading engine
Cold storage for fund security
Trading fee management
Automated trading bots
Significant Benefits of Our Gate.io Clone Script
Using our Gate.io clone script, you could have numerous significant benefits for a gainful business in the crypto market. They include -
Profitability
Our premium Gate.io clone solution allows you to build your own crypto exchange software in a profitable manner. The ready-to-deploy software source saves your time and investment in the project creation compared to selecting the Scratch option to build it.
Proven Model
Our Gate.io clone script is built on advanced technology, ensuring that the platform is always stable and secure. Thus, you can launch your new cryptocurrency exchange using the resource, with confidence knowing that it has been critically tested and proven.
High Scalability
Our Gate.io clone script is highly scalable, allowing you to handle a large number of users. This ensures that your exchange platform can handle the demands of crypto traders all the time.
Why Choose Us?
At WeAlwin Technologies, we strive to empower businesses with innovative blockchain solutions. We understand the potential of blockchain technology in transforming businesses and industries. We're dedicated to helping our clients all over the world, leverage this technology to achieve their business goals.

Whether you are looking to build cryptocurrency exchange software from scratch or seeking to implement the project with a Gate.io clone solution, we offer tailored services in both to meet all yourl specific business requirements.

Our team of blockchain developers has an extensive experience in developing custom blockchain solutions for various industries, including finance, healthcare, supply chain, etc. We follow a streamlined development process, follow Agile methodologies, which ensures that your project with us will be highly scalable, secure, and user-friendly.

For more details, you're always free to contact our business team right from here. We're always ready to assist you with any questions or concerns you may have.
Check out our page on Cryptocurrency Exchange Script