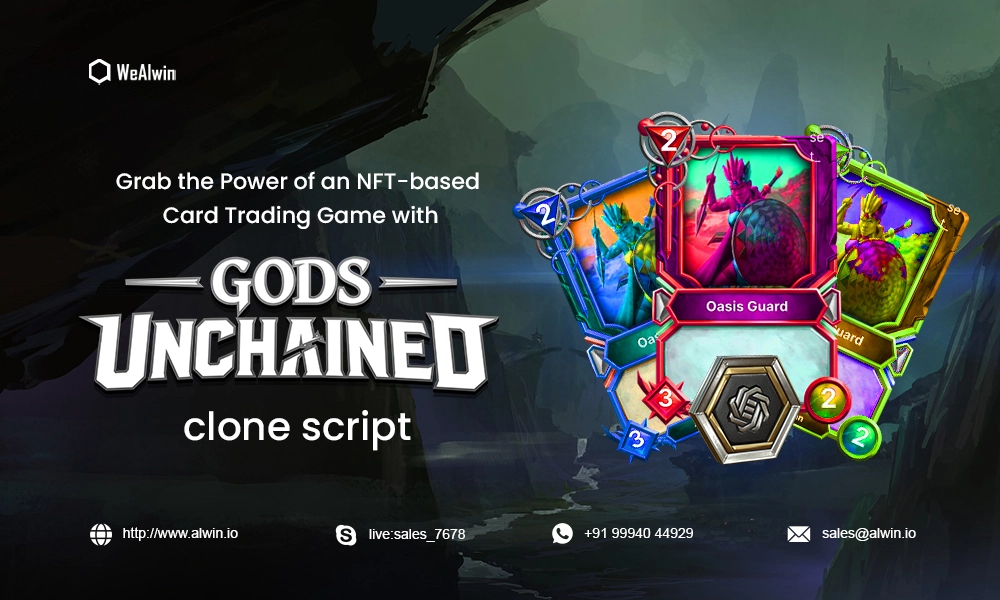 Are you looking for a thrilling adventure?
With the help of our Gods Unchained clone script, you can engage in battle using unique and precious digital assets.
Gods Unchained is a top-scoring platform in the arena of popular NFT gaming platforms and has a strong presence in play-to-earn through trading cards. Since players may play Gods Unchained for free, purchase cards, and trade them, it is hailed as having redefined the gaming experience.
Let's begin with the details of this blog.
What is Gods Unchained clone script?
Gods Unchained Clone Script is a ready-to-launch blockchain-based NFT Gaming Platform Clone Script. Using this Gods Unchained Clone Script, you may create an online NFT trading card gaming platform similar to GodsUnchained.
This Gods Unchained Game Clone gives you access to unique assets that you can fully control and manage. You may use a public marketplace to trade any card or addition to a specific playing deck that you like or possess. The game features a PVP framework, with your unique assets acting as the game's playing pieces.
How did Gods Unchained clone influence entrepreneurs who developed trading card game?
A large number of cryptocurrency entrepreneurs, such as Gods Unchained, are eager to invest in blockchain-powered NFT games.
Gods Unchained, a well-known and On-demand decentralized game, has caused a significant shift in the blockchain gaming industry. It is intended to earn coins and tokens by utilizing the most recent blockchain networks.
Integration of smart contracts is critical in these decentralized trading games. The most important aspect is transparency, which records all transactions and exchanges; hence, the benefits will attract players or gamers to spend more time.
You may set your own game rules and limits. Decentralized trading game clone script and Gods Unchained game clone script both include a variety of features for users.
Consult with our business experts to Build your own Gods unchained clone! Chat with us on WhatsApp
Outstanding features of NFT Trading card game like Gods Unchained.
Providing extremely competitive events - On the platform, such as the Gods Unchained World Championship, with a large reward fund for the winners.
No chance of fraud or cheating - The development team will monitor the performance of the cards and judge the fairness of the users' various deck combinations.
Decentralized entirely - The platform has no middlemen and is not governed by a centralized authority. On Gods Unchained, players have total control over the cards they purchase.
Trading facilities - Players may trade NFTs on the open market; each NFT is distinctive. It may also be traded for the most popular digital currencies.
Blockchain network on Ethereum - Due to an Ethereum-based smart contract, all cards owned by users on the Gods Unchained platform can be tokenized as digital assets.
What are the advantages of developing an NFT game platform like Gods Unchained?
Transparent
One of our benefits is that we are transparent throughout the project's completion. Furthermore, we prefer to keep you updated on the various stages of development.
Decentralized 
Because our Gods unchained clone software is completely decentralized, the platform does not rely on a centralized authority structure.
Multi-layer setting 
Our gaming platform supports a multiplayer environment in which several players may congregate and compete to energize the player's experience.
P2P trading 
Users can engage in peer-to-peer trade of cards with other gamers using our platform without the need for intermediaries.
How does Gods Unchained clone software work?
Gods Unchained works similarly to other online strategy games, with its own money such as credits or gold. These currencies take real money from users and change it into a more enjoyable in-game experience. This currency in Gods Unchained is actual money. Players may utilize the game's marketplace to buy and sell cards in order to build a card that will win more matches and get more cards.
With more players and sales every month, the popularity of these games has skyrocketed. They have done a great job of marketing the game and community through rated events and tournaments. They also intend to release a smartphone version of the game, which will allow them to reach a larger global audience.
What makes our WeAlwin unique in the market for your Gods Unchained clone?
From technology to features, we WeAlwin, an NFT Gaming Platform Development Company, provides you with the best NFT development services.
Our solution is created using cutting-edge technology.
Our product may be customized to any business size.
Our product may be customized to meet every business concept.
Finally, a helpful customer service crew is available at any moment.
You must find it fascinating.
Check out our page on NFT Gaming Platform Development Company
So, what's getting in your way? 
You can also contact us over WhatsApp or fill out the form below to arrange a free live demo.