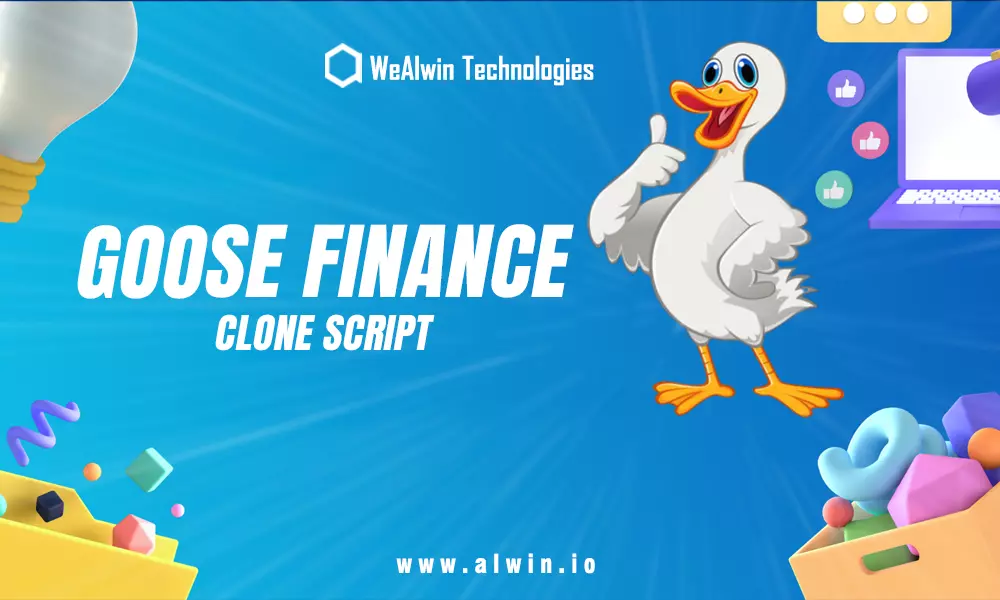 Goose Finance clone script is a DeFi-based exchange platform powered by  Binance smart chain. Goose Finance is one of the well-known DeFi exchanges in the global market 🌐.
DeFi exchange is progressing as the ideal profit-generating business right now in the blockchain universe⛓️🌎. Over a few years, people who started and invested in the DeFi exchange business are earning millions through crafty money-making strategies.
In the DeFi exchange platform, Binance smart chain paved the way for numerous DeFi exchange projects. Goose Finance is one of those DeFi exchange projects which operates on the Binance smart chain network.
🦆

Goose Finance Clone Script - What Is This?

Goose Finance Clone Script is a Pre-developed DeFi exchange software built on the Binance smart chain with robust features. The Goose finance clone script comprises key and security features to enhance its working process better.

Goose finance clone script is specially designed to eradicate the problems that arise due to market fluctuations in DeFi. It is built on the basis of the yield farming mechanism which results in profitable farming yield.

Goose finance clone script shows variation from other clone scripts, as per the name it is structured using attractive features which are totally different from other clone scripts. In this clone script, everything is compared and related to the goose it exhibits the characteristic of a bird. 
How We Develop DeFi exchange like Goose Finance🦆?
Creating a Defi exchange like goose finance it undergoes step by step development process which comprises analysis, requirement gathering, developing, debugging, and testing. After the completion of this rigorous development process, a readymade goose finance clone script is built with all superior functions. 
Thus, developers of our Goose finance clone script examine whether the features are properly embedded in our tailor-made goose finance clone script. To understand the workflow of Goose finance you need to know two major functions such as swapping and pooling.
 How Does Goose Finance🦆 Clone Script Work?
To swap the tokens, users should connect the non-custodial crypto wallet to the platform. By connecting and syncing the crypto wallet, users can swap BEP20 tokens instantly as the platform is built on the Binance smart chain network. After swapping the tokens users should pay liquidity fees.
Goose Finance Clone Software has a pooling system that allows crypto users to add liquidity to their desired swapping pair. By adding liquidity, users can gain massive rewards in the name of LP( liquidity provider) tokens, these tokens can be used for staking.
How Goose Finance🦆Clone Software Becomes a User Magnet?
There are a few reasons why people relish Goose Finance Clone Script. The first and the foremost reason is its elegant way of working. It provides a simple friendly version to make easy accessibility without facing any hurdles. 
Transactions are blazing fast which fetches many entrepreneurs to choose goose finance clones. Multiple levels of security protocols in goose finance clone software make users keep engaged without fear.
Goose Finance Clone supports a huge number of cryptocurrencies and the constant updating of new innovative features makes the users explore more. The stunning animative features and traits of the goose are implemented to increase curiosity which draws people to step into the goose finance DeFi exchange business.
With all these fine qualities goose finance clone script grabs the meticulous attention of users worldwide.
Important characteristics of our White Label Goose Finance🦆 Clone Software
Built on Binance Smart Chain (BSC)  network
100% permissionless
The decentralized token swapping process
Magnificient dashboard
Renewable yield farming  
Goose Finance🦆 Clone: Solves the Following Significant Fin-Tech Issues
Huge funds enter and exist making a significant fluctuation
Constant token creation with stablecoins without any contribution
Insufficient token burn
Rugpull
Unique Burning Mechanism
All farms charge 4% burn rate when you stake, of which 3% will be used to purchase golden egg tokens and introduce them into the lottery pool.
Omega Large Lottery Pool
With 3% of the stake going into the lottery, the lottery pot becomes heavy so 20% of the pot will be heated to reduce the furthermore rotation of the tokens. 
What About Rugpull?
A rug pull is a type of crypto scam where a fraudulent developer attracts the investors by a new cryptocurrency project but pulls out before the project is built, leaving their investors with the valueless asset. But, Here goose finance clone script solves and eradicates such scam issues like the above-mentioned, so for this defense users can prefer the goose finance clone script.
Constant Price Pump
The 3% burning fee will be used to purchase the golden egg from the various liquidity pools.
Important updates include:
An auto-compounding goose vault
Automated market maker
The initiation of an algorithmic coin that uses eggs to farm
The development of lotteries
State-of-the-art leveraged yield farming
Consult with our business experts to launch your DeFi exchange like Goose Finance instantly! Chat with us on WhatsApp
Key Features of Goose Finance 🦆Clone Script
Here we list down📋 the following features of our Goose Finance Clone Script,
Golden Egg🥚
Goose Finance is trying to create a permanent token, the golden egg that allows a constant price pump with a sufficient burn mechanism.
Yield Farming
Yield farming is staking your cryptocurrency and winning rewards. Yield farming is also called liquidity mining. With yield farming, there are liquidity providers which add funds to the liquidity pool.
Farms
Farms are a way to stake your tokens on goose finance to earn eggs. It offers different routes for staking including EGG-BUSD LP, EGG-BNB LP, and TYPH-BUSD-LP which all have 0% deposit fees, other farm tokens are BNB-BUSD LP, USDT-BUSD LP, BTCB-BNB LP.
Nests
Nests work similarly to farms. Using nests, you can stake tokens to earn eggs. All nests collect 1.5% of the deposit fee, which can be used to buy back eggs. Using nests, you can revert back from staking at any time.
Goose Vault
Users can keep their token in our goose vault and it will automatically integrate the corresponding farm, so users need not manually collect rewards daily.
Goose dollar farms
Goose dollar farms are like goose vaults but instead of staking single tokens, you can stake the goose dollar rewarded from using the vault.
Earn
Goose finance clone script is built with earning options it provides an opportunity to create a golden egg for everyone to farm from it. Earn golden egg and other rewards.
Sounds interesting right?🤪
Creates curiosity to invest 💡and earn.💰
Incubator
An incubator in the goose finance clone script is used to burn the eggs.
Goose farms
It gives the percentage of sales price each time your NFT creation is sold on the market. NFT royalty payments are permanent and are made through smart contracts automatically.
Layered Farming
Layered farming is a perennial farming tool that allows goosers to always enjoy farming with a high APY value.
Premium Features of Goose Finance🦆 Clone Script
👉 Swap instantly 
👉 Advanced price chart tools
👉 Stunning user interface
👉 Powerful admin console
👉 Multiple wallet support 
👉 Transaction history 
👉 Multi-lingual support 
👉 Low Fees and Quick Transactions
👉 Sustainable Yield Farming
👉 Liquidity and Staking
You can customize all these features according to your business requirements.
Security Features🔒 of Goose Finance🦆 Clone Script
🔒 Inbuilt security APIs
🔒 Immutable smart contracts
🔒 Multi-layered security options
🔒 Advanced decryption 
🔒 Server-side entry forgery features
🔒 Protection against DDoS
🔒 End-to-end SSL encryption 
🔒 Encrypted bridging 
By enabling these security features in the clone script, you can launch a secured and fully protected DeFi exchange like Goose finance.
Supported Wallets In Our Goose Finance🦆 Clone Script
Like the Goose finance platform, our premium Goose DeFi exchange clone also supports all the popular non-custodial wallets and swapping tokens. 
They are listed below,
👛 Metamask wallet
👛 Math wallet 
👛 Token pocket 
👛 Binance chain wallet
👛 Trust wallet 
Business Benefits of Using Our Goose Finance🦆 Clone Script
 🎯 Goose finance Clone Script possesses faster deployment, so by using this clone script you can quickly create and deploy a full-fledged goose finance clone script.
🎯 Goose DeFi exchange clone script consists of attractive features and an impressive admin dashboard.
🎯 Goose finance clone software is specially designed and developed for DeFi users therefore, you can grab crypto audiences quickly.
 🎯 You can customize the clone script and include different add-ons as per your requirements.
🎯 Goose clone script supports multiple wallet connections and supports all BEP20   tokens for easy swapping.
🎯 Goose DeFi clone is crafted with a trusted and secure Binance smart chain network.
🎯 After goose finance clone development, you can manage the admin portal. Moreover, you can also control all the core functions, workflow, features integration, security aspects, and more.
You can experience all these advantages by acquiring high-quality white-label Goose finance clone software from WeAlwin Technologies. 
Why Choose WeAlwin Technologies For Goose Finance🦆 Clone Script?
WeAlwin Technologies is a proficient DeFi development company having great years of experience in DeFi development services. We are the unique professional and top-rated DeFi exchange development firm in the blockchain industry⛓️. Being a pioneer in the crypto and blockchain domain, we excel in offering all kinds of DeFi exchange clone script services and crypto-based blockchain services. 
If you have a plan of creating a stunning Goose Finance like Defi exchange using Clone Script on a Binance smart chain then consult WeAlwin Technologies as your technical partner it will be the ideal solution for your business. We are here to serve you and guide you right from analysis of ideas to deployment as per your business needs.
We offer the best Goose Finance Clone Script with all upgraded features at a moderate cost. To make your dream project to reality, we will assist you to build your goose finance clone with our 24/7 custom support dedicated team of well-experienced blockchain developers. 
Then what are you waiting for??🤔
Grab a free demo of the Goose Finance Clone Script now!✌️
Checkout our page on Decentralized Finance Defi Development to get more information and launch DeFi exchange like Goose Finance