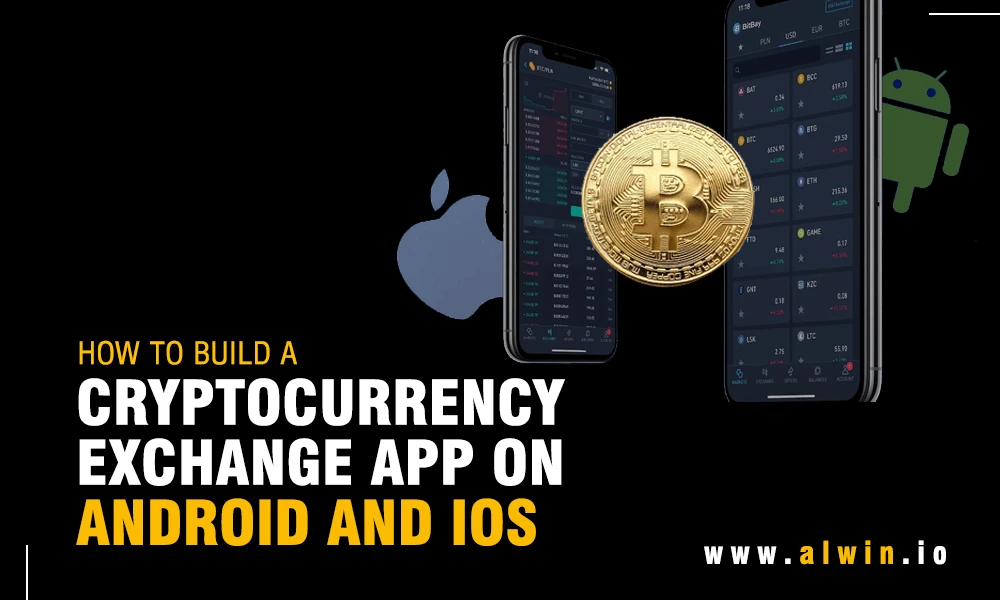 Cryptocurrency is becoming the present business trend. Every decade, we can see updates in the industry that has been keeping the trend alive since early 2009 when bitcoin emerged and flourished. Entrepreneurs are interested in starting their cryptocurrency exchange and other related crypto businesses either as a prime one or a side hustle to improve their entrepreneurship journey. 
Because, as you all know, there is no need for any knowledge or expertise to start your cryptocurrency exchange software and mobile application business, but you will have to definitely know how to build one. That is the primary way to kickstart your crypto business. You know what, the global cryptocurrency market is expected to boom to $5.7 Billion Dollars by 2025. 
This blog is all about guiding you on how to build a cryptocurrency exchange app on multiple mobile platforms like Android, iOS, or Windows. So, why waiting, let us jump into the blog.
Creating a Cryptocurrency Exchange: Points to Remember
First of all, you need to align your vision to create your cryptocurrency exchange app successfully. Let us know about the steps that could help you to create your exchange app.
Scope - You need to set an operational scope for your cryptocurrency exchange business. Allow necessary approvals and set standards for your cryptocurrency business that will help you to align your business effectively.
Regulations and compliance - You can set regulations and compliance based on the scope that you have determined. Say, you start your centralized cryptocurrency exchange, then you will have to create regulations and compliance that might differ from if you want to start your decentralized exchange platform. 
Payment processors - You will have to provide and integrate various payment methods to your cryptocurrency exchange app that will help your users to deposit and withdraw and trade on the cryptocurrencies effectively.
Liquidity Management - This too depends on the basis of the scope of your business. It is because the liquidity of the centralized and decentralized exchange differs. In a centralized exchange, the liquidity would be like the cryptocurrencies would move to the cryptocurrency pool and then transacted to the users when they buy any cryptocurrencies. But in decentralized exchange, we have an escrow account. But to transact between two accounts, either centralized or decentralized, you will need a solid API interface. 
High security - You will need highly secure technology to secure the transactions. Yes, you have blockchain technology to integrate that can ledger and hash all the transactions. But if you want to start your cryptocurrency exchange app, you will have to add some additional security features so that you can stand unique in your business area. 
Customer support - Moreover, you should have a strong customer support channel that will help your users to get their queries resolved instantly and immediately. Strong customer support is one of the essential features for a successful cryptocurrency exchange development business.
Essential Components that you Will Need for your Cryptocurrency Exchange App
There are certain essential components that you will need to create your cryptocurrency exchange app. The four essential elements include
Trading engine
User Interface
Cryptocurrency wallet
Admin Console
Trading Engine - It is the core of any exchange that helps to run the transactions in the cryptocurrency exchange app. It is essential to execute the transactions, calculate the balances, work on the order book, etc.. Setting a trading engine is one of the priority thing when it comes to creating a cryptocurrency exchange app. Without a cryptocurrency trading engine, it is just a shell without any value. 
User Interface- This is another prominent technology that your cryptocurrency exchange app will ever need. User Interface will tell about the performance of your app and hence play a vital role as a front runner in the success and reach of your cryptocurrency exchange application. There are certain functionalities that you should focus -
User registration and login
Fund deposit/withdrawal
View order book, transactions, balance, statistics, charts, etc.
Buy/sell orders
Support features
Integrating the cryptocurrency wallet - Just starting your cryptocurrency exchange app alone cannot help you get more users if you do not integrate a trustworthy cryptocurrency wallet with it. The user has to trust your cryptocurrency exchange app and hence you will need a crypto wallet for safely transacting the funds instantly. 
Admin console - this is the control system for any cryptocurrency exchange app and hence you will have to get the secure and completely functional admin console to operate your cryptocurrency exchange app without any interruptions. 
How to Start my Cryptocurrency Exchange App?
There are three ways that you can start your cryptocurrency exchange app
Start from scratch
White label cryptocurrency exchange software
Open source clone script
The first two options might seem feasible but think about the investment and a stronghold team that you will need to start. According to my opinion, it is best to start a cryptocurrency exchange app using the popular clone script software. 
Where to Get the Best Cryptocurrency Exchange App?
WeAlwin Technologies is the best cryptocurrency exchange app development company with experience in providing exclusive crypto exchange app development solutions instantly. We have a team of ethereum experts and blockchain experts who can help you get a competitive site for your crypto business. 
Reach us to get updated, customizable, reliable, and trustworthy cryptocurrency exchange app development solutions instantly and kickstart your cryptocurrency business successfully.