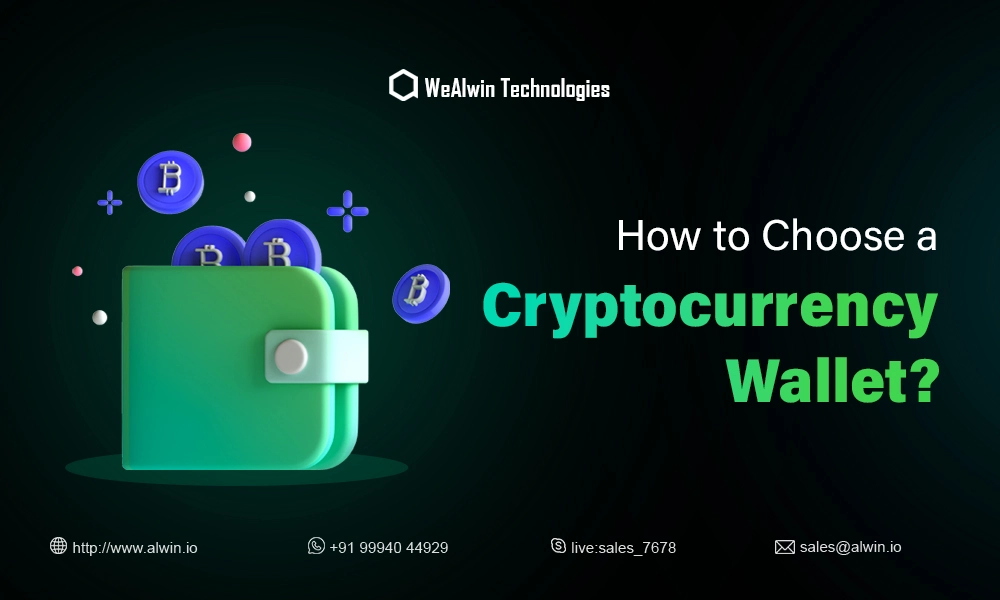 If you are a crypto enthusiast you might have heard about buying and selling of cryptocurrencies. Then probably a question arises where to store these currencies?🧐
There exist a safe place called "CRYPTO WALLETS" to store all your currencies.
You still be wondering what exactly is the crypto wallet?🤔
I can smell your mind thinking, are crypto wallets really safe?😧
Don't worry, you can get all the answers to your questions by exploring this blog.
Here we will cover a detailed extract of how to choose the best crypto wallet? and also discuss the types of wallets.
Let us start with the basic question what is a cryptocurrency wallet?👇
What are Cryptocurrency Wallets All About?
A cryptocurrency wallet is a digital storage device where you can securely keep your crypto and it acts as proof of the cryptocurrency you own. Unlike a regular wallet, it doesn't store normal coins and bills. Rather, it holds the public and private keys enabling you to access and transfer your cryptocurrencies. Crypto wallets are used for storing, sending, and receiving cryptocurrencies.
Cryptocurrency wallets can be classified into two categories: hot wallets and cold wallets. Hot wallets are online wallets that are connected to the internet, while cold wallets are offline wallets that are not connected to the internet. Using a wallet address you can receive and send cryptocurrency from each other.
Why do you Need a Crypto Wallet?
You want your cryptos to be in the safest zone right?
Your cryptocurrency becomes safe only when you adopt the safest and best crypto wallet. It is not advisable to store cryptos without the integration of a cryptocurrency wallet. For an easy and smooth transfer of cryptocurrencies, you should need a wallet to process it. Choosing the best cryptocurrency wallet is a wise way to keep control of the funds. 
Before choosing a crypto wallet, it's important to ask yourself these questions.
Do I need quick access to this wallet?
How many currencies will I hold?
Which is the top cryptocurrency wallet?
How secure is the wallet?
What are the benefits associated with the crypto wallet?
Let's dig deep into the topic.
Types of Crypto Wallets
There are different types of crypto wallets. Wait a minute we would explore them one by one.
Online cryptocurrency wallets
Hot wallet- Hot wallets are online wallets that are always connected to the internet and it is software based. Your private keys are stored and encrypted in your wallet.
Hot wallets are classified into three types they are,
Desktop- Desktop wallets work both on browsers and desktop computers.
Mobile- Mobile wallets are apps on smartphones that run on mobile operating systems.
Hybrid- Hybrid wallets support both desktop and mobile platforms.
Offline cryptocurrency wallets
Cold wallets- They are offline wallets and are also known as hardware wallets. Cold wallets are apt for long-term storage. Hardware wallets store your private keys, ensuring their safety and making them easy to use.
Paper wallets- A paper wallet is a piece of paper on which a cryptocurrency address and the private key are printed or written. The printed QR code is used to make transactions.
Consult with our business experts for Crypto Wallet Development! Chat with us on WhatsApp
How to Choose the Best Cryptocurrency Wallet?
Whether you're planning to begin crypto trading or simply hold crypto coins for investments in the future, a crypto wallet is a must. So, considering your goal, 
-You should know how to choose the right crypto wallet.
-Find the right wallet to store your cryptocurrency
-Which crypto wallet type is right for you?
Here we go!😎
Ensure the wallet supports your coins: Each crypto exists on a particular network, and it can't store cryptos belonging to other networks. For example, you cannot store a Cardano token in the Ethereum wallet. So the most important factor to keep in mind while choosing a crypto wallet is whether the particular wallet supports your crypto coins.
Do you use the wallet for long-term storage?: If you are planning to invest and reap more in the crypto business, then selecting an ultra-secure wallet would be the perfect option. When you store a large amount of crypto for a long time, you need a highly secured crypto wallet.
Keep note of the budget and frequent usage: Desktop and mobile wallets can be used without any charges, whereas hardware wallets may charge. If you are planning to make a lot of transactions, then you can prefer a desktop or mobile wallet.
Crypto from multiple networks: If you hold crypto from multiple networks, then choosing a multi-chain wallet like an Exodus would be better. If you access decentralized apps with this wallet, then Metamask and Coinbase wallets are good examples.
Will you be using this wallet to stack coins?: If you need to stack the coins and earn rewards, then you should choose a type of wallet that supports the options.
Prime Features to Consider When Choosing a Cryptocurrency Wallet
We have jotted down the main features of cryptocurrency wallets. Read the following section to learn the top qualities a crypto wallet consists of.
QR code
The cryptocurrency wallet provides a QR code by which transactions are made. QR codes are unique and are scanned while sending and receiving cryptocurrency. It promotes quick, safe transactions.
Variety of cryptocurrencies 
Nowadays most of the crypto wallets are adding new coins to match the latest technological advancements and the demand of the users.
Push notifications 
Crypto wallets must provide notifications instantly. It must notify customers and inform them about the transaction details and the latest updates. This feature keeps you updated on all the recent transactions.
Wallet backups
Wallets should contain a backup option to secure their crypto from malware or technical issues. In case of attacks, wallet backup should regain all the transaction histories of users.
Security
Multi-layered security features enable smooth transactions. Robust security features build trust among users and prevent hackers from entering the site.
Top Strategies to Consider Before Choosing a Crypto Wallet 
Company reputation
Technologies used
Backup features and options
Multicurrency wallet
Integrated cryptocurrency conversion
QR code scanner
Customer service
Final Words
As mentioned above, there are various cryptocurrency wallets, and choosing a suitable one might be a challenging task. So I hope this information has helped you narrow down your options and pick the right cryptocurrency wallet.
Still, if you're a startup in the crypto industry, and you are planning to develop your cryptocurrency wallet now? 
Then, feel free to approach us.
As we have over 5+ years of experience in blockchain development services, we implement various strategies for your new Crypto Wallet Development. We provide 100% customization on cryptocurrency wallet development.
Check out our page on Cryptocurrency Wallet Development to get more information
Are you ready to store your first crypto coins?💰
Book a demo immediately
Stay tuned for further updates. 🤝.