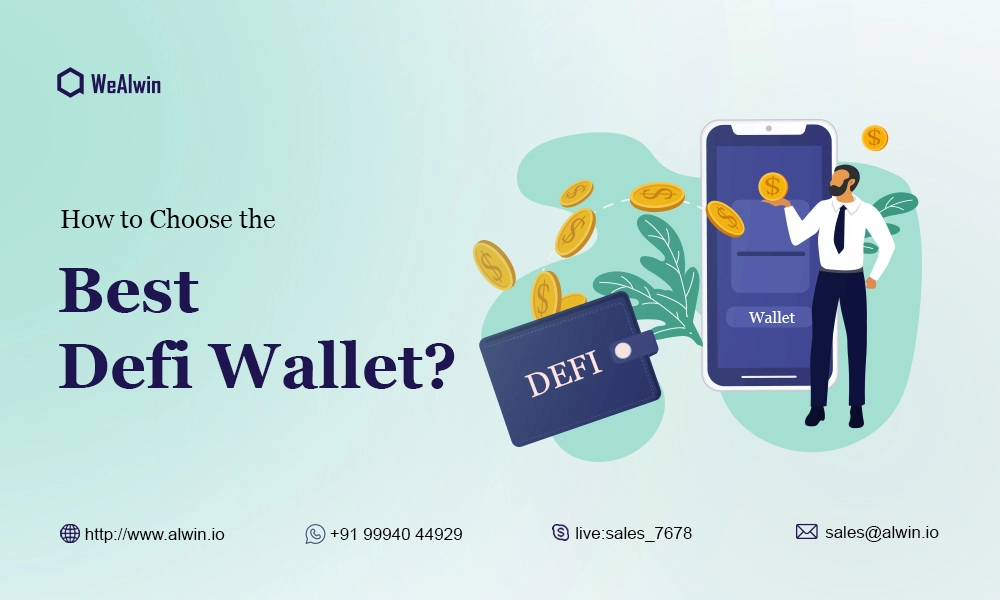 DeFi (Decentralized Finance) has surpassed the conventional financial system. The growth of DeFi has been immense in the past few years. The number of DeFi users has been constantly increasing. In other words, the concept of DeFi seems to have reached a larger number of people than ever imagined. In this blog, we'll be elaborating on one of the important aspects of DeFi: DeFi wallet  To get a clear picture of what a DeFi Wallet is, let's walk you through this blog.
What is a DeFi Wallet?
DeFi wallet is also known as Decentralized Finance wallet is a cryptocurrency wallet specifically designed to store, manage, and transact digital assets such as cryptocurrencies, Ethereum stablecoins, and tokens. DeFi wallet can either be hardware or software-based. DeFi wallet is non-custodial since users can have complete control over their digital assets. It allows users to participate, and access to DeFi protocols like lending, borrowing, and trading. It is said to be interoperable, meaning it doesn't need multiple wallets to interact with DeFi applications and protocols. DeFi wallets can be accessed through various platforms like web browsers, mobile applications, and browser extensions. When it comes to security, it is completely the users' responsibility.
Similarities Between Crypto Wallet and DeFi Wallet 
Both crypto and DeFi wallets are digital wallets that provide security for assets, using security features such as encryption, passwords, and private keys. Both wallets provide users with accessibility to decentralized networks in order to buy, sell, and exchange cryptocurrencies.
By means of both crypto and DeFi wallets multi-currency support is possible, meaning users can store, manage, send, and receive a diverse range of cryptocurrencies. Enabling users to have complete control over their assets is one of the unavoidable similarities between crypto wallets and DeFi wallets. Yet another feature that both crypto and DeFi wallets share is, they both keep records of transactions. As transaction histories are transparent, they cannot be edited out.
How is a DeFi Wallet Different from a Crypto Wallet?
Crypto wallet is a generic term for all digital wallets.As DeFi protocols are built on blockchain technology, the transactions are transparent and cannot be altered. Crypto wallet is a digital wallet designed to store cryptocurrencies such as Bitcoin,  Ethereum,  Litecoins, and others. You can send,  receive, and store cryptocurrencies, using a crypto wallet. Crypto wallets can be both custodial and non-custodial. The common types of crypto wallets are desktop wallets, mobile wallets, hardware wallets, and paper wallets.
DeFi wallet is a kind of Crypto wallet that allows users to interact with decentralized assets such as tokens, borrowing, and lending platforms. It has additional features such as staking, yield farming, and DeFi protocol integrations. DeFi wallets use cutting-edge features such as multiple-factor authentication and encryption to protect your assets. DeFi protocols use smart contracts to perform transactions whereas cryptocurrency may not use smart contracts. 
Comparatively, DeFi protocols are complex due to the additional functionalities they offer. Though both crypto protocols and DeFi protocols are built on blockchain technology, their functionalities and approaches differ.
Steps to Pick the Best DeFi Wallet
Firstly, you have to choose a DeFi wallet provider to create a DeFi wallet, keeping your needs in mind. Some of the popular DeFi wallet providers are Meta Mask, Trust Wallet, and Coinbase Wallet. Then you have to download and install the wallet. Most wallets are compatible with desktops and mobile devices as well. Once you are done installing the wallet, you'll need to follow the instructions to set it up like you typically do when an app is installed.
The password you give must be a strong one, and you'll have to write a recovery phrase, also known as a seed phrase, of about 12, 18 or 24 lines. It helps you retrieve your wallet, in case you lose your private keys. The recovery phrase is crucial to keep your wallet safe and secure. Connecting your wallet to a DeFi platform in order to access its features is the next step. Followed by the connection, funding your wallet takes place, meaning you have to fund your wallet with cryptocurrencies. Then you can start performing transactions. 
The popular DeFi wallets are as follows:
Meta Mask - It is compatible with multiple blockchains and DeFi protocols.
Trust Wallet - It's also a popular wallet that offers support for a wide range of DeFi protocols. It's available for both mobile and desktop devices.
Ledger Live - It's a hardware wallet and it is highly recommended for users who need safety from online threats.
Atomic Wallet - It's a non-custodial wallet, meaning users can have control over their assets. It supports multiple blockchains and DeFi protocols.
My Ether Wallet - It is also a popular non-custodial wallet that's meant to manage Ethereum-based assets. 
There are many other DeFi wallets available excluding the  aforementioned. If you're particular about your DeFi wallet, choose the one that fulfills your needs.  
Reading this blog, you might have understood what a DeFi wallet is and how it works. Hope  You have an idea about DeFi wallet, its uses, and its benefits. If you want to create one, feel free to approach us.
WeAlwin Technologies is a reputed DeFi wallet development company. We have around 40+ DeFi developers of competence who'd be happy to assist and provide you with exactly what you have been looking for. We assure you that your requirements will be scrutinized, prioritized, and fulfilled.