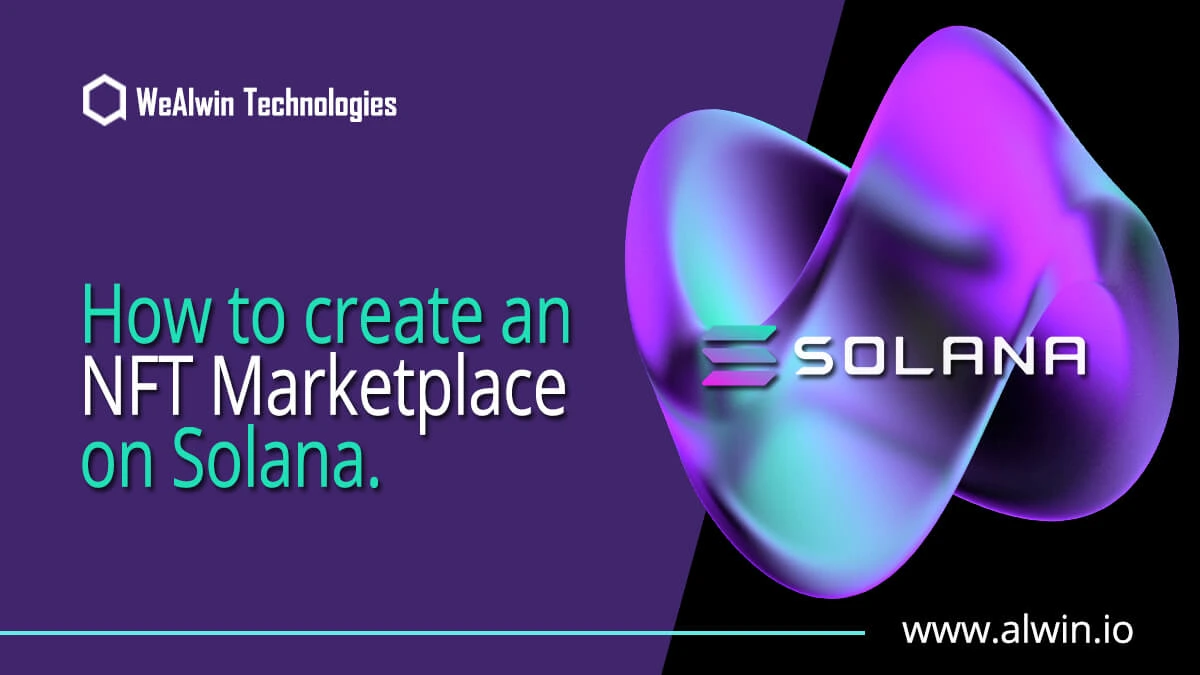 NFT marketplace is a great buzz among many cryptopreneurs. It values every single digital work by offering a digital currency. People with huge digital creativity and asset can exhibit their works here and make profits. You can list your digital collectibles like art, music, records, gaming items, a meme, a tweet, etc.
NFT marketplace development trend initiates with the Ethereum blockchain. Now it has upgraded to the next level of Solana blockchain. Creating an NFT token and selling it in a marketplace is much easier. But that too has some specific process like installing and setting up of wallet before making exchanges. Some business people with unique perspectives create their own NFT marketplace rather than listing their assets on another platform. This will help them create an indubitable great profit. 
Solana Blockchain Network:
Solana is a lately emerged public blockchain network, with the purpose of improving blockchain scalability, with the help of combined performance of Proof of stake consensus and Proof of history. With decentralization, it supports 50,000 transactions per second. It is an open-source network and also decentralized. It processes faster transactions compared to other competitive networks. Like Ethereum, Solana can collaborate with smart contracts. Solana Blockchain works with integrated DeFi solutions, it eases cross-chain compatibility so that you can transfer both the Fungible tokens and non-fungible tokens.
NFT Marketplace on Solana:
Solanart NFT marketplace is the First ever NFT marketplace that connects with the Solana blockchain. Solana-based NFT marketplace facilitates secure and scalable NFT listing. It is being a forerunner in the crypto space, the notable reason will be its smart features and unique functionalities. WeAlwin supports you from the base for the development of your NFT marketplace on the Solana blockchain. We will guide you on "How to create an NFT marketplace on Solana". 
WeAlwin Technology is listed in the Top Software Development company in 2022 by TopSoftwareCompanies
Steps to Create NFT Marketplace on Solana:
Non-Fungible tokens are more unique and also flexible so that they can be built on different blockchain networks. In that, Solana blockchain is the most prominent and also trending network with high speed in transactions and dominating security features.
The development of the Solana NFT marketplace software is mainly concentrated on the upcoming steps.
Requirements and Analysis: Decide your requirements and analyze the scope of the project that you are looking to launch.
Documentation: Cook up a document with the requirements that you want to integrate into your NFT marketplace. 
Hunt for Developers: Get connected to the professional team of Developers at a leading NFT marketplace development company.
UI/UX design: Develop your eye-catchy UI/UX design.
Backend Function: Connect the server to the backend. To make sure the platform performs well at the backend.
Wallet integration: Connecting highly compatible wallets for a better secure collection of NFT collectibles.
Smart contract:  Develop a smart contract. Auditing smart contracts with perfect test cases.
Testing: Integrating the Beta version to make sure that the platform works more efficiently as per the client's requirements.
Service support: Make sure the team supports you 24/7 with all the updates and maintenance. 
Top NFT Marketplaces on Solana:
Solanart - First-ever fully developed NFT marketplace on Solana. Supporting wallets include Sollet, phantom, or Solflare wallet. It utilizes both the on-chain and off-chain data.
Do you want to start a nft marketplace like solanart?
Explore this article >> Solanart clone script  
SolSEA - An First Solana NFT marketplace to implant copyright directly and also supports enormous currencies like USDT and USDC. 
Sollectify - Character-based NFT marketplaces like gaming characters and artworks. Developed through Project Serum.
METAPLEX - Open source NFT platform with low fees. A platform for and by artists and creators.
DigitalEyes.market - A great potential platform to list your creativity. Once your NFT gets authenticated by the admin team a "VERIFEYED" badge will be provided.
Features of Solana NFT Marketplace:
Increased liquidity
Interoperability - Carry out trade on multiple platforms.
Highly scalable platform
Scarcity - Makes NFTs valuable by limiting its production.
Reduced Gas fee
Composability
Advantages of Creating NFT Marketplace on Solana:
Entirely decentralized platform
High-speed transaction
Increased security 
High Scalable platform 
Provide you huge profit by staking your NFT.
How does it Work?
While the user putting their NFT for sale, it will be stored in the "Temporary account" and saved in the database.
If that NFT is purchased, the amount gets transferred from the buyer to the seller, and then the buyer receives the NFT.
Both the on-chain and off-chain data are used. 
Off-chain data - Database storage. And display on the main page for NFT sales.
On-chain data - Displays NFT one by one. And offers you a decentralized experience with high security.
The use of the database on the main page is to list the NFT based on the price, oldest and newest sale.
White label NFT Marketplace on Solana:
If you have a perspective of creating your own NFT marketplace, Solana White label NFT marketplace will be the best choice for you. It is a ready-made solution available in the market with a customization facility. In that, the client can alter the features as per their business requirements. 
Making your choice in developing a Whitelabel NFT marketplace on Solana with the professional team at WeAlwin helps you reduce your cost and time. We provide you NFT marketplace with stunning performance and security features. 
NFT Marketplace on Solana from Scratch :
Here, You can create your NFT marketplace from the base so that you can add any features and functionalities. It is entirely your choice and you can develop as per your business needs. This will help you shine as an entrepreneur with unique perspective. But the thing you need to consider here is cost and time. Creating an NFT marketplace from scratch requires more time and money. And also you need more resources for the development process. 
Where to Get the Best Performing Solana NFT Marketplace?
WeAlwin Technologies - A prominent and Unique NFT marketplace development company that offers extraordinary NFT development solutions with a team of adroit developers. We work for our client's ideas and support them built their NFT business with our team by providing the best service. We have perfectly completed many NFT marketplace development projects.
Our WeAlwin team assisted you in developing and launching your smart featured NFT marketplace on Solana. We provide you with a customizable solution with exceptionally advanced features and security. We have a readily available NFT marketplace with fully developed and bug-free solutions.