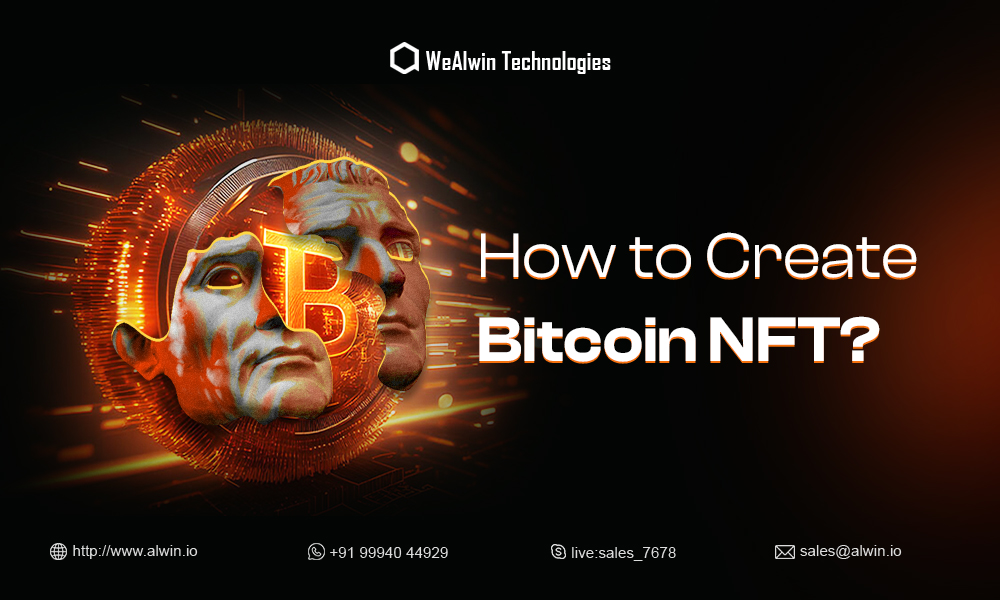 The world of cryptocurrency and digital assets is ever-evolving and as such, new opportunities are always being explored. 
One of the most promising trends in digital asset trading is the emergence of Bitcoin NFTs (Non-Fungible Tokens).
These tokens are unique assets that are securely stored on the Bitcoin blockchain and allow for enhanced security, control, and liquidity over traditional digital assets. 
Following this, this blog is going to deeply discuss about Bitcoin NFTs.
So, let's start analyzing what is it and how you can successfully create your own Bitcoin NFTs to start a lucrative business on the blockchain!
Bitcoin NFT - What Is It?
Bitcoin NFT is a revolutionary digital asset that has taken the art world and crypto communities by storm. It was inspired by Satoshi Nakamoto's original vision of Bitcoin, released on October 31st, 2008 with a price of less than a penny. 
The Bitcoin NFT project is a collection of 21,000,000 unique NFTs, each of which is unique and corresponds to a cryptocurrency stored on the blockchain. 
By investing in a Bitcoin NFT, you can own a one-of-a-kind piece of digital art created by anonymous artists from around the world. As the project grows in popularity, the value of the NFTs can increase, giving you the chance to own a valuable asset that could potentially appreciate over time. 
Bitcoin NFTs offer an exciting way to make money while participating in the art and cryptocurrency world. Not only you can make profits from trading the NFTs, but you can also hold them as unique investments or displays of art. 
You can even create limited-edition collections of art that can be bought and sold on the blockchain. Bitcoin NFTs are a great way to diversify your portfolio and get involved in the ever-changing world of digital art. 
Why Bitcoin NFTs?
Bitcoin NFTs are data records that are immutable and exist on a blockchain ledger. They are secured with encryption technology and can represent a wide range of digital assets. 
Following it, here are the reasons why Bitcoin NFTs for you, now.
Invisibility of NFTs
Unlike traditional digital assets, Bitcoin NFTs are indivisible, meaning they can not be broken down into parts or fractions. This feature allows for greater control and flexibility in regard to trading, as well as added security as the data is permanently stored on the blockchain. 
Increased Liquidity
Another benefit of Bitcoin NFTs is that they offer increased liquidity. They can be traded quickly and easily on digital asset exchange platforms. 
Accessibility
Since the nonfungible tokens are stored on the blockchain, the tokens are more easily accessible and can be exchanged for other cryptocurrencies or digital assets. This allows for faster and more efficient trading of digital assets. 
Enhanced Security
Bitcoin NFTs offer enhanced security. As the tokens are stored on the blockchain, they are more secure than traditional digital assets. 
Encryption Technology
The encryption technology used in Bitcoin NFTs ensures that the data remains secure and only authorized users can access the asset. 
Cannot Be Altered
Furthermore, the non-fungible tokens cannot be altered or manipulated as the data is stored on the blockchain. 
They are secure, indivisible, and offer enhanced liquidity. As such, they are becoming increasingly popular among digital asset traders. 
Consult with our business experts for Creating a Bitcoin NFT! Chat with us on WhatsApp
Tips to Create High-quality Bitcoin NFTs
Creating NFTs with Bitcoin is an incredibly powerful way to show ownership and create digital collectibles that are secured by the blockchain. With the growing popularity of NFTs, it is becoming increasingly important to understand what makes a high-quality Bitcoin NFT. 
Here are some important tips and strategies for creating high-quality Bitcoin NFTs.
Choose the Right Platform
The first important thing in creating Bitcoin NFTs is choosing the right platform. Look for a secure, reliable platform that provides the right tools and features for creating high-quality NFTs. You can also build your own NFT marketplaces like OpenSea, Rarible, etc. to list your own Bitcoin NFTs.
Create Unique Artwork
To create a high-quality NFT, you must create artwork that is unique and attractive. Choose a style and theme that allures your audience, and pay attention to the details. You can do it by easily hiring Bitcoin NFT creation experts like WeAlwin Technologies.
Add Features
Finally, providing additional features. It can make your NFT more attractive and valuable to the audience.
Following these, creating NFTs with Bitcoin is a powerful way to secure digital ownership. By following these immersive tips and strategies, you can create high-quality NFTs that are attractive and valuable to the market.
Creating Your Bitcoin NFTs With WeAlwin Technologies
We, WeAlwin Technologies, are a leading Bitcoin NFT development service provider. Creating your own unique NFTs with us offers several important benefits including -
Agile style of project implementation
Attractive assets creation
Development of NFT collectibles
Fast & quality Bitcoin NFTs creation
Experience NFT creators in the project
Free experts' business growth guidance
Cost-effective Bitcoin NFTs creation
24/7 technical support
Overall, by applying our in-house NFT developers for the project, you can quickly, easily, and profitably create your own Bitcoin NFTs for a successful business. 
Utilizing our custom Bitcoin NFT development solution, you can design unique digital assets and use them to create a store of value or exchange it in the market. 
Check out our page on NFT Development Company to get more information
For more details, contact our team now. We're always ready to hear from you!