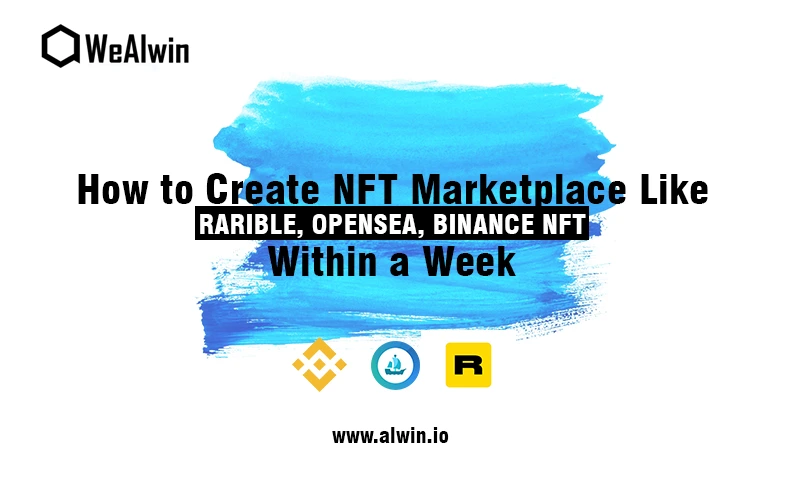 In this blog, we'll delve into the intriguing realm of NFT Marketplaces and show you how to build your own NFT Marketplace that is similar to well-known services like Opensea and Rarible. So, if you're intrigued by the NFT revolution and want to get in on the action, let's get started!
What is an NFT Marketplace?
An NFT (Non-Fungible Token) Marketplace is a digital marketplace that allows users to purchase, sell, and trade unique digital assets represented as NFTs on the blockchain. NFTs are indivisible and irreplaceable tokens that certify the ownership and validity of digital assets like as art, music, films, virtual real estate, and more.
Different types of NFT Marketplaces 
Websites for Universal Non-Fungible Tokens
These NFT platforms accept all types of NFTs, from art to domain names. Which are readily available. Rarible, opensea, and others are some popular universal NFT platforms. 
Peer-to-Peer Marketplaces
Only particular types of NFTs can be listed on this type of NFT Marketplace. For example, Valuables is a type of marketplace where one may buy/sell tweets, using tweets as their specialization.
Decentralized NFT Platforms
It is a type of non-custodial NFT Marketplace. Binance, which enables novel ways to buy/sell NFTs, is one standout example of this type. It includes prominent brands and top-tier musicians.
Consult with our business experts to Create your NFT Marketplace like Opensea, Rarible! Chat with us on WhatsApp
Top NFT Marketplaces in 2023
Let's take a look at some of the most popular NFT Marketplaces that attract a lot of artists and collectors.
Opensea
Opensea is the most popular and largest NFT Marketplace, allowing users to trade digital goods, gaming assets, artworks, and so on. It was launched in 2018 by Alex Atallah and Devin Finzer. This platform was inspired by Cryptokitties.
Rarible
Rarible allows users to mint, buy, and sell digital items and is transitioning to a decentralized NFT Marketplace using Ethereum Blockchain. RARE is the platform's native token, and token holders can vote. It supports NFTs in genres such as photography, music, gaming, memes, and art, among others.
SuperRare
SuperRare is a peer-to-peer marketplace that mostly focuses on digital art. It's quite popular with high-profile merchants like Time Magazine. All transactions are carried out in ETH, which is the native blockchain of Superrare.
The Binance NFT
Binance NFT is the official NFT of the world-class cryptocurrency exchange Binance, built on the Binance Smart Chain. They guarantee low petrol prices and have included cutting-edge features and services with their Marketplace. Their ultimate goal is to promote regional artists.
NiftyGateway
Nifty Gateway is a well-known NFT Marketplace that offers a wide range of digital art, collectibles, and virtual goods. As a pioneering platform, it enables smooth purchasing, selling, and trading of NFTs, empowering artists and producers globally. Nifty Gateway's user-friendly interface and safe transactions continue to revolutionize the digital art and blockchain world.
How to create an NFT Marketplace
Step - 1 Identify a Niche.
Choose the type of NFT Marketplace you want to develop as a first step. Analyse market statistics and determine whether to use a general NFT Marketplace or niche-specific platforms.
Step 2: Create the Admin Panel
As a result, this platform is centered on three types of users: Creators, Buyers, and Administrators.
Creator: A person who transforms real-world assets like artwork, photographs, and so on in the form of NFT.
Buyer: A person who wants to purchase NFTs.
Administrator: The admin who is incharge of all platform activity.
Step 3: Documentation
Documentation is the initial stage in the development process and serves as the framework for all current needs and solutions.
Step 4: Develop a Website Prototype
The cryptocurrency market is incredibly competitive. Having a high-quality and eye-catching UI/UX helps you grab people's attention and allows you to stand out from the crowd. The super secrets of a successful business are simple navigation and user-friendly design.
Step 5: The Development Stage
The type of framework, integrated functionality, and blockchain type are all set during the development stage. Later on, the developers will begin the real coding procedure.
Step 6: Testing
When development is complete, it is moved to testing, which is the most crucial stage. It is ready for deployment when it performs as defined by our specifications.
                        Click here to see the video of How to create an NFT Marketplace?
How does the NFT Marketplace work?
Smart Contracts are essential in the NFT Marketplace. As a result, each NFT has a unique identity and property that was encoded in smart contracts. Protocols differ depending on the functionality of the token type. Let's have a look at how the NFT Marketplace works.
1. The user must create an account in an NFT Marketplace.
2. Then they must load their cryptocurrency wallet.
3. To build an NFT, the user must upload the file as well as some additional information about their work.
4. After listing, they have two options: a bit option or a quick selling option.
5. Listing must go through moderation.
6. Once accepted by the Platform, other users can locate that NFT on postings.
7. The owner of NFT can open it to add bits to their work.
8. When the procedure is completed, the platform receives a notification of high offers.
9. The NFT Marketplace is responsible for the approval and transfer of digital assets.
Crucial features for NFT Marketplace
Search option: A simple search feature for finding NFTs in many categories such as digital art, photography, memes, etc.
Filters: Filters with features such as low price, high price, top views, and so on help people discover their work exactly.
NFT Creation: NFT creation should be simple and easy to do. Easy uploading and listing creation are required.
Listing Status: Creators may check the status of their listings using this tool.
Purchasing and Bidding: Buying improves the purchasing process, and auction allows users to follow the progress of bids.
The Advantages of ERC Tokens in NFT Marketplaces
Minting is limited.
Limited access control
Automatic URI generation
Creating Token IDs
Entirely self-sufficient
What is the Cost of Developing the NFT Marketplace?
The cost of NFT Marketplace Development depends primarily on the features implemented, a blockchain developed, the framework utilized, and so on, we are unable to provide an approximate budget for NFT Marketplace Development. As a result, it varies greatly depending on the client's requirements. If you are serious about the development of the NFT marketplace, do not hesitate to contact our specialists at any moment.
How to Launch Your own NFT Marketplace like Popular NFT platforms?
Any aspiring Cryptopreneur may create their own NFT Marketplace like OpenSea, Rarible, SuperRare, and so on, by using NFT clone scripts. You do not necessarily have to start from scratch when starting a business. These sorts of clone scripts are also viable options.
How to Create an NFT Marketplace Similar to Opensea
The Opensea-like NFT marketplace contributes to developing a large marketplace for crypto-collectibles to be traded off within the dedicated platform with definite design architecture selectively monitoring the transactions associated with the tokens participating through our platform. Opensea clone script is the best approach to establishing an NFT Marketplace like Opensea.
OpenSea clone script
Opensea clone script is a scalable platform created with a major focus on customization, functionality, and executing NFT trade-offs similar to Opensea. The decentralized script with all of the integrated features of opensea is known as an opensea clone script. Based on the needs of the user, it is developed on various blockchain networks such as Ethereum, Binance Smart Chain, and so on.
How to create NFT Marketplace like Rarible 
Rarible is a well-known NFT Marketplace with a large number of artists and collectors. You may instantly establish a brand identity by creating an NFT marketplace like Rarible. Any business person can create an NFT Marketplace like Rarible using the Rarible clone script.
Rarible clone script 
Rarible Clone Script is an NFT marketplace clone script that may be used to establish one's own NFT marketplace similar to Rarible.
How to create NFT Marketplace like Binance NFT
Binance NFT is a prominent NFT Marketplace that serves a large community of artists and collectors. If you want to develop your own NFT Marketplace similar to Binance NFT, you may benefit from the Binance NFT clone script.
Binance NFT clone script
The Binance NFT marketplace clone script is a powerful script that allows entrepreneurs to establish their own NFT marketplace with features and functions similar to the Binance NFT platform. Using this clone script, you may establish a unique NFT marketplace to attract artists and collectors to sell and trade their digital assets.
How Can WeAlwin assist you in establishing your own NFT Marketplace?
WeAlwin is a prominent NFT Marketplace Development Company that specializes in developing and deploying NFT Marketplaces. We provide customized support for businesses that desire to develop their own marketplaces, based on our expertise and experience in the blockchain and NFT industries. 
Launching your own feature-rich and prosperous NFT marketplace through a partnership with WeAlwin will assist you to grasp the full potential of the NFT industry.
Check out our page on NFT Marketplace Development Company