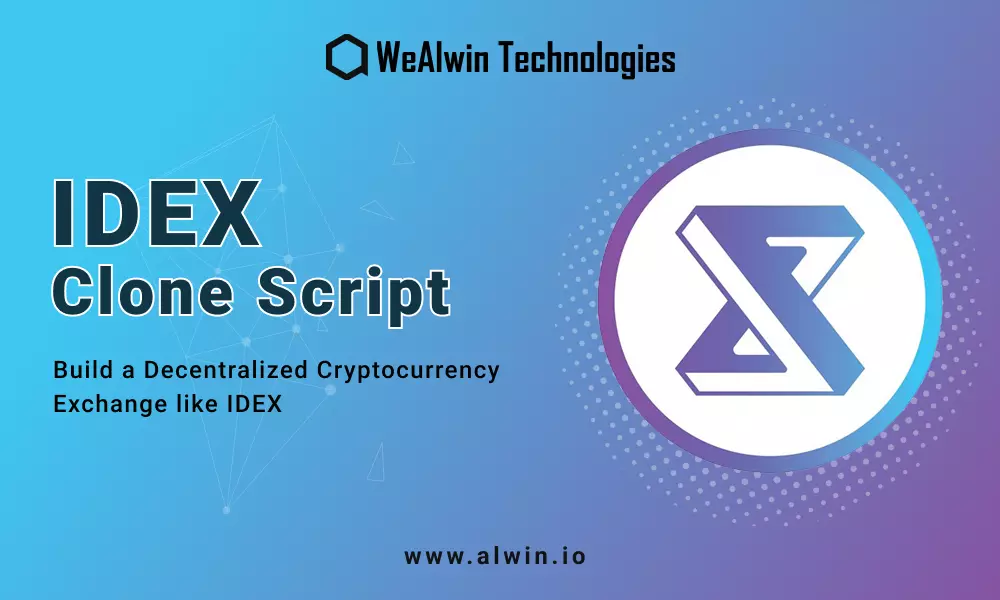 Start your own Decentralized Cryptocurrency Exchange like IDEX with the IDEX Clone Script that consists of the inbuilt features and functionalities of the original platform from WeAlwin Technologies, We also develop and deploy other popular crypto exchange clone scripts like Binance, Coinbase, etc…
Cryptocurrency is one of the most familiar topics in the present era, because of its consistent growth in the financial market. Cryptocurrencies are digital money or digital asset which is managed through the modern encryption technique called cryptography. 
These Cryptocurrencies are secured through Blockchain. These cryptos are not subjected to bank rules and regulations. People have full control of their money which is considered to be a pretty thing.
On seeing the growth of these cryptocurrencies, many entrepreneurs and business people are planning to build their own Crypto Exchange Businesses to have a profitable income for a long time. 
Considering the present market, Decentralized crypto exchange platforms are very much popular among crypto traders. This is because of the advanced security and privacy possessed by decentralized exchanges. Users have full authority over their money and transactions whereas, in centralized exchanges, users don't have control over their assets.
If you're one of the business people planning to launch a crypto exchange software. Then starting a decentralized crypto exchange like IDEX is the wise option. 
Launch your DEX platform with the exclusive IDEX Clone Script that is similar to the IDEX.
Let's have detailed information in this article about the IDEX Clone script 
IDEX Clone Script:
IDEX Clone Script is a pre-fabricated software that is the same as the original IDEX platform consisting of all the inbuilt features and functionalities without breaching the copyrights of the original software. Likewise IDEX, this IDEX clone script is entirely built on the Ethereum-based decentralized network. This IDEX Clone Script holds more than 30+ Ethereum tokens for trading.
WeAlwin Technologies provides an elite IDEX Clone Script with all the essential features and plugins with high-end security. Our IDEX clone script is already developed, tested and ready for deployment. Our IDEX clone script is 100% customizable, where you can add or remove any options or features as per your business concepts.
What is IDEX?
IDEX is a decentralized exchange, launched in 2017 in the republic of Panama. IDEX is considered to be the best-decentralized exchange for trading Ethereum and Ethereum-based tokens. It also supports some other major stablecoins such as USDT, USDC, and TUSD. They also have a live DEX order book system which helps the users to view the trades that are occurring on the platform. 
IDEX not only focuses on decentralization but also compounds the speed of centralization with its advanced security of blockchain networks. It supports real-time trading & high transaction throughout which is appreciated highly. Also, it supports primary trading features such as limit & market orders, staking, etc... 
Why Choose an Exchange like IDEX?
IDEX is the only fastest real-time Ethereum-based Decentralized exchange platform with a high trading volume and provides the users to experience the speed of centralized blockchain security. This platform enables the users to perform faster trade constantly over multiple markets. Also, allows cancelling the order without any gas fee. Now let's have a look at some significant reasons to choose a DEX platform like IDEX
IDEX is a popular Decentralized platform that acts as a hybrid centralized system.
Enormous trading volume as they run on a real-time basis.
Private keys are issued to the users for high-end security, so hacking is unfeasible.
No interruption of the third party while the transactions take place.
Users can experience anonymous trading, where their identity is not exposed and this makes the user a comfy experience.
Consult with our business experts to launch your Coinspot Clone Script instantly! Chat with us on WhatsApp
How Does IDEX Clone Software Work?
IDEX Clone Script works the same way as the original IDEX platform. The below steps will let you figure out how precisely the IDEX clone script works in real time.
Initially, the user needs to create an account on IDEX Clone software and need to complete the KYC verifications. 
A private key is assigned to the user for handling the Ethereum wallet. Users can directly connect the wallet to the platform if they already hold an Ethereum wallet.
Users can click on the unlock wallet option that is present in their Ethereum wallet and approach their assets and look at their profile option to check their balance. 
Users can execute two different types of orders such as market order and limit order. Likewise, the user can cancel the trade at any time without the pay-off gas fee.
Users can place buy or sell orders on the platform as the users will be armed with the smart contract.
Users can confirm the transaction by choosing the desired payment method that is available on the platform when they found the ideal buyer or seller.
The digital signature is verified by the owner of the platform and assures whether it matches the seller's account.
The requested Ethereum tokens or stable coins are credited to the buyer's account directly.
Once the trading is completed, the user can view and cross-check the trade status in the trade history from the orders option.
This is the working mechanism of the exclusive IDEX Clone Script that works in real time. 
Essential features of IDEX Clone:
Features play a major role in establishing a successful decentralized trading platform like IDEX. Because features are the first noted when a user approaches a trading platform. And so, the trading features in your exchange should impress users all over the world and provide you with a reputation. 
Here are some of the essential features of our IDEX clone solution, 
KYC/AML verification
Two-factor authentication
Multi-Signature Wallet.
Multi-lingual
Limit, Market and Stop Order trading.
Atomic Swap
Data Encryption
DEX Order Book
Staking
Advanced Content Management System
Advantages of launching an IDEX Clone Software:
Launching a DEX platform with added benefits will surely impress the users and also you could have a greater benefit in business. Below mentioned are some of the advantages of IDEX clone software.
Rapid Transactions
High security and Privacy
Complete control of transactions
User identity protection
Worldwide decentralized servers
Individual Wallet integration
Not subjected to financial law
These are some of the advantages of launching an IDEX Clone Software. 
How to build a DEX platform like IDEX
If you're an entrepreneur planning to launch a decentralized exchange like IDEX, then buying an exclusive IDEX clone script from WeAlwin Technologies is the wise option. 
The below mentioned are some of the essential steps while starting a crypto exchange business
Come up with a unique and ideal business idea.
Do thorough market research before jumping into the crypto trading business.
Fix your targeted country where you want to launch your DEX platform
Cross-check the regulations and jurisdictions of the desired country.
Decide the trading features and plugins that you're incorporating into the IDEX Clone software.
Make sure to have a certain amount of funds for your project.
Integrate the exclusive security features for your DEX platform
Once you're done with the beta testing, deploy your DEX platform and promote your decentralized exchange platform
Cost of IDEX Clone Solution:
The cost to start a Cryptocurrency Exchange is one of the most considered sections when developing a crypto business. The development cost of a decentralized IDEX Clone Script would be confirmed by choosing the development method that you choose. The cost would range around 5000$ with the basic features when you opt-in to buy an IDEX clone script, and also the cost may vary when you customize it according to your business concepts.
Likewise, when you go with the scratch method, the cost will be around 120,000$ which is a high cost and the time for the development process will also take around six to twelve months. So choosing an IDEX Clone Script is the best option to launch your IDEX Clone Software effectively.
Why Choose WeAlwin Technologies for your IDEX Clone Script?
WeAlwin Technologies is a top-notch Decentralized Exchange Development Company providing the ideal IDEX Clone Script with all the required essential features and functionalities. Launch your DEX platform like IDEX within a few days with our exclusive IDEX Exchange Clone Script. We are specialized in providing premium trading features and a bug-free DEX platform with advanced security features. WeAlwin's IDEX clone script is highly customizable and so you can customise your DEX platform as per your business modules. 
We have a team of experts who is been a wizard in this blockchain industry for the past several years. Our IDEX Clone Script is already developed, tested and deployed with all the inbuilt features and plugins
What are you waiting for? Launch your decentralized crypto exchange platform like IDEX with WeAlwin Technologies' Exclusive IDEX Clone Script instantly.
Get a live demo which is free of cost!!!
Check out our page on Cryptocurrency Exchange Script to get more information
We also deliver other popular cryptocurrency Exchange Scripts, Like