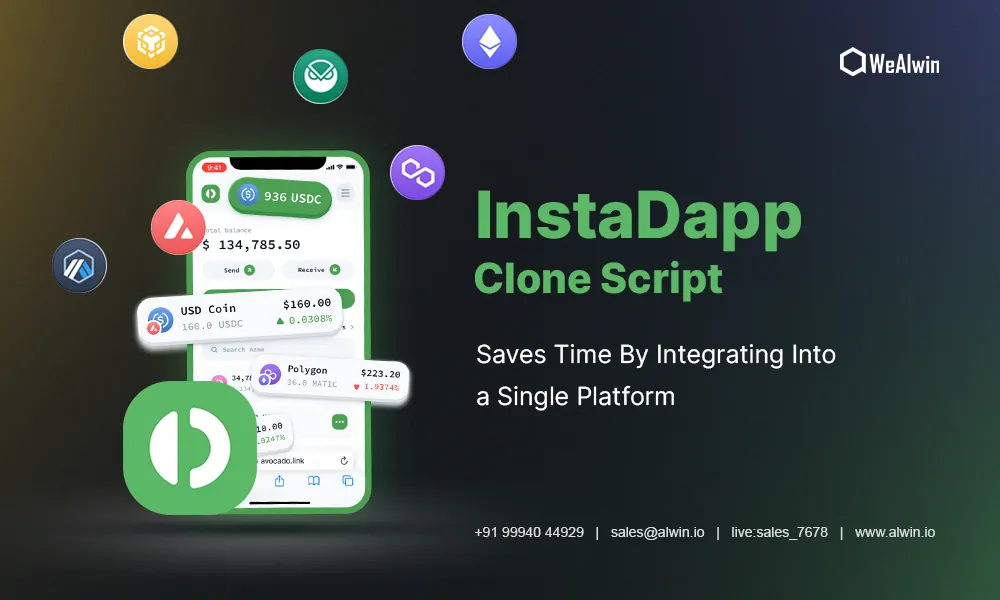 Hey, DeFi enthusiast!
Are you tired of searching various platforms for borrowing, lending, and exchange?
Then InstaDapp is the best option for you.
It provides all features on a single platform.
Let's get into InstaDapp and its clone.
What is InstaDapp?
InstaDapp is a decentralized application (DApp) built on the Ethereum (ETH) network that integrates various decentralized finance (DeFi) protocols. It incorporates other DApps and platform, protocols for customers to manage all of their funds.
The DeFi Smart Layer (DSL), is a foundational element of InstaDapp that enables the aggregation of DeFi protocols from various platforms.
Consult with our business experts to Build your own InstaDapp Clone Script Chat with us on WhatsApp
InstaDapp Clone Script:
InstaDapp clone script is an application that resembles InstaDapp with existing features. It provides a replica of the features in your clone scripts. Developing a platform from scratch is more time-consuming and expensive. Clone script provides an immediate launch with your own ideas. 
How Does InstaDapp Work?
To use InstaDapp, users need to have a Web3-enabled Ethereum wallet, like MetaMask, that connects to InstaDapp via the dashboard. Following the connection, users can access a platform with all of InstaDapp's available features. 
The platform integrated "DeFi Smart Accounts (DSAs)" by InstaDapp. Users can manage, assign, and optimize funds from several protocols using DSAs. To provide account holders with more cross-protocol transactions, developers can build on top of the DSAs.
DeFi Smart Layer:
The DeFi Smart Layer (DSL), which was established by InstaDapp, is the foundational architecture that enables the aggregation of DeFi protocols from various platforms. 
The three parts of the DSL are as follows:
Smart accounts
Smart accounts are used by users to hold assets and carry out transactions through connectors.
Connectors
Connectors are described as standardized components that communicate with DeFi protocols and provide smart contracts access to DeFi services. Developers create smart contracts, which are used to carry out DeFi transactions across different protocols.
Authority
Authority is given to users who can assign managers, automation bots, or guardians to oversee their DSAs. Users can configure customized permissions based on the standardized modules so that the addresses covered by those modules can only carry out those functions.
In the InstaDapp clone script, the integrated Defi smart layer provides similar features.
Platform integration:
The platforms that are currently integrated with the InstaDapp clone script include Uniswap (UNI), Compound Finance (COMP), and MakerDAO (DAI). Users can lend, borrow, swap, manage liquidity pools, and generate collateralized debt positions (CDP) via the dashboard by integrating these services into InstaDapp. 
Integration of compound finance protocol into InstaDapp, which provides borrowing and lending features in the application.
Uniswap is integrated into InstaDapp which provides exchange in the application.
MakerDAO enables the creation of collateralized debt.
Other protocols integrated are the Hop protocol, Aave, and Morpho protocol. 
Before InstaDapp:
Before InstaDapp, users would manually keep track of their assets and determine the best interest rates, collateralization ratios, and other factors for each platform. Due to its intricacy, users could discover that manual monitoring demands a lot of work. 
This is made easier by the entry of InstaDapp's DSA into the DeFi space, which links the various protocols, gathers the relevant data, and summarises everything into a single view on the dashboard. Users can manage their cross-protocol assets with ease as a result.
In addition, users would have to do different actions on each platform before using InstaDapp to transfer assets. 
Primary Features of InstaDapp:
Through the use of smart contracts, InstaDapp automates the above procedures, requiring users to merely alter the settings and carry out the transfers with a few mouse clicks.
Users are not charged by InstaDapp for the transfers. To transport assets through the Ethereum network, users only need to have a small amount of money put aside for the gas fee. 
The DApp uses non-custodial wallets to store assets, so users always have access to their funds and InstaDapp has no way of getting ownership of them. InstaDapp transparently holds immutable records regarding transactions and assets on the blockchain, much like all blockchain-based applications.
Why invest in an InstaDapp clone?
If you are interested in investing in the latest technologies, like blockchains then InstaDapp clone scripts are the best option to scale as a startup. The InstaDapp clone provides vast features and provides solutions to market requirements. It integrates multiple protocols, platforms, and features.
Check out our page on DeFi Development
Why WeAlwin for InstaDapp clone?
As a DeFi development company WeAlwin provides customer-based support based on your requirements we provide customized solutions. Our experts have more than 5+ years of experience in the blockchain and DeFi fields. For your dream comes true with your customized ideas, join with WeAlwin.