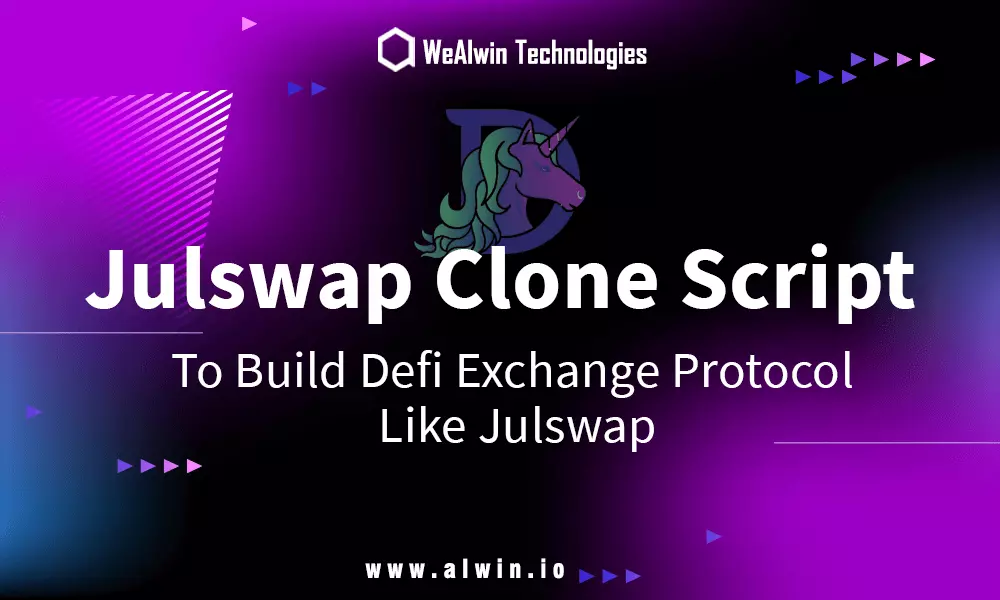 Julswap clone script is introduced by the Justliquidity protocol and runs on the DeFi platform. With this program, you can get the same functions, and also the trading engine works properly. This script allows you to have more features when it comes to analysis. In decentralized finance development, this system has brought a new level and it has made things better than ever. 
What is Julswap?
Julswap is the newest decentralized finance exchange market. It's an enhanced version of Uniswap with features of Sushiswap platforms. The platform uses a trading engine and analytic tools like Uniswap. It's used to automatically exchange BSC20 tokens. The main goal of Julswap is to lower barriers to entry into the decentralized financial market and make it easier for users to migrate their business from other platforms to Binance smart chain.
Julswap charges a low trading fee,  among some part of is given to the active liquidity providers, and the rest is converted into JULD tokens. This platform makes trading faster and cheaper than the other trading platforms because it is a fully decentralized platform. It is backed by the JustLiquidity protocol to process transactions. This token cannot be purchased directly with fiat currency. 
First, the user needs to buy the best cryptocurrency like Bitcoins, or Ethereum, and deposit it on the Binance exchange platform to buy JULD tokens. Any user can register on the platform by providing KYC and adding proposals. JULD tokens are farmed in the JustLiquidity pool to earn rewards and It offers a quick swap, launchpad, staking, governance, and other features.
Julswap clone script:
Julswap clone script is a pre-made software that can solve liquidity problems in your decentralized exchanges with a liquidity protocol. Julswap clone script has 100% identical functions such as the same trading engine and analytics as Uniswap and some additional features of Sushiswap. Defi Julswap clone is a decentralized exchange similar to Uniswap. WeAlwin  offers a White label Julswap clone software that fixes liquidity issues and supports exchange and liquidity publication with a just liquidity protocol and ERC20 to BEP20 token bridge. 
Julswap Token:
Julswap's proprietary token gives you benefits when generated and distributed. This part of the property gives you full control over social commerce, helping you find stocks in different locations. You can introduce many crypto tokens that allow you to get more value in the business. Whether you want to cooperate or not, you are protecting your company's overall business segment.
The token helps you to keep trading profitable at every step, and it allows you to secure inventory with liquidity. Once you set aside the important factors, you realize that the framework is designed to work with autonomous audits. Not only that, but also allows you to secure the future of the transaction through potentially secure wallets. This keeps the rewards frequent and helps protect distribution plans.
Consult with our business experts to launch your To build Defi exchange protocol like Julswap instantly! Chat with us on WhatsApp
Developers Fund:
This is a dedicated fund used to support the efforts of a group of developers. With this allocated amount, they can work on conversion and get benefits that will help recalculate the stake. Also, the bidding is a reward based and the codes are highly rewarding. While building a strong structure, you also need to bring a direct approach.
This makes the bids consistent, supports the most promising opportunities of the future, and makes the smart chain more sustainable. The advantage of this system is that it reaches multiple segments of the blockchain and accelerates the process of finding shares. 
While preserving the entire structure, you still get duality properties and explore the different possibilities of the network.  
Security Audit:
While maintaining overall system security, this clone script produces some amazing results. Changes to this framework allow you to further integrate the entire interface. It gives you maximum security and also provides insights into the Metamask account. A protected layer gives you more opportunities to perform tricks.
You may be stuck with extensions for a while, but eventually, the mechanism does its trick and gives you a greater chance of being recognized on contemporary exchanges. This makes analyzing swaps and the whole process more inclusive. Faster and cheaper technology gives you more assurance and allows you to handle the whole thing with more confidence.
Reward Distribution:
The reward configuration gives you a more open source framework to deal with. This allows you to get better shares through a liability-based rate. A pool-based segmentation of rewards that gives better control over the people who engage in crypto communities. Apart from that, the overall functionality of the token will improve and things will get better.
Also, the normal distribution of tokens gives you even better features. This allows you to review the entire process and helps make a bigger impact. with very compatible buying and selling, it is very possible for anyone to get intentional by introducing each token. This protects digital asset holders to gain more versatility in their trading. 
How does Julswap clone software work?
Open our Julswap clone software interface.
Connect your wallet and so you can use Justliquidity or metamask or other supported wallets.
Select the token you wish to exchange or swap
Click on the swap to swap your desirable
In the pop-up window, you can see the glimpse of the transaction 
You have to accept a confirmation message on your wallet to transact your cryptocurrency
Features of Julswap clone app:
Lower Transaction Fees
Yield Farming
Exceptionally Secure
staking
Customizable
Swapping
High-Speed Transactions
Liquidity
Order book
Benefits of Julswap clone app:
It is fast and cheap 
Anyone can easily connect the wallet to make transactions
It's 100% decentralized with no third-party involvement.
Provides token rewards to liquidity providers.
Get more profit by investing funds in the liquidity pool.
Token rewards for token holders
Operate your new tokens with direct access to liquidity.
No listing fees are charged due to decentralization.
Creates a more affordable liquidity-oriented exchange than other exchanges.
Get an alert whenever the price reaches your present value level.
It's based on the binance smart chain.
Start tracking successful wallets to follow the gainer wallet.
Stake your JULD tokens.
Why should choose WeAlwin Technologies to develop for the Julswap exchange clone development?
WeAlwin Technologies is an elite professional Defi Development Company provides the best Julswap Clone Script that is similar to the original one with all its essential features and functionalities in a secured manner where you could able to customize the options as per your business concepts. We can do whatever you require in developing your software and also we can feel you what you want exactly. So, we can provide an excellent solution in developing your defi protocol like julswap.
Then why you are still waiting??
Checkout our page on defi development company to get more information