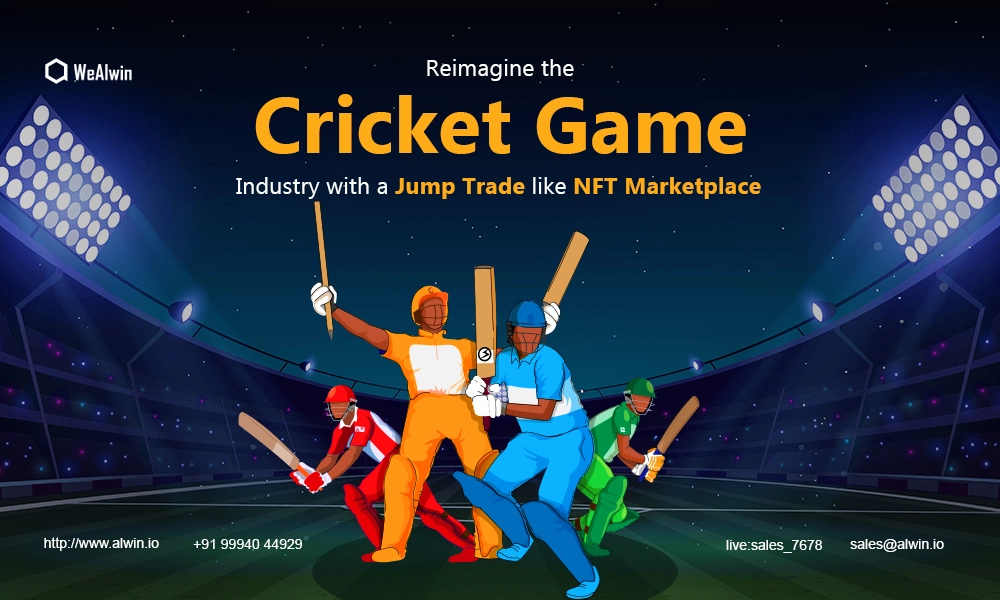 Are you a cricket enthusiast tired of the same old game formats? Do you crave something new and exciting that revolutionizes the cricket industry? A Jump Trade Clone NFT Marketplace is the only solution to look for! 
This innovative platform is set to change the way we perceive and engage with cricket games forever. With unique Non-Fungible Tokens (NFTs) that offer exclusive in-game perks, collectibles, and more, cricket fans can now truly own a piece of their favorite teams and players. 
In this blog post, we'll explore how this groundbreaking technology is poised to reshape the cricket game industry as we know it.  So grab your bat and get ready to swing into action!
Building the Jump.trade Clone Script for Your NFT Cricket Game Marketplace
To build your own NFT cricket game marketplace, you'll need a jump.trade clone script. This open-source code can be customized to your needs and launched as a decentralized exchange for cricket NFTs and crypto collectibles.
First, choose a blockchain. Ethereum is a popular choice for NFT marketplaces, but alternatives like Flow, Tezos, and Binance Smart Chain also work great. Each has its pros and cons, so evaluate which suits your needs best.
Next, find a reputable developer to help customize the jump.trade clone script. They can brand it, integrate your chosen blockchain, and add features like:
Auctions - Allow users to bid on rare NFTs.
Bundle sales - Sell multiple NFTs together at a discount.
Scarcity - Set a cap on how many of each NFT can be minted to increase their value.
You'll also want to build a user-friendly interface, secure your smart contracts, and market your new marketplace to attract collectors.
Launching an NFT cricket game marketplace is an ambitious goal, but with the right team and technology, it can be achieved. By starting with a proven clone script, customizing it for your niche, and providing real value to customers, your business will be set up for success.
Stay up to date with trends in blockchain tech, digital collectibles, and the cricket game industry. Keep improving and expanding your platform to give fans an unparalleled experience collecting and trading cricket NFTs. If you build it, the collectors will come!
How to Start an NFT Cricket Game Marketplace Business
Interested in becoming a marketplace owner for NFT cricket games? Awesome! Here are the steps to get you up and running:
First, develop your business plan. Figure out your vision, mission, and operational details. Think about your target customers and how you'll market to them. Map out your product roadmap and key features. This will help you secure funding and partnerships.
Next, build your team. You'll want developers to design the platform, community managers to engage users, and legal experts to handle licensing and regulations. Don't forget marketing and customer support!
Now it's time to choose a platform. Some options for NFT marketplaces include OpenSea, Rarible, and Mintable. Compare features and fees to pick what's right for you. You could also build your own platform from scratch.
With your platform selected, start creating NFTs! Work with cricket leagues, teams, and players to license official digital collectibles. Also consider historical moments, player stats, gear, and other gaming elements. Offer packs, bundles, and one-of-a-kind items.
Launch your marketplace with a bang! Promote on social media, run contests and giveaways, and offer discounts and promotions. Build hype around new drops and product releases. Engage influencers and media outlets in the cricket and crypto communities.
Keep improving and expanding by adding new features like staking, lending, and decentralized finance options. Create mobile apps, virtual reality experiences, and play-to-earn games. Pursue partnerships and sponsorships. The possibilities are endless in this exciting new space!
With hard work and the right team, you can build a thriving NFT cricket game marketplace. But remember, stay up-to-date with regulations and keep your community's best interests at heart. Good luck!
Key Features to Include in Your NFT Cricket Game Marketplace
To build an engaging NFT cricket game marketplace, certain key features are must-haves. Here are the essentials to include:
Variety of Cricket NFTs
Offer a range of cricket NFTs like player cards, equipment, stadiums, memorabilia, etc., so users have lots to choose from. Provide different rarity levels and prices so there's something for every budget.
Player cards: Feature stats, information and images of popular players. Rare, legendary or holographic cards will be highly coveted.
Equipment: Bats, balls, helmets, etc. Especially from iconic matches or autographed by players.
Stadiums: NFTs of famous cricket stadiums could be popular collectibles.
Memorabilia: Tickets, programs, clothing, etc. from major matches or events.
Exciting Gameplay
Develop fun games where people can use their NFTs. For example, build a fantasy cricket league, strategy game, or NFT battle where people compete using their digital assets. This gives the NFTs real utility and makes the marketplace engaging.
Rarity and Scarcity
Ensure that some NFTs are rare by limiting how many are released. This scarcity will make them more valuable to own and trade. People will be eager to collect rare, legendary, or one-of-a-kind NFTs.
Trading and Marketplace
A trading marketplace where people can easily buy, sell, and trade their cricket NFTs is essential. Make it simple for people to list NFTs for sale, view details of items for sale, make offers, complete purchases, leave reviews, etc. Charge a small transaction fee on all sales.
Security
Use blockchain technology to secure transactions and establish digital ownership of the NFTs. This gives people confidence that their digital assets are safe and that ownership can be verified.
Following these tips will help you build an NFT cricket game marketplace that engages users and establishes a vibrant community of collectors and traders. Provide the features people want and security they can trust for the best results.
How much does it cost to create a jump.trade like the NFT Marketplace?
Creating an NFT marketplace like Jump.trade isn't cheap, but the potential returns make it worth the investment. You'll also need a team to build and maintain the platform, which typically includes:
2-5 developers: 
1 designer:
1 project manager: 
While the costs aren't insignificant, a successful NFT marketplace can generate over $1 million per month in transaction fees and revenue share. With the NFT market poised to grow exponentially over the next few years, investing in an NFT marketplace platform could pay off big time. The key is building a platform that attracts users, facilitates high-volume trading, and offers features that benefit both buyers and sellers.
Revenue model of jump.trade cricket game NFT marketplace
A jump.trade NFT cricket marketplace can generate revenue in several ways:
Minting and selling cricket NFTs - The marketplace platform collects a percentage of all sales, known as a transaction fee. This can range from 2-5 per sale. As the volume of NFTs sold increases, this can become a major source of revenue.
Advertising - Once the marketplace gains significant traffic, advertising space can be sold to cricket brands, equipment companies, sports media, and more. Banner ads, sponsored content, and featured listings are all options. Advertising is a tried-and-true model for monetizing websites and apps.
Listing fees - The marketplace can charge an upfront listing fee for each NFT listed for sale. The fee may be a flat rate or a percentage of the item's asking price. Listing fees provide revenue even if an item is not sold immediately.
Exclusive drops and promotions -  The marketplace can partner with cricket brands, players, tournaments, etc. to release exclusive collections and limited-edition NFTs. These types of drops tend to generate a lot of interest and higher sales, allowing the marketplace to collect more transaction fees.
Additional services - Over time, the marketplace can expand to offer additional paid services like:
› NFT creation tools for players and brands
› Authenticating and verifying NFTs
› Secure storage and management of NFT assets
› Customized NFT bundles and packages
› Priority listings and featured placement
By implementing a combination of these revenue models, a cricket NFT marketplace can establish multiple income streams and build a sustainable business. The key is providing real value to collectors through exclusive assets, promotions, and quality service.
Conclusion
Now it's time to roll up your sleeves and get to work. Build your team, design an amazing user experience, create partnerships, spread the word, and launch with a bang. With hard work and persistence, you'll be well on your way to success. Before you know it, you'll have a thriving community of players collecting, trading, and competing. And while the road ahead won't always be easy, stay focused on your vision and keep putting one foot in front of the other. If you do that, you'll build something truly special. Now go get started! Your NFT cricket game marketplace is waiting to be built! The future is now in your hands.