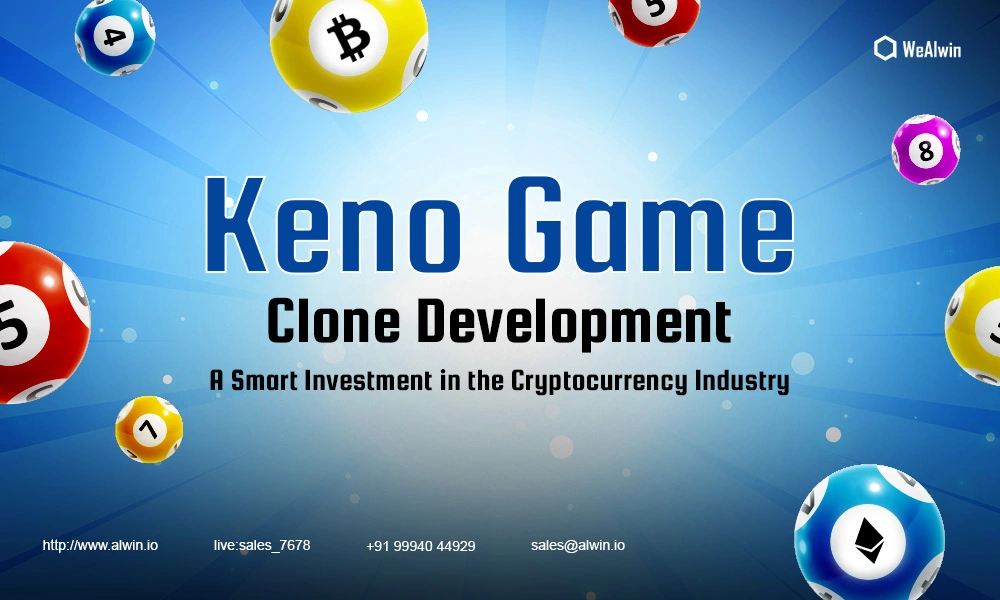 Do you want to make a smart investment in the booming cryptocurrency industry? Don't miss out on Keno game clone development! The popularity of online gaming and cryptocurrencies has skyrocketed in recent years, with Keno being one of the most popular games played. 
By investing in a Keno game clone, you can capture this lucrative market and offer your customers an engaging and entertaining game experience. Here's why Keno game clone development is such a great investment and how it can help you succeed in the crypto gaming industry.
So buckle up and get ready to learn about the exciting potential of investing in a Keno game clone today!
What is a Keno clone script?
A Keno clone script is a ready-made software solution to launch your own Keno-style game. Keno is a popular lottery-style game where players pick numbers and hope they match the numbers drawn. By using a clone script, you can have your own Keno game up and running in no time without needing to build it from scratch.
With a Keno clone script, you get a customizable game template with the standard features players expect. Things like:
Players can pick from 1 to 10 or more numbers
A range of betting options from small to large
Regular number draws, like every 5 or 10 minutes
Payouts for matching different amounts of numbers
An attractive and intuitive interface for players
The key benefit of a clone script is that it's a turnkey solution. You don't need a team of developers or months of work to launch. You can set up your Keno game, customize the look and settings, and start accepting real-money bets from players in a matter of days.
For anyone looking to start an online crypto casino, Keno clone scripts are a smart choice. They provide an easy way to add a popular game that your players will love without a major investment of time or money. With the right marketing, a Keno game can attract new players and generate good revenue.
So if quick and easy game launches are your goal, Keno clone scripts are the way to go. They provide an off-the-shelf product to get your casino and players up and running right away. And in the fast-moving world of crypto casinos, speed to market is everything.
Why Invest in a Keno Game Clone Script?
Investing in a Keno game clone script is a smart move for any crypto casino looking to diversify its game offerings. Here are a few reasons why:
Keno is an easy game to understand. Players simply pick numbers and hope they match the numbers drawn. This simplicity appeals to players of all experience levels.
Keno has a low barrier to entry. Players don't need any special skills or knowledge to play, so they can start playing right away. This means more players and more bets for your casino.
Keno games are highly customizable. You can choose how many numbers players can pick, how many numbers are drawn, the payouts for matches, and more. Tweak the settings to best suit your players.
Keno has a small house edge. When configured properly, the house edge for Keno can be under 10%. This means players have a decent chance of winning, so they'll keep coming back.
Keno integrates easily with cryptocurrencies. A Keno game clone script can be adapted to accept major cryptocurrencies like Bitcoin, Ethereum, and Litecoin. Crypto-based games are the future of online gambling.
The potential for big payouts attracts players. While the odds of hitting all the picked numbers are small, the possibility of a huge win keeps players dreaming big. These life-changing jackpots build excitement and loyalty.
With a customized Keno game clone script, you'll be poised to profit from this popular game. Players everywhere love the thrill of the ball drop and the chance to win big, so why not give them what they want? A Keno game is a solid investment in your crypto casino's future.
Essential Features of a Keno Game Clone Script
To succeed in the cryptocurrency casino industry, your Keno game clone script needs to have certain essential features. These are must-haves for any competitive Keno game.
Provably Fair Mechanism
Use a transparent random number generation process that can be verified by players. This builds trust in your game and platform.
Multi-Currency Support
Accept a variety of cryptocurrencies like Bitcoin, Ethereum, Litecoin, etc. This makes the game accessible to more players.
Mobile-Friendly Design
Ensure your Keno clone script works seamlessly on mobile devices. Many players access casino games on the go, so a responsive mobile version is key.
Admin Control Panel
Include an intuitive control panel for operators to easily manage the game. Things like:
Configuring payouts/odds
Enabling/disabling currencies
Viewing reports and statistics
Managing users
With these essential features, your Keno game clone script will be poised for success in the cryptocurrency casino market. Players will love the experience, and operators will have the tools they need to run a profitable gaming operation.
How Can You Earn Revenue from Your Keno-like Gaming Platform?
As a casino operator, the revenue model for your Keno game clone script relies on player bets and the house edge. The more players bet, the more revenue you generate. The higher the house edge, the more profit you make. It's a simple model, but an effective one.
Rake: The rake is the percentage of each bet that the house takes. For Keno, the rake is typically around 25-30% of the total bets. The higher the rake, the more profit the casino makes. But set it too high, and players won't bet as much.
Jackpots: Offering large jackpots, especially progressive ones, encourages players to bet more to chase the big win. Even though the odds of hitting a jackpot are small, the possibility is exciting for players.
Bonuses: Giving players bonuses, promotions, and loyalty programs incentivizes them to bet more frequently and in higher amounts. Free plays, matched deposits, and cashback are all common in the Keno industry.
Advertising: Promoting your Keno game through ads, social media, and affiliate marketing helps to attract new players and increase bets from existing ones. While advertising does cost money, the potential revenue gains often outweigh the costs.
The key to success with your Keno casino game development is finding the right balance of house edge, jackpots, bonuses, and advertising to maximize your revenue. Start at the lower end of the spectrum for all factors and make incremental changes based on analytics to determine the sweet spot. And of course, providing an engaging player experience with high-quality graphics and seamless gameplay will keep people coming back to bet more on your Keno game.
Factors to Consider When Choosing a Keno Game Clone Development Company
Experience and Expertise
When choosing a company to develop your Keno game clone, look for one with experience creating casino games, especially in the cryptocurrency space. They should have a proven track record of successful game launches and a portfolio of popular titles. Developing a Keno game requires specialized knowledge to incorporate provably fair algorithms, integrate cryptocurrency payments, and build an engaging user experience. An experienced team will have this expertise and be able to guide you through the process, avoiding common pitfalls.
Customization Options
A good Keno game clone script should be highly customizable to match your brand and vision. Look for a company that offers custom design and UX/UI services, not just a generic template. The game should reflect your casino's style and be tailored to your target audience. Options for customizing the game interface, themes, sounds, and more will allow you to create a unique product that stands out.
Ongoing Support
Launching your Keno game is just the beginning. You'll want a development team that provides ongoing support to help ensure its long-term success. Post-launch support may include updates to fix any issues, upgrades to the latest technologies, additions of new features, and optimizations to improve the player experience. Look for a company that provides service level agreements for support and will work with you as a partner to enhance and promote your game.
The company you choose to develop your Keno game clone script can make or break your success in the cryptocurrency casino market. Do your due diligence to find an experienced team you can work with as a long-term partner, not just a one-off service provider. With the right developer behind you, your Keno game can become a hit that fuels your casino's growth and profits.
What Makes WeAlwin the Best Choice for Developing a Keno Kame Clone?
WeAlwin has over 5 years of experience developing cryptocurrency casino software and games. Our developers have worked with numerous crypto casinos and understand the specific needs and challenges of this industry. We know how to build Keno game clones and other casino games that will resonate with crypto players.
Our Keno game clone script is highly customizable, so you can tailor the game to your brand and players. random and not manipulated. We aim to make our Keno game clone script and crypto casino software affordable for anyone looking to start their own casino business. This means you can launch your casino without worrying about the costs cutting into your profits down the road. Our pricing is competitive and provides a lot of value for money.
Finally,
Here you have it: the key to tapping into cryptocurrency casinos is investing in a quality keno game clone script. Don't get left behind as this industry continues its meteoric rise. 
The time to act is now by partnering with an experienced keno game clone development company like us that can build you a customized solution to help you hit the jackpot. 
The future is here; are you ready to kickstart your project? Talk with our expert team!