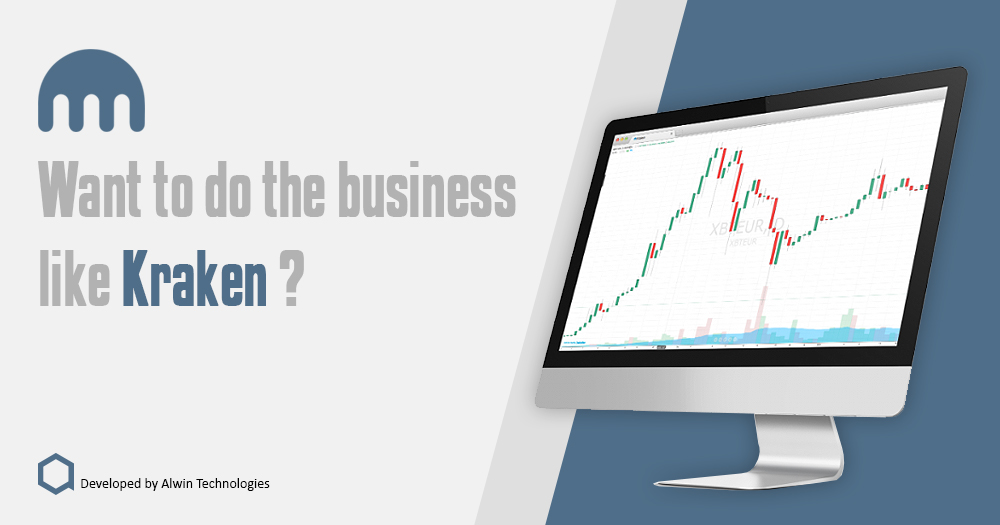 Today in this blog we are going to talk about the famous Kraken exchange. Through this, we will have a closer look at the features of the exchange.
Despite the fact that Kraken is one of the oldest exchanges, it still lacks some crucial aspects. Therefore, we would be finding out some important aspects that can be worked upon to make it even better. Also, we would be talking about how one can build an exchange like Kraken.
So let's start with features first.
Interesting Features of Kraken
1) Security
Kraken's security features are great and boast almost everything that one expects from an old player. The approach to combine offline and online security for achieving a high level of security is commendable.
Kraken platform is backed by a team of security experts that ensure online safety. Inserting features like 2FA with hardware support is a great step to enhance security. Further, Kraken uses PGP encryption for email and SSL for browsing that makes it a safe exchange to do business with.
Features like GSL (Global Security Lock) & Master Key ensure that there's a right combination of flexibility and restriction. Along with these features, audit process of proof-of-reserve and cold storage wallet at a diversified location to safeguard reserves are beneficial factors for investors.
2) Advanced Options & Management
Kraken offers API support for its users as well to be called via public mode. That makes it easy to connect to its interface. Moreover, supporting bot trading seems essential nowadays and Kraken is good with this too. To make the exchange a commercial and ready-for-all in real, and not just on paper, Kraken team has put a lot of efforts.
Not just defining the user level but also supporting business accounts depicts the well-planned arrangement of Kraken. Each user level defining own limits and API call limits. That's something mandatory to work at world level which Kraken do. Apart from this, trading platform of Kraken is good too, offering technical charts, stop loss trading and analytical tools.
Additionally, Kraken has proper liquidity and thus investors can enjoy transacting at more specific prices with ease. To be on par and offer all the benefits with crypto that traditional exchanges offer, is a decisive strategy. To be honest, Kraken has not disappointed us on that note too and offers future trading, margin trading in addition to simple trading option. For advanced or institution based investors, Kraken OTD Desk service is there to caters to their more stringent requirements regarding security, assistant and market data with analysis. That all comes easy with their account management services.
Clearly, Kraken has tried to enclose as much area as possible by providing more symmetrical functionalities of well-versed exchanges in the realm of cryptocurrency.
3) Easy Funding & Low Fees
When it comes to cryptocurrency exchanges, we feel 'more the merrier' in relation to funding options. We looked at funding options available with Kraken and what we have received till now was no shocker for us. With almost 21 crypto and 5 fiat currency options to fund from, with very low minimum requirements, Kraken has an interesting offering in the bag. Kraken has relatively low fees, whether its trading, funding or withdrawal.
With some great names available to fund from, it seems pretty simple to add funds and start with this exchange. Though everything seemed nice to us few points were there which bagged a place in our list of negatives. In spite of being so old, there were few things that have the potential to make Kraken 'Good' rather than 'Best'.
And the things that could have been even better while creating business model like Kraken :
1) Sluggish Response :
In this fast-paced world, every second is so crucial. And when it comes to trading even a small response issue can result in huge losses. That's what made us think over this aspect. In the past, Kraken's response was so lethargic that people started equating Kraken as slow and scam exchange. However, their team accepted that and brought a new version. But that was made possible after snatching the live status of the platform for a few days.
This is not something as a development company Alwin Technologies can accept. The excuses can be many but the underlying fact that the much needed components like testing and pro-activeness were missing on the part of the exchange. And that disappointed us the most.
2) Delayed Process :
Another part of Kraken that forced us to give adverse remarks is its time-consuming processes. Right from onboarding, till funding and withdrawal, each step takes extra time. Except the basic account, every other account type demands up to 5 days to get verified. In case of heavy demand, even this timeframe is not sufficient to onboard users.
When we talk about the funding, it can take 60 minutes or even more as it needs 6 confirmations to add funds. Same can take days if the funding or withdrawal is to be done via fiat currency or even more. The more displeasing is that even in 2019 Kraken does not support funding via third part processors (debit or credit cards). That made us feels, Kraken is really one of the oldest players.
3) Scrambled:
In short, though Kraken is a great exchange, it definitely lacks some prominent features. The development and growth looked unplanned and unorganized. Though the exchange's trading platform is a mobile platform that's not equitable to a mobile app, which Kraken doesn't have as of now. Moreover, due to compliance cost, exchange still doesn't serve in some of the parts of the US. For us, this means a lot of scope for development.
How to approach the development team to build cryptocurrency exchange platform like kraken?
Now, at last talk about how we can help in exchange development. The reality, being a blockchain development company and with crypto experts on board, we can do a lot. Our fast trade engine when combined with our in house trade algorithms makes a perfect solution. We don't out our eye on profit margins rather our team remains focused to deliver the best possible solution as per the needs. This obviously means we are always ready to customize things.
With multilingual support, simple yet powerful build, priority to compliance and security, both our website and mobile application based solutions are result oriented reflecting the utmost commitment of the team at Alwintechnologies. Our simplistic approach is visible on both the ends; user and administrative.
Neither the user nor the management team feels any difficulty in the operation of the exchange. Assimilation of AI and other features like Dark Pool trading, reserve audit, market insights, Sandbox and more, into the exchange is what we offer without any hassle. Right from exchange development to market creation our team of experts will assist you with all. We can provide all the features of exchange like Kraken with negatives excluded. That will ensure a seamless experience for everyone.
DON'T THINK MUCH ABOUT THE COST & TIME. IT VARIES AS PER THE REQUIREMENT AND THUS WE ARE NOT PROVIDING ANY DEFINITE RANGE.
Book your consultation for free and know the exact cost as per the customizations. Are you ready to have your own secure and compliant exchange? With us it's easy