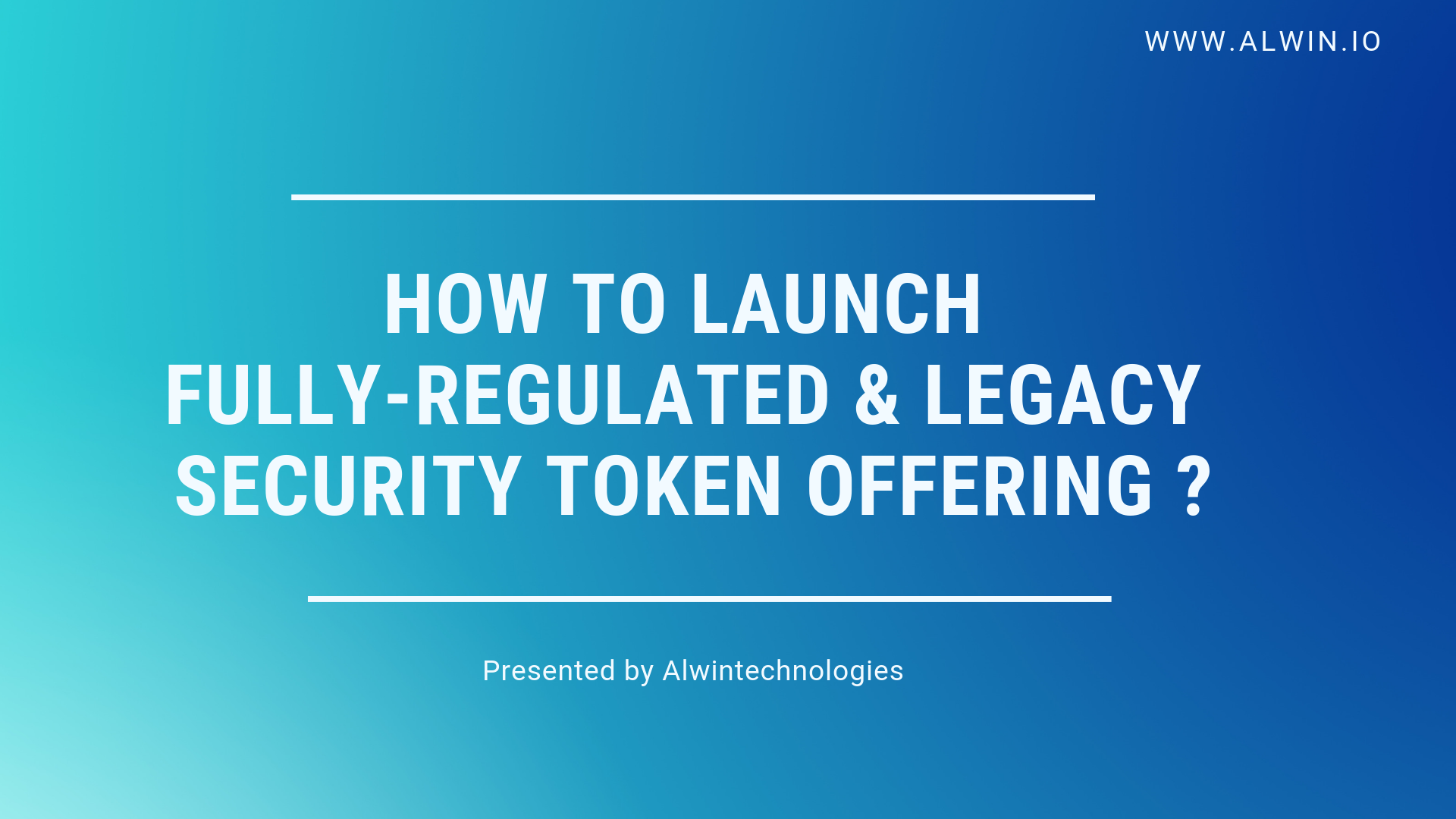 The boom in the STO market is having a significant reason to support. There are many reasons for which companies and investors are going beyond the traditional method. IPO, being in the market for long is now looking over-regulated. Not just the IPO process in itself is becoming a tedious task but its pre and post stages as well are making companies hopping mad. This is working positively for STOs and there is a remarkable increase in the number of Security Token projects entering into the market.
Now, this creates a space for some questions. How STOs are different for investors, despite being regulated? Why Investors are getting encouraged towards this relatively new investment option? The reason is judiciously planned cordial regulations, protecting investors while providing better investment opportunities at the same time. To solidify this, let's have a look at some of the regulations which make STOs a better choice for an investor.
Regulations that stimulating enterpreneurs to STO :
United States is the leader when it comes to STO projects. SEC and FINRA are proactively working to make security tokens more worthy for every investor, irrelevant of the funds they invest. There are various regulations and we will see each under the light of investors' benefits.
Regulation S :
Regulation enables to get the exemption from the registration requirements mentioned under section 5 of Securities Act of 1933. As per this regulation, offering and selling of security tokens outside the US to non-US residents is exempted. It includes both – the offer made by US issuer and foreign issuer. A noteworthy point here is that it is imperative to follow the requirements in the country where the STO transaction is being executed. Additionally, to make it safer issuer has to abide by multiple state laws.
Regulation CF :
It is also known as Crowdfunding exemption, permits issuing STOs to accredited as well as unaccredited investors. It is mainly favored by startups looking forward to raising seed capital from unaccredited investors. This allows raising capital of only up to $1million.With this regulation in place, it becomes easy to raise funds, especially for the new entrants.
Regulation D:
It consists of two rules – Rule 506 (b) and Rule 506 (c).
Rule 506 (b): allows providing STOs to as many accredited investors as desired along with 35 other purchasers. Under this, self –verification of accredited status by investors is required and the same should be confirmed by the issuer. This regulation does not permit general solicitation.
Rule 06 (c): This is one of the most cherished exemptions as general solicitation is permitted under and there is no cap on the amount being raised (unlimited fundraising). Under this, Security Tokens can only be offered to accredited investors. And the issuers of STO are accountable for completing the KYC process or taking "reasonable steps" for verifying that the investors are accredited.
Under Regulation A+, the issuers are permitted to offer Security Tokens to non-accredited investors through a general solicitation for an amount up to $50 million. Regulation A+ consists of two tiers – Tier 1 & Tier 2. Tier 1 allows the issuer to raise funds up to $20 million while in under Tier 2 the limit of raising funds is up to $50 million. Tier 1 does not preempt state securities law of registration while Tier 2 does. It demands strict SEC review and gives protection to investors while investing through STO.
European Union is the second most active entity, taking active steps to help STOs to foster. After the adoption of MIFID II, EU is more specific regarding STO regulations. Though the European Union aims to make single law for all the member countries, the same is still underway. So, in current scenarios countries are free to decide in relation to what they define as 'Security Token' and how they treat it. That makes it easy for investors to take advantage and invest in countries that offer the best protection and return options. Let's look at some EU members who are leading with their proper framework for STO.
Estonia offers various exemptions for filling prospectus with EFSA (Estonian Financial Supervision Authority), presenting more opportunities for offerings and thus investment. Apart from exemptions, regulations are made so that even if companies go public without availing any exemption, then as well, just by filling prospectus with Estonian authority company can raise funds from any member country of EU. There are no restrictions regarding minimum capital and registration status, granting access to a large chunk of companies and creating scope for even the largest portion of investors which previously remain secluded due to much more restrictions and rigid structuring of IPO.
Malta is sort of heaven for digital asset offering, all due to its friendly- regulations. The investors get great opportunities to invest in STOs as three acts namely MDIA, ITAS and VFAA are there to provide secure security token economy. On top of that, Malta Companies Act and Malta Financial Markets Act ensure that STO is no less secure than an IPO. To widen the scope, Malta allows the issue of DLT based virtual assets or tokens representing financial instruments as well, that would be regulated by EU laws. So, all-in-all its makes a win-win situation for investors; a wide variety of options to invest without fear of fraud or scam. Definitely, it's a modern approach of investment and provides extended freedom to investors in comparison to what they got while investing in companies through IPO.
Switzerland and FINAM- the regulatory authority of Switzerland has already taken the charge and made its intentions clear to support DLT based digital assets. It regulatory enforcement confirms that issuers abide by the AML & KYC laws. It allows issuing security tokens equivalents to shares and bonds but at the same time makes it mandatory to file prospectus while doing so. Security Tokens have more stringent laws attached to it and require 'securities dealer license'; demanding some basic capital and compliance requirement to be fulfilled. All these laws are being made more suitable for crypto and digital assets. Thus opening safe investment avenues and promoting the idea of healthy investment opportunities for everyone.
The Ineluctable Pros of STOs
Despite the fact that these regulations are profound, the success needs proof. Additionally to be adopted by mass, STOs should excel in certain areas and offer atypical advantages over IPO.
Is STO able to offer something that investor missed in the era of IPO?
Surely! STO is a next-gen option that has a dual advantage; a dual benefit which IPOs never offered.
Example: - Alex buys shares of ABC ltd in an IPO, which hails from the real estate sector. Now, Alex will get all the benefits of shareholder and has the option to take advantage of price volatility of shares. Instead, if Alex would have bought security tokens then he would have got all the mentioned benefits and on top of that crypto benefit as well. That means security tokens are gaining value and while selling he would get the benefit of higher value though exchanging it against any crypto. To understand this, ABC tokens when issued were valued at 1 BTC and BTC valued 60 USD. With time ABC token gained value and now is worth 2 BTC, therefore Alex is gaining 1 BTC as value appreciation of security token but at the same time, BTC now costs $80. Thus Alex is now in a win-win situation, which he can never be at, with IPO.
At this stage, we understand that DLT is far more secure than traditional IT arrangements. PwC with its arm Strategy& shared a report recently. It explains how important STOs are becoming. Also, there has been a major shift from ICO to STO due to clear 'STO framework' and lesser cross-border complexities. There is a huge surge in the need for advancement related to STOs.
A more definitive legal order is taking shape and technological aspects are jumping up to the new levels. Emerge of market elements like advisory firms, management firms and payment solution providers are torch ignitors; lightening-up the streets of STO which is destined to a much-needed breakthrough from the bounded traditional IPO structure.
In the past, including Q1 of 2019, we have seen many successful STOs making billions of funds from the market with ease. The biggest example is tZero that successfully completed USD 134mn STO in 2018. Investors bought security tokens without any hesitation which proves the popularity of STOs. Lesser restrictions helped many in becoming first-time investors and widened the scope of financial markets to a much lower segment of the economy. The 2019 & 2020 will see the much bigger impact of security tokens and more and more assets will find themselves under the name of tokens; easily accessible and traded on a cross-border basis. The unalterable ownership component makes any security token a far better product than any traditional investment options.
We are pretty much sure that more and more companies will bring STOs in the coming time. Hence, there will be an increase in the number of small investors as well as taking part in the market thus bringing the equilibrium in the economy that every country makes efforts for.
Bigger & Better :
These regulations are just a few examples showing how good STO is from the perspective of investors. Apart from above-mentioned countries, there are many more that are investing their resources to bring the best possible regulations regarding DLT based digital assets. Countries from every part of the world are making positions in the list of STO-friendly countries. This, on its own, is enough to make STO a better option than IPO. Through this investors not only get secure DLT environment but can invest in options that were not available till now.
Now, one can own a pricey land piece instead of owning shares of companies owning that land. Isn't that cool?
STO is hitting the old investment options hard and making a permanent space for itself. To help these, countries are bringing more and more regulations to avoid scams and fraudulent activities, thus creating a protective shell around investors. This is the reason we say that there are lots of investment opportunities that came along with the concept of STO and regulations are favoring it too.
Change is the only constant and it's time to shift from IPO to STO. This change might feel hard at the initial stage but definitely, its end will be fruitful; producing lucrative returns,
Send an Inquiry to Launch Fully Regulated STO to protect from legal breakpoints