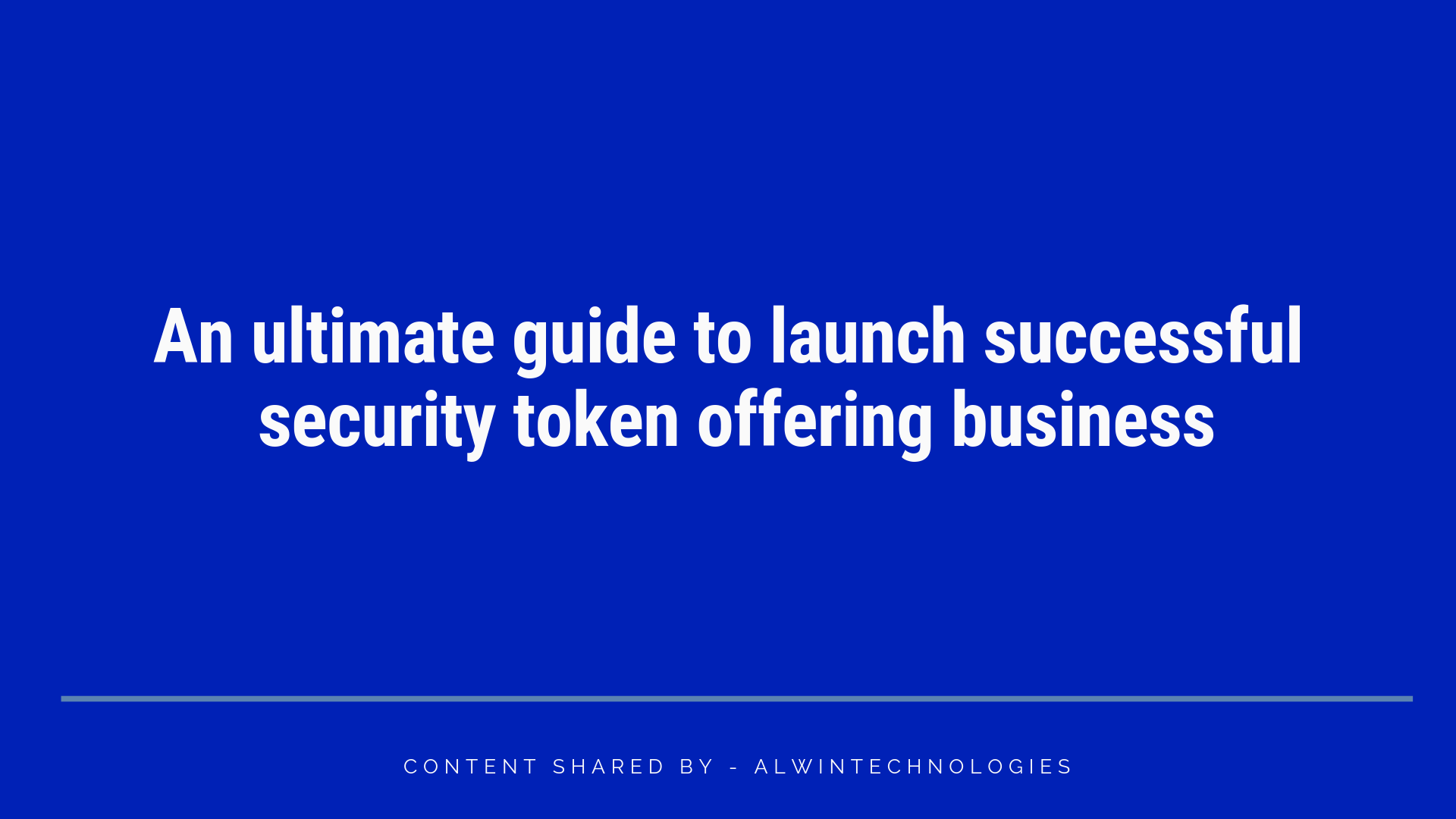 We have seen how crypto assets bring astronomic opportunity, what it has in its bag to transform the market of financial services. The one of the assuring technologies which supports crypto assets like Ether, Bitcoin, Tokens ( Utility and Security) – The Blockchain.
Now, we are familiar about the tokens and its types. It's time to get acquainted with launching of STO ( Security Token Offering) – A token which derive its value from an external, tradable asset and abide by federal security regulations. Though the process seems complicated, but it is surely a high-water mark in the token industry.
Securities when tokenized results in many favorable outcomes like increasing liquidity, improving market efficiency, bringing down the issuance fees and fragmenting bigger assets. It has the capacity to refashion the whole financial market, if implemented in proper manner.
Let's see the step by step mechanism of STO launching for its abysmal understanding.
Steps to Launch STO :
The launch of STO involves the following steps:
Foundation/preparation
Pre- STO
STO for authorized investors
Post- STO
1. Foundation/Preparation
The most important thing is Idea generation.
Before offering Tokens, it is imperative that there should be an idea which is attractive enough to catch investors. And, the idea so generated should comply with the legal and regulatory requirements of different countries.
In addition to above mentioned point, it is good to be clear at very first step, how token is going to gain value, as people will be investing with the motive of earning profit.
So, how tokens is going to gain value?
Tokens gain value on the basis of – Role, Purpose and Characteristics.
Role gives the idea of purpose that token will accomplish, and characteristics it has. This in turn will help the business in deciding whether they can get value with the tokens or not.
There are various uses of tokens, it depends on issuer what all usability the issuer wants to provide with the tokens and what the investors want to get out of investing in the particular token.
Regulations that are to be followed while creating token :
It is must that the token that is being offered pass the Howey Test and comply with the regulations of Securities Act 1933 in order to be called as Security.
So, What is Howey Test?
Howey Test is an arrangement to check any item from the below mentioned points of view, to be declared as Security:
Money Investment
Money being invested with the motive to earn profit
The money is invested in a common company
Profit is a result of the efforts of the third party.
If any of the above mentioned point is missing, then the token will not be considered as security. It will be subject to federal laws and regulations.
Apart from this, there are various regulations that need to be followed by security token, which may differ from country to country. Example in USA, security token has to follow regulations - Regulation D, Regulation A+, Regulation S, etc. So, it is good to take advice from legal advisor before proceeding further.
Evaluate various platforms available that can be used to issue security and choose from them. It is necessary to choose right platform as the creation and issuance of security token requires proper infrastructure. Also, it is crucial that the platform meets the regulatory requirement.
Drafting Whitepaper : The white-paper of STO is vital and decisive document; if written inaccurately can destroy the product even before it comes to market.
There are various areas that should be covered in whitepaper :
Introduction – Business model
Concept of STO and what it has to offer
Technical Aspects
Product details
Legal Disclaimer
Team member and advisory
A writer of STO white-paper should consider following rules to make white-paper in an organized way.
Gather experts and make a team :
Now things are ready, it's time to implement the idea. Make a team of professionals from different backgrounds – accounting, legal, marketing, business development, who are expert or experienced with crypto world. The legal advisor must be well aware of regulatory framework related to STO.
This helps in creating and launching STO smoothly and successfully.
Website Creation :
In order to introduce and sell security tokens to investors, a website is needed, which should be designed in a manner to handle loads and requests without breach of data.
The website must mention about project, product details, people involved and customer support system. Try making it attractive by adding visuals and graphics. The token sale should be made live. The website must allow investors to register themselves and validate by passing AML/KYC checks.
The professional website developer should be appointed so as to ensure smooth functioning of the website.
2. Pre-STO
Introduce your STO to the market
Before STO is launched, it is vital to introduce security tokens, which will be offered, to the market so as to make people aware of it. It should be ensured that the technical design of the tokens is ready and there is no confusion about its utility.
Many websites are available where STO can be listed, like ICO, where potential crypto investors can acquire the concerned information like members involved, structure of the token, purpose and link to whitepaper.
An alternative to this or can be said as support to this is use of digital marketing tools – email marketing, social media marketing to make people savvy about token launch.
Create a security token:
After introduction, comes creation of the token to start its selling. Decide the platform where Security Tokens will be offered and start creating tokens, the generalized process.
STO Marketing :
It is imperative to allocate budget for, and undertake proper marketing of STO. This will help in reaching to the right crypto investors in the market and will help in covering more number of people interested in investing crypto-currency.
Now, it's the time to launch STO !
3. STO
It is the main stage of the STO launch, wherein company sells tokens to public in exchange of money.
To undertake this, it is necessary to have required arrangements – a website. Investors should be able to register to participate in token sale, pass KYC/AML checks and buy tokens. It also requires proper network arrangements so that thing goes on smoothly.
Crowdsale contract – a smart contract should be deployed that will enable sale of specified number of tokens at pre-determined rate.
It should be ensured that the support team is available to assist investors with any issues they face while participating in the activity (sell-purchase). Also, after launch of STO, the assistance should be made available to investors through various social media platforms and crypto forums. Also, emergency helpline number or ticketing channel can be used to help investors. This will enable to solve any queries instantly thereby helping in building long-term relationships.
These forums and platforms will help in keeping investors and target audience updated with STO and related information. Additionally, it will help in increasing the reach.
4. Post-STO
Now comes product building.
Product building: In order to confirm that the STO launch becomes successful, it is imperative to make a product that forms the support of security token launched. The product should be sheltered, uncomplicated and must have smooth application on blockchain.
Technical Support: After the product being offered to the public, it is a must to see that investors do not encounter any problems. It is good to hire experts who have knowledge of blockchain technology and security tokens; so that 24/7 support services can be offered to customers to help them with issues they might face.
Conclusion:
Although ICO enables investors to gain millions of dollars, due to lack of security and regulatory framework, it resulted into losses as well. Security Tokens helps to efface these problems. Alwintechnologies – A professional blockchain developer's help can be taken for successfully launching Security Tokens. We provide a one-stop solution for complete STO, at every step.
The launch is the foundation of STO; without a capable foundation even mega-structures debacle.